Posted on
Wed, Nov 16, 2011 : 5:55 a.m.
'Skeleton Letters' by Laura Childs another terrific cozy that will leave you waiting for the next
By Lisa Allmendinger
Skeleton Letters
A Scrapbooking Mystery
By Laura Childs
Hardback, 323 pages, $25.95
I'm convinced that readers can't go wrong picking a book my Laura Childs. From her tea series to her scrapbooking series to her Crackleberry Club series, the characters, the writing, the twists and turns — simply put, there's no need for rock, scissors or paper to decide which one to read. Every one is terrific.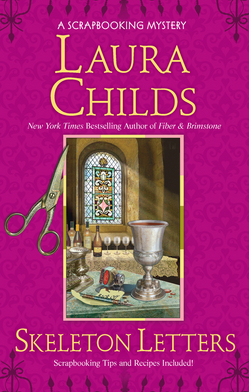 The beauty of all of her books is that you can pick up any one of them, and Childs seamlessly draws you in immediately and gives new readers just enough of the back story about the characters that you can run with them — in this case, through the streets of New Orleans.
"Skeleton Letters," (No. 9 in her scrapbooking series set in New Orleans) finds Carmela Bertrand and her friend, Ava, inside St. Tristan's Church where a murder takes place. A murder in a church, that's topped off with the funeral in the same spot. You've got to literally love it.
"Like jagged gears scraping against metal, a bloodcurdling scream suddenly ripped through the church. It rose ghastly screeches, spiraling into high-pitched shrieks."
The victim is a friend and customer of Carmela's Memories Mine, a scrapbook shop in the French Quarter, and she and Ava vow to find the hooded killer — with help from Detective Edgar Babcock. Or is it the other way around?
Ava calls herself "a gal who likes her food, her fellas and her jazz nice and hot," and it seems although she tries not to, Ava also finds herself in hot water a bit as well.
"Byrle Coopersmith, their friend and fellow scrapbooker, who'd not long ago bought a pack of pink mulberry paper from her shop, now lay lifeless and cold on the unforgiving stone floor of St. Tristan's."
This book has all the makings — a missing crucifix, fortune tellers, archaeology digs, a mystery writer, monks, a class in calligraphy, and of course, great ideas for scrapbooking gifts just in time for … the holidays. Call it Halloween, Thanksgiving and Christmas all rolled into several hundred delightful pages, which will grab you from the start, shake you around in the middle and leave you feeling fulfilled at the end.
And then there's the "Holidazzle Tour" of delightfully decorated homes to rescued benefit sea turtles, (smile) which will get you in the right spirit. Did I mention a triumphant sense of humor and the terrific recipes at the end of the book that will make you fill out a shopping list and head to the nearest grocery store to give them a whirl?
I wouldn't expect anything less from this author who is truly gifted with the ability to write a great book each and every time. It's almost unfair to say this book is better than the last because they are all terrific.
When "evening draped across the Garden District like a dark blue cashmere blanket," and churches are converted into restaurants where patrons must walk through a confessional to get to the ladies' room, you will adore the clever mind of this writer who never ceases to make me think. And smile.
As Ava says, "Some people just like to know what's around the next corner," while Carmela's "happy to see what's directly in front of her."
Can't wait for "Postcards from the Dead" and "Agony of the Leaves," the next two titles in her scrapbooking and tea shop series.
Lisa Allmendinger is a regional reporter for AnnArbor.com. She can be reached at lisaallmendinger@annarbor.com. In addition, each Wednesday she reviews a cozy mystery in her column called "Cozy Corner."