Posted on
Wed, Nov 23, 2011 : 5 a.m.
'The Gingerbread Bump-Off' by Livia J. Washburn will put you in the cozy holiday spirit
By Lisa Allmendinger
The Gingerbread Bump-Off
A Fresh Baked Mystery No. 6
By Livia J. Washburn
Softcover, 290 pages, $14
A crime of passion just before Christmas (using a dressed-up ceramic gingerbread man as a murder weapon) leaves Phyllis Newsom in less than the ho-ho-ho holiday spirit.
She and her more-than-a-friend housemate Sam Fletcher set out to find out who did the dirty deed and there are all kinds of suspects to be ruled out.
"Someone came across my yard, up my steps, and onto my front porch to kill one of my friends," Phyllis says.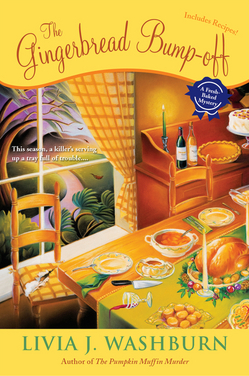 So between decorating her house as a last minute addition to the Christmas Jungle Bell Tour of Homes, finding the perfect recipe to enter in the local newspaper baking contest, planning a wedding shower and a wedding for a friend and one of her housemates, Phyllis has a wee bit on her mind.
As do her housemates, Carolyn, Eve and Sam.
"What was the world coming to when you couldn't get confidential information out of a police detective by bribing him with lime snowflake cookies?"
Readers who haven't enjoyed the previous titles in this series by Livia J. Washburn will find an aw-shucks quality about the writing, the people and the town. This is a great cozy to get you into the holiday spirit - because even though there's a murderer on the loose, there's lots of holiday cheer (and, some yummy sounding recipes at the end of this book).
It will make you want to fill your home with the smell of gingerbread and other fresh-baked goodies and deck the halls with greenery while playing your favorite Christmas tunes.
Even if a crime scene isn't the most festive of spots no matter how many holiday lights are aglow, and a funeral pervades the holidays. "It was only a few days now until Christmas. Most people still had things to do, preparations to make. There was something particularly tragic and poignant about a funeral and burial at this time of year, but the holidays didn't stop for death."
You'll enjoy the antics of the four down-to-earth Texan housemates, and the delightful small town feeling that pervades these pages as Phyllis continues to be "the granny who solves murders."
"If anybody didn't know you, Carolyn, they might think you were Ma Barker instead of a nice, law-abidin' retired schoolteacher."
"That's easy for you to say, Sam Fletcher. You haven't been arrested and unjustly accused of murder."
"Yet," Sam said with a glance and a wink at Phyllis. "Around here, there's always a chance it could happen."
In previous titles, several of the characters and their friends have found themselves accused of being on the wrong side of the law, which sometimes makes them just a wee bit testy.
Settle in, set a spell, and enjoy the fine folks of Weatherford, Texas while the holiday cookies are baking. You'll be glad you did.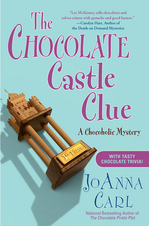 As the holiday book buying season nears, also worth noting for cozy loving friends are "
The Chocolate Castle Clue
," a Chocoholic Mystery by
JoAnna Carl
, who writes about a chocolate shop in a fictional Michigan setting outside Grand Rapids and "
Flipped Out: a Do-It-Yourself Mystery
" by
Jenn McKinlay
, which features home renovations.
Both titles are lots of fun as Carl takes readers back in time to a high school reunion that ends in murder and McKinlay and her hunky boyfriend find themselves about to be featured with a home renovation on a popular TV show.
Lisa Allmendinger is a regional reporter for AnnArbor.com. She can be reached at lisaallmendinger@annarbor.com. In addition, each Wednesday she reviews a cozy mystery in her column called "Cozy Corner."