Posted on
Fri, May 20, 2011 : 5:56 a.m.
Crazy Wisdom's live music lineup is a little like listening to live music in your living room
By Roger LeLievre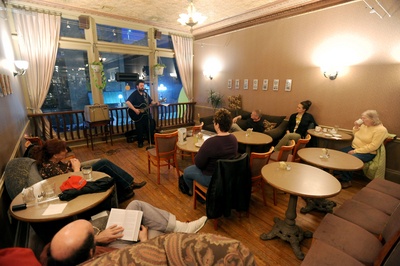 Angela J. Cesere | AnnArbor.com
A place called
Crazy Wisdom Bookstore & Tea Room
might not be the first choice that leaps to mind when looking for a place to catch great live music downtown, but it sure does fill the bill.
Anyone who's been there knows the setup. The bookstore is mostly downstairs; the Tea Room part, upstairs, is also where the music unfolds. For at least 15 years, the place has presented some pretty terrific acoustic acts Friday and Saturday nights. The program recently expanded to include Thursday nights as well.
The operative word in the Tea Room is cozy. Pressed tin ceilings look original and the furniture runs from old wing armchairs to more standard restaurant tables and chairs. Tall windows look out onto South Main, but you can't see much of the street scene since the tea room is on the second floor.
Thanks to the teas and other delectables, the place smells terrific. There's a bit of clatter from the serving area but it somehow doesn't seem that annoying. The room itself has surprisingly warm acoustics and the performance area (there is no stage) at the end, in front of the windows, is just big enough for a small band. It's also a good fit for just one guy, like local music veteran Dave Boutette, who performed at Crazy Wisdom on a recent Saturday night.
"It doesn't cost anything to walk up the stairs, and even the bad chairs are cushy," he told the around 25 people gathered for his set — nearly a full house for the tiny tea room.
"You get townies, you get people from out of town, you get people that are just buzzing up and down Main Street," Boutette, who performs there at least twice a year, observed during a break. "The staff is fabulous — they even try to avoid making cappuccinos during the quiet parts of songs — it's a small enough place that you don't have to bring a bunch of gear. You can just play like you play in your living room."
That kind of intimate atmosphere is exactly what Susie Keat, music coordinator and host on Friday and Saturday nights, and Patrick Elkins, who is charge of Thursday's entertainment, are trying to achieve.
Angela J. Cesere | AnnArbor.com
"We try to bring in some really good names who are willing to play, not for a lot of money, but for giving back to the community that helped them get to where they are," Keat explained. "We try to make it a warm, friendly, welcoming environment … kind of that house concert environment, which I really wanted to bring to people."
She said her role as host helps make people feel welcome. "Crazy Wisdom has that vibe anyway — that kicks it up a notch and makes it more of an event, a great listening room kind of environment," Keat added.
Elkins, a former Crazy Wisdom staff member now based in Chicago, where he performs with his band, The Ultrasounds, agreed. "It's an intimate setting," he said, "and it's always free, it's all ages and it's a long and tall room so it sounds pretty good."
As far as Thursdays go, Elkins added, they are "a bit more indie rock, a little bit louder but still a lot of acoustic stuff and it's mostly younger people that play."
Not only did he want the opportunity to offer music not typically heard at Crazy Wisdom, Elkins said he also wanted to offers a platform for newer artists and also a place were younger people could go to hear live music. "I feel there is a lack of all-ages, alcohol-free venues in Ann Arbor other than the Neutral Zone. I saw it as an opportunity to fill a need," he explained.
Marty Kelmin of Memphis, Tenn., wandered into Crazy Wisdom on a recent Saturday after he and his family enjoyed dinner at Vinology next door, and left impressed.
"We heard some beautiful music as we walked in. ... The acoustics are excellent, it's a very a sweet bookstore downstairs, then you walk upstairs and it's a great setting for music," said Kelmin.
Crazy Wisdom is located at 114 S. Main St. Music starts at 8:30 p.m. Thursday, Friday and Saturday. Schedule is available on the store's calendar.