Posted on
Mon, Aug 9, 2010 : 5:43 a.m.
Crazy Wisdom expands free music to Thursdays, welcomes new weekend coordinator
By Kevin Ransom
As the music coordinator for the Crazy Wisdom Bookstore and Tea Room, Randall Beek spent the last seven years helping to build Crazy Wisdom's reputation around town as being not just a book shop specializing in spiritual / alternative titles — and a cozy spot to enjoy a cup of chamomile — but also as a place where people could go to hear acoustic music in an intimate setting on the weekends.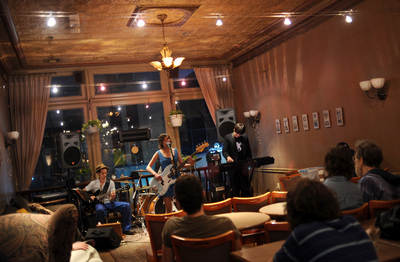 Melanie Maxwell | AnnArbor.com
But Beek moved to Portland, Oregon last month, after his wife took a new job there, and he continues to work in the book-publishing / book-consulting business — which has always been his "day job." The Crazy Wisdom gig was part-time, and more a labor of love for Beek, who is also a guitarist and guitar teacher.
And so it is for Susie Keat, who has replaced Beek as Crazy Wisdom's weekend music coordinator. By day, Keat is a training coordinator for Thompson Reuters.
But Crazy Wisdom's music program has expanded, as well: The Tea Room has added a Thursday night program to complement its weekend offerings.
Keat also has her own music management / publicity / booking agency — SQD Arts Management — so she has many contacts on the regional roots-music scene. (She represents various local acts, including Annie and Rod Capps, Billy Mack and the Juke Joint Johnnies, the Billy King Band and The Potter's Field.)
The Thursday night concert series is billed as an "emerging artists" series, one that features younger, edgier, and, sometimes, more-rocking artists — and which is being coordinated by Patrick Betzold, a Crazy Wisdom sales clerk / Tea Room attendant who also plays guitar for the local indie-rock band the Ultrasounds.
"As a listener, and as an artist rep, I do gravitate toward folk, alternative folk, folk-rock, etc.," says Keat. "But I definitely don't want to limit our shows to those styles, because there are so many great artists out there from other genres.
"We'll still be focusing on acoustic music," says Keat, noting that the Tea Room has only a 40-seat capacity and does not have its own sound system; artists bring in their own amps and monitors and such.
"We'll still have folk, blues, jazz, world music…. But I also want to try and bring in some touring artists, and artists from outstate" to complement the local artists who often play the room, she says.
Some of the local artists who have periodically played the Tea Room include Dave Boutette, Steve Kovich, The Potter's Field and the Capps.
"Those kinds of artists will continue to play the room, but I also want to bring in some new faces, some people who haven't played there room before, or at least not in a long time," says Keat, a southern-Ohio native who moved to the Ann Arbor area in 2002.
And John Churchville, from the University of Michigan's music department, will continue to present the Indian-music series, with one show per month.
Some of the acts that Keat has booked in the weeks ahead include: Merely Miss Kate, who combines poetry, jazz and folk (August 20); the Chicago-area singer-songwriters Patti Ecker and Sue Fink, (August 27) and the alternative-folk trio Little Island Lake (September 3). As for the Thursday-night series, Betzold says that, since he is plugged into the younger community of local musicians, he "thought it would be great to have an extra night, to present a different style of music than what you'll hear on Friday and Saturday — most of the acts will probably rock more, but we'll still have acoustic acts, as well."
In July, for example, Betzold booked Gun Lake, an indie rock trio that is influenced by Grizzly Bear, and the modern-rock band Silver Beach Hotel, who draw on Radiohead and Interpol for inspiration.
Coming up on the Thursday series calendar are the country duo Elizabeth Royce and Rob Rassmussen (August 12); indie-rockers the Ben Daniels Band (August 19) and Steve McCauley (August 26), who plays "sort of a psychedelic country-rock style, reminiscent of Gram Parsons," says Betzold.
"I think this will be a good series," says Betzold. "For a town with such a thriving indie-rock scene, there aren't enough clubs. I think this will help expose more people to how vital Ann Arbor's indie-rock community is."
Kevin Ransom is a free-lance writer who covers music for AnnArbor.com. He can be reached at KevinRansom10@aol.com.
Crazy Wisdom Bookstore and Tea Room is located at 114 S. Main Street, Ann Arbor; call 734-665-2757 or go online to the Crazy Wisdom website.