Posted on
Sun, Mar 14, 2010 : 5:17 a.m.
"Creation" tiptoes around momentous subject
By AnnArbor.com Freelance Journalist
Creation Opens today at the Michigan Theater Review by Jeff Meyers of the Metro Times Grade: B-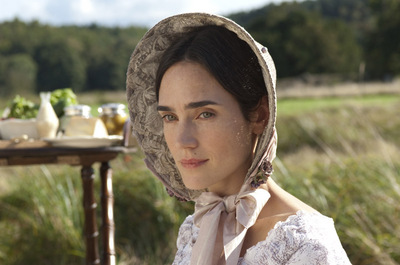 It's been 150 years since Charles Darwin's meticulously assembled research has been published, and the conservative attack-dogs haven't let up. Unfortunately, it's hard to muster a spirited a defense against right-wing ideologues when a movie like "Creation" so assiduously goes out of its way to be inoffensive. It's not that director Jon Amiel's small slice of Darwin's life is necessarily bad (though it does get a bit maudlin), it's that it's such a minor movie for such a major moment in history.
You'd think a film about the author who "killed God" (as Thomas Huxley states in the movie) might actually reflect the importance of "The Origin Of Species." Treading lightly on the topic is absurd. It doesn't take much to offend the 25 percent of Americans who believe evolution is a lie (until, of course, they need medicines developed by evolutionary science). More absurd (and frightening), however, is that the film struggled to find distribution in the U.S. because of its subject matter.
Screenwriter John Collee, working from Randal Keynes' (Darwin's descendant) novel "Annie's Box," has fashioned a heartfelt but corny therapeutic melodrama that introduces us to Dawrin (Paul Bettany) as he struggles with grief over the death of his eldest, and favorite, daughter. His despondence not only unhinges every facet of his life, it stands in the way of scientific revolution. To Darwin, every page he writes is further proof that he will never be reunited with Annie in heaven. Which is in direct opposition to the faith his wife, Emma (Bettany's real-life wife Jennifer Connelly), has so emphatically embraced.
This should set the stage for an epic clash of ideologies deepened by marital discord and emotional trauma. But there are no meaty exchanges, fiery debates or even, for that matter, meaningful passages from Darwin's book. Instead the importance of evolution becomes a generically spoken backdrop against which Bettany convincingly broods and Connelly scolds (both are excellent, by the way). The movie hermetically seals Darwin in his grief, shutting out the outside world and the potential impact of his theories. Visions and conversations with dead Annie, provide him with a way to express his tortured emotional state - but never actually elucidate the debate between science and faith that wars within him. The contrivance quickly wears thin, even if it does give Amiel an excuse to inject artsy visions of nature's brutality.
Far more persuasive are the tales Darwin relates to Annie in flashback, demonstrating the inevitable victory — both good and bad — of the natural world over man's machinations. In particular, the story of children snatched from a "primitive" island tribe and raised to bring civilized thinking to the savages humorously captures the absurd certainty of man's convictions.
"Creation" is a visually elegant, masterfully acted, and solidly tasteful period film that generates some intriguing ideas about loss and genius but is far too earnest and genteel in its approach. It's the kind of film that repeatedly tells you how important its subject is without ever illustrating or discussing it. And for all its emotional hand-wringing, a sub-plot featuring a captured orang-utan is far more moving than Darwin's hour-long weeping over his sick daughter.
This review originally appeared in the Metro Times.