Posted on
Wed, Dec 15, 2010 : 5:35 a.m.
Expert Irish singer Brian Hart highlights this year's Crossroads Ceili
By Kevin Ransom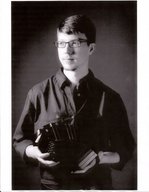 Brian Hart's restless pursuit of new creative experiences has led him on some exciting adventures in his 31 years.
Hart, the lead singer and concertina player for the traditional Irish band Bua, was born in St. Louis, but he moved to Ireland to study in 1998, when he was just 19, and lived there on and off until 2006. He earned two master's degrees there — one in Music Performance and another in Irish Studies — at the University of Limerick and the National University of Galway.
After returning to the US, he then joined the Chicago-based Bua. And just a few months ago, he embarked on his latest adventure when he moved to New Orleans, drawn by the city's rich, multi-ethnic musical heritage and compelled by his curiosity to collaborate with artists from various genres.
"I also want to be involved in helping to rebuild the city's music scene, post-Katrina," says Hart, who will be the special guest at the annual Crossroads Ceili concerts at The Ark. This year's two-day Celtic-music-and-dancing event is Friday and Saturday.
Although Hart is his given name, he has adopted O hAirt as his performance name. "That's how it's spelled in Irish," he says.
For Hart, the Ceili will be something of a reunion. Mick Gavin — the venerable Detroit-area fiddler, Irish native and the Ceili's longtime organizer — is the father of Sean Gavin, also a member of Bua since 2006.
Also performing at the Ceili will be Mick Gavin; his son Michael Gavin (banjo, fiddle, guitar); Colleen Gavin (Michael's wife, on flute, whistle, pipes); Kelsey Lutz (fiddle); Holland Raper (fiddle); Siobhan McKinney (harp); Ray Maguire (flute, whistle, guitar); Tom MacNeil (piano); and the Dolowy Sisters (fiddle, piano, songs, step-dancing).
Hart specializes in the traditional sean-nos (SHAN nos) style of singing. Sean nos is sung in the Irish language, and it is marked by glottal stops and "slides," long extended phrases, and a tendency to draw breath after a conjunction or linking words, rather than at the end of a phrase, explains Hart.
"It's a very commanding and compelling style of singing, very ornate — and the poetry in the Irish-language songs is very beautiful. The songs are not as poetic if they are sung in English."
This style is primarily still practiced in the western regions of Ireland, which is where most of the country's Irish-speaking people still reside. Generally, the sean-nos style is sung unaccompanied by other instruments. Hart also specializes in the traditional sean-nos style of dance.
Hart became the youngest and first-ever American to win the coveted Sgiath Uí Dhálaigh shield at the Fleadh Cheoil na hÉireann in Listowel, Co. Kerry in 2002. In '03, he established Sean-nós Milwaukee, the first festival in North America to focus on the sean-nós singing tradition. It was so successful that it yielded a compilation album entitled "Sean-nós Cois Locha," consisting of festival recordings from 2003-2005.
The disc was produced with the help of the Cló Iar-Chonnachta publishing company, and showcases some of America's finest sean-nos singers, including both American and Irish natives. Sean-nós Milwaukee has since moved to Northwest, where it continues as Sean-nós Northwest, where it rotates between Seattle, Portland and Olympia.
It was Hart's pursuit of, and dedication to, learning the sean-nos singing style that led him to master the Irish language.
PREVIEW
Crossroads Ceili
Who: A variety of accomplished Irish musicians, singers and dancers.
What: A celebration of Celtic music, featuring award-winning singers, fiddlers, harpists, pipers and dancers.
Where: The Ark, 316 S. Main St.
When: Friday and Saturday, Dec. 17 and 18, 7:30 p.m.
How much: $15. Tickets available from The Ark box office (with no service charge); Michigan Union Ticket Office, 530 S. State St.; Herb David Guitar Studio, 302 E. Liberty St.; or Ticketmaster.com.
"I first heard the language when I was in middle school," says Hart by phone from a train that is rolling through Mississippi, taking him back to the Crescent City after he'd performed at a festival and done a few side gigs. "I heard a story about it on public radio, and just became fascinated that there was this other language being spoken in Ireland in addition to English.
"So, I did a lot of studying on my own, until I got to the university in Ireland, where I took a lot of Irish language courses."
Hart has since taught the Irish language throughout the United States at various immersion weekends and summer schools, as well as at the university level at Washington University in St. Louis. He currently teaches Irish language courses in New Orleans.
Hart is not a "pure-bred" Irishman. "I'm a mixed bag," he says of his ethnic heritage, although he cites some Irish ancestry on both sides of his family.
Bua's latest album, "An Spealadóir," was released in '09. It was the second record with the current line-up.
Hart's continued commitment to traditional Irish music is due in part to the way it forms bonds between people.
"A lot of it is due to the connection that has formed between the Irish-music community in America and the Irish-music community in Ireland," he says. "There's a lot of closeness there, and the music has really helped to fortify that."
Kevin Ransom is a free-lance writer who covers music for AnnArbor.com. He can be reached at KevinRansom10@aol.com.