Posted on
Wed, Feb 6, 2013 : 5:03 a.m.
Blues at the Crossroads will celebrate Muddy Waters, Howlin' Wolf
By Will Stewart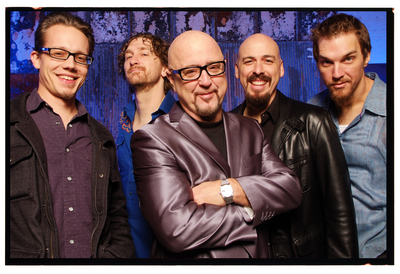 As the saying goes, Muddy Waters invented electricity.
Which, when you consider the blues, is pretty hard to escape. Waters, and fellow pioneering bluesman Howlin' Wolf, were most responsible for bring the rural sound of the Delta, plugging it into electric guitars, and bring the music of the country to urban audiences in the north.
Together, Waters and Wolf created much of the canon of urban blues numbers—"Mannish Boy," "I'm a King Bee," "I'm a Rolling Stone," "Smokestack Lightning," to name just a few—and inspired a younger generation of English musicians to create the British blues explosion of the 1960s.
On Saturday, some of the premier contemporary blues artists will honor Waters and Wolf during an all-star performance at the Michigan Theater that will be part tribute, part jam session and, if the lineup is any indication, entirely terrific.
"Blues at the Crossroads 2: Muddy and the Wolf" will feature the Fabulous Thunderbirds with frontman Kim Wilson, as well as singer-guitarists Tinsley Ellis and Jody Williams. They'll be joined by two legitimate blues legends, Harmonica player James Cotton and guitarist Bob Margolin, both of whom served time in Waters' bands of the 1960s and 1970s.
It's a historic meeting of two generations of bluesmen and a fitting bookend to the first incarnation of Blues at the Crossroads that, featuring a different lineup, paid tribute to Robert Johnson back in 2011.
PREVIEW
Blues at the Crossroads II
Who: The Fabulous Thunderbirds, James Cotton, Tinsley Ellis, Bob Margolin and Jody Williams.
What: Tribute to the music of Muddy Waters and Howlin' Wolf.
Where: Michigan Theater, 603 E. Liberty St.
When: 8 p.m. Saturday, Feb. 9.
How much: $30-$75. Tickets available from Ticketmaster.com and Ticketmaster retail outlets.
Wilson, who, with the Fabulous Thunderbirds, topped the charts with blues-based hits like "Tough Enough" back in the 1980s, said Waters and Wolf set the standard for his generation of emulators.
"If you have a high standard and you're always reaching for it," he said. "You know it's really unattainable, but you're never going to stop reaching for that.
"So you try and you try and at a certain point you maybe find yourself in the basement of that peer group—you can hold your head up and think 'Hey! I'm here!' You might fall back through the cracks for a little while, but then when you pop your head back up there's Muddy sitting up there and he's saying, 'Hey, come on in!'"
Both Waters and Wolf recorded for the Chicago-based Chess Records and established themselves not only as the premier blues artists and bandleaders of the postwar years, but also as not-always-so-friendly rivals, who competed not only for prestige, but also for the favor of the label's strong-armed honchos, Phil and Leonard Chess.
Waters was the innovator, taking the 12-bar form of the Delta blues and updating it with electric guitars and amplified vocals and harmonica.
"When I play on the stage with my band, I have to get in there with my guitar and try to bring the sound down to me," he once said. "But no sooner than I quit playing, it goes back to another, different sound. My blues look so simple, so easy to do, but it's not.
"They say my blues is the hardest blues in the world to play."
While Waters had more hits, Wolf was every bit his artistic equal and, together, the pair formed the cornerstones of Chicago blues for decades. With his longtime sideman Hubert Sumlin and his powerful, impossibly husky voice, Howlin' Wolf was the unpolished Yin to Water's urbane Yang.
"When I heard Howlin' Wolf, I said, 'This is for me. This is where the soul of man never dies," Sun Records founder Sam Phillips once said. He recorded Wolf in Memphis before Wolf moved north to Chicago.
Wolf passed away in 1975 at age 65. Waters died in 1983, an age 70.
For Wilson, the concert gives him a changce to pay homage to Waters, who in addition to being a lifelong inspiration, was also an early supporter of the younger harp player.
"Muddy Waters was my biggest mentor," Wilson said. "He really made my reputation for me, and that was a fantastic time of my life, being associated with that man."