Local musicians find crowd funding a profitable way to raise money, 'kickstart' their careers
Posted on Fri, Jun 29, 2012 : 5:51 a.m.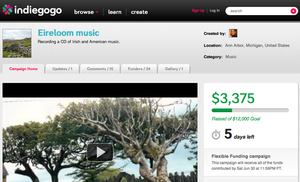 When Ann Arbor singer-songwriter Kitty Donohoe needed to raise money to record a new Irish-American CD, she did what many others are doing these days: She turned to the Internet.

Crowd funding sites such as kickstarter.com,indiegogo.com and others are changing the way musicians—as well as artists, filmmakers, would-be restaurateurs and other kinds of entrepreneurs—are funding their dreams.

"It is definitely the way to go right now," Donohoe said. "It's a brilliant idea, using the Internet in an extraordinary way … that's a very cool thing, way better than going to your neighbor."

Here's how it works: Projects are placed on sites such as Kickstarter with a video, a summary and a funding goal. Special perks—such as show tickets, custom CD pressings, T-shirts and even in-home concerts—are available to those who pledge to successful projects. For musicians, funds raised go to cover recording costs, mixing, mastering and other expenses.

With Kickstarter, if the target isn't reached, all pledges are canceled. Indiegogo allows projects to keep the funds raised. The sites don't do it for free—they make a percentage off whatever participants are able to raise.

In late June, Kickstarter's website reported 61,090 projects had earned $273 million in pledges since it was founded in 2009. Of those, $220 million went to successful projects and was collected. At that time, there were more than 4,000 projects seeking funding. Film and video was the most popular category, with music coming in second.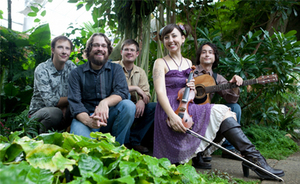 In 2011, Ypsilanti-based folk and world music band
The Ragbirds
set a goal of $10,000 on Kickstarter and raised $15,645, pledged by 292 backers.
"We were long overdue to put out an album and many of our fans were asking for more music," said frontwoman Erin Zindle. … "It wasn't a lack of songs, it was just money. We were sustaining a full-time crew of musicians with a non-stop touring schedule. But there wasn't some secret surplus lying around for us to use to dump into a recording project. And stopping meant not making money because touring was our primary source of income. "When my friend first suggested that we use a fund-raising platform called Kickstarter … I was a cold sell," Zindle recalled. "I started from the proud perspective of being ashamed to be seen as a beggar."
Zindle decided to give it a try anyway.
"We were in Vermont on the day we met our goal, and it was beautiful news in the middle of a rough tour," she recalled. "Crowd-funding is a way for fans to participate in the process and to connect more deeply with the artists they love."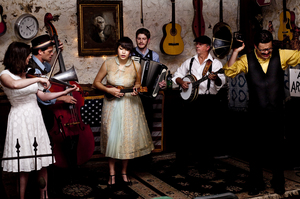 Ann Arbor Gypsy-Americana group
Orpheum Bell
's goal was $4,000, and they collected over $5,000 in pledges.
"Kickstarter helped us expand our vision towards a better quality recording in terms of time spent and equipment used," said Orpheum Bell's Serge van der Voo. "By sharing audio and visual glimpses of the process and offering donation gifts, you essentially involve the backers in the process."
Backers who pledged $1,200 or more got, in addition to a host of other goodies, a live show by the band, performed in the donor's home. "We'll be playing (it) next month outside of Holland, Mich.," van der Voo said.
Crowd funding can be traced back to the late 1990s, when fans underwrote a U.S. tour for the British rock group Marillion. According to online comments by Yancey Strickler, Kickstarter cofounder, "the gauntlet that is fundraising—for everyone who doesn't have a rich, benevolent uncle—sees only profit or predictability. Not art or passion or talent or an incredible story of inspiration.
"Kickstarter aims to give each one of us a chance to fund our ideas, starting directly with the people who are closest to it (friends, fans, community-fellows). And it's a way to break beyond the traditional methods — loans, investment, industry deals, grants — to discover that we can offer each other value through creation without a middleman dictating the product and terms."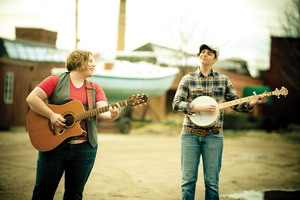 Kate Peterson
, half of the local duo
Nervous But Excited
, signed up with Kickstarter hoping to raise $6,000 worth of pledges. They realized $7,591 from 110 backers.
"It was a lifesaver for us in terms of allowing us the freedom and the flexibility to put the time into the record that we thought it deserved and that we really wanted to," she said.
"It was quite an undertaking, we put a lot into it, and that's why we got a lot out of it ... When you are asking people for money it's important that you get it right."
She said tapping into social media was key to their success.
'Without that I don't think it would even be possible. We started by making a list of people who have really been part of the project and sent personal e-mails to them letting them know about it, and then asked them to spread the word on our behalf. Then we moved on to Facebook."
Other local musicians having success with crowd funding include indie-folker Chris Bathgate (he raised $12,736 for a vegetable oil-powered tour bus), Theo Katzman (seeking $5,000, raising $9,512), the Dave Sharp Secret 7 (raising $4,055) and Match by Match (raising $3,220).
Not all campaigns are successful.
One well-known effort that fell short of its goal was a 2011 drive to fund the release of the Detroit rock and roll-themed documentary "MC5 - A True Testimonial." Organizers (who did not respond to a request for to comment for this story) were looking for $27,000, but fell short at $13,945 in pledges.
"I may tap some friends and family," Donohoe said, if she doesn't meet her $12,000 goal on indiegogo.com. "There's always the option of looking at a label to see if someone would want to take it on and pay for the recording, but that's a whole sticky wicket of its own. … The record labels are pretty much nothing any more—they don't have the money because the market is so different. They can't bankroll someone $200,000 to do an album."
But often, Peterson said, crowd-funding efforts have a happy outcome. "As long as you're smart about your goals I think people are willing to pitch in 5-10 bucks - there's a lot of people out there," she said.