Posted on
Mon, Jul 12, 2010 : 2:08 p.m.
'America's Next Top Model' casting call draws hundreds of hopefuls to EMU
By Courtney Rabideau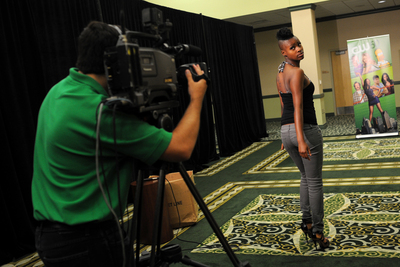 Melanie Maxwell | AnnArbor.com
"Do you have what it takes to become America's Next Top Model?"
Before Tyra Banks, the Emmy Award-winning supermodel, poses this question to the handful of women chosen to compete on her hit reality show "America's Next Top Model," searches are conducted nationwide to find the next cast of competitors, one of whom will eventually earn the coveted title, fame and a modeling contract.
On Monday, CW50, Detroit's CW network affiliate, teamed up with Eastern Michigan University to host a casting call at the EMU Student Center, attracting women — ages 18-27 and 5'7" or taller — with dreams of becoming a fashion model. Bringing completed applications and photographs of themselves, the applicants auditioned in front of a CW50 camera, doing mini-runway walks and using the few minutes they were given to explain why they should be contestants on the show.
With 50-odd women already in line well before 7 a.m. and the total count nearing 200 around 11 a.m., the line of hopefuls was alive with chatter about what brought them to Ypsilanti.
"Being a model has always been a dream of mine," said 23-year-old Detroit native Gloria Jefferson, "and 'America's Next Top Model,' among other things, has really opened a door for plus-size models. I thought it would be a great opportunity."
Chandra Haynes, a 23-year-old from Ypsilanti, said, "I've never really had a chance to show people what I'm capable of. I'm rarely in the spotlight, so I thought that this was a good time and occasion to show everyone that I can do this."
For others, like Porscha Cross, 22, from Detroit, this isn't the first time participating in an open casting call. "This is my fourth time trying," she said, "I love 'America's Next Top Model.' It's about self-esteem, opportunity, and is the perfect platform to open doors for yourself."
Melanie Maxwell | AnnArbor.com
The show's next season is scheduled to premiere on CW in early September. The set of women chosen from this casting call, however, will participate in Cycle 16 of the show, debuting next spring.
"Each cycle features nine to 14 women," a press release explains, "cast to live together with cameras rolling 24/7, competing to become America's Next Top Model. In each episode, contestants compete in various challenges, ranging from photo shoots to make-up application, from runway walking to improvisational acting. One model is eliminated each week, until one woman is named…America's Next Top Model."
A question on seemingly every contestant's mind at the event was how she could differentiate herself from the hundreds of other candidates.
Elizabeth Butler, 23, who drove thirteen hours from Wisconsin to audition, noted the importance of being a role model, and bringing a feeling of "genuineness" to the show. "I knew when I came that there would be hundreds of beautiful girls here. For me, it's about bringing a sort of 'realness' to the show, displaying the confidence I have in myself and showing others how to love themselves the way I know I do."
Heather Kuh, CW50's sales marketing manager, said that Eastern Michigan University was a perfect fit for the casting call, thanks in part to the layout of its "amazing" student center. Kuh said about 450 women attended the Ypsilanti event. In its press release, CW50 noted that Detroit has produced several 'America's Next Top Model' contestants.
"From here," Kuh said, "we don't know who, if anyone, will be chosen. In four to six weeks' time, a lucky few may be called in for face-to-face interviews with the casting director."
For now, though, it's simply a waiting game.
Angelica Conley, 22, of Detroit, summarized the experience perfectly: "You just have to come in confident, try as hard as you can, and wait to see what happens from there."
Courtney Rabideau is an intern for AnnArbor.com.