Posted on
Wed, Aug 25, 2010 : 10:27 a.m.
'Scream 4' parties at Cavern Club; new Dylan rarities collection; and more
By Bob Needham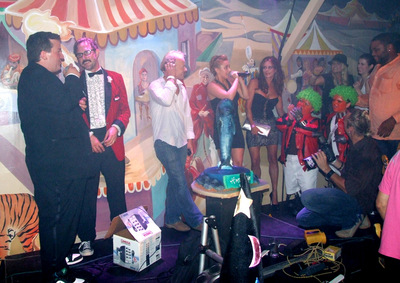 photo by RJ Overmyer for the Cavern Club
We mentioned this yesterday, but today there's more detail: Hayden Panettiere — one of the stars of "Scream 4," which is now filming in Ann Arbor and around the area — celebrated her 21st birthday over the weekend in a priavte party at the Cavern Club complex on First Street.
Club owner Nick Easton spoke about the party to the Hollywood Life blog, and it sounds like the party was pretty over the top. Easton says "Scream 4" star David Arquette, an active Twitter user who has been very complimentary about his time in Michigan, planned the whole gathering.
Other entertainment items of note online today:
MUSIC
• Bob Dylan's ongoing "Bootleg Series" will reach volume 9 with the upcoming release of "The Witmark Demos" from 1962-1964. Billboard has the details. I'm a Dylan fan who has all the previous entries in the "Bootleg Series," but I think this is where I get off the train. Enough already.
• The Dallas Observer is having some fun with Cee-Lo's "F-You," pairing the audio with classic movie clips. (Yes, the F-bombs are intact on this link.)
• MTV.com, which sure is acting like it has a vested interest in the success of Katy Perry's sophomore album, "Teenage Dream," poses this rather ridiculous question: Is it the best "second album" in pop history? I haven't heard the entire record, so maybe it is. But the really stupid part is the poll of other options, the oldest of which is Madonna's "Material Girl." Apparently MTV thinks "pop" started right around the same time MTV did. I know I'm an old guy, but that's just wrong.
TELEVISION
• Now this is a throwdown: The Travel Channel's "Food Wars" at 10 p.m. tonight looks at the two classic downtown Detroit coney island joints, Lafayette and American.
• EW.com reports on a spooky new trailer for the upcoming AMC series "The Walking Dead."
FESTIVALS AND FAIRS
• The Washtenaw Farm Council Grounds hosts a rodeo this weekend.
ART & EXHIBITS
• Jim Henson's original Kermit the Frog is being donated to the Smithsonian.
MOVIES
• Justin Bieber is giving fans a chance to be in his upcoming movie.
• Taylor Lautner has filed suit against an RV company, alleging it was late in delivering his trailer to a movie set. Don't you hate it when that happens?
Renee Tellez contributed to this roundup. Bob Needham is director of entertainment content for AnnArbor.com. Reach him at bobneedham@annarbor.com or 734-623-2541, and follow him on Twitter @bobneedham.