Posted on
Fri, Jan 7, 2011 : 11:02 a.m.
Batman coming to Michigan; Aretha's health improves; new Britney single coming
By Bob Needham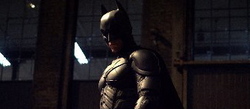 Buried a ways down in today's Reel Chicago blog is an item of particular interest: The next "Batman" movie, "The Dark Knight Rises," is set to be filmed in Detroit, as well as New Orleans and the U.K. (It had originally been planned for Chicago.)
As we all know, when the movie industry has plans for "Detroit," they often extend to the greater Ann Arbor area. And while Detroit proper does seem like a much more natural Gotham City than our fair burg, there may yet be potential. (Maybe ... new Gov. Rick Snyder's house standing in for Wayne Manor? Hmm?)
Other entertainment news of note online today:
MUSIC
• Aretha Franklin says her recent health problem has been resolved, The Detroit News reports.
• Rolling Stone offers a few nuggets online (you have to pay for the full version) from an interview with Robert Plant. The former Led Zeppelin frontman is now leading his Band of Joy, which is coming to Hill Auditorium on Jan. 21.
• Liam Gallagher says his brother Noel is using old Oasis material for an upcoming solo album.
• Britney Spears has a new single coming out Tuesday, and the cover art is already online. And in other Britney news, Billboard reports she was the inspiration for the lead character in Gwyneth Paltrow's new movie, "Country Strong." Did Gwyneth know that when she signed on?
• The Oakland Press has a preview of Little Sonny's show at the Magic Bag.
• Will Ferrell and John C. Reilly are reportedly working on a rap album based on their "Step Brothers" characters.
• "Hey —Â this guy's good!" Yep, Steve Martin is back with another bluegrass album.
MOVIES
• Sarab Kamoo, an actress familiar to local theatergoers (mostly recently in "Sonia Flew" at Performance Network), had landed a movie role, the Detroit Free Press reports.
• Paul Rudd and Leslie Mann will reprise their character from "Knocked Up" in a new Judd Apatow movie.
• The actress who played Scout in "To Kill a Mockingbird" will speak at screenings in Redford next week.
THEATER
• When I saw this headline I was pretty sure it was old news, but no, the Obamas have made another donation to Detroit's Mosaic Youth Theatre.
TELEVISION
• This could be good: Katy Perry is set for a guest role on "How I Met Your Mother."
BOOKS
• A judge has dismissed a plagiarism claim against "Harry Potter" author J.K. Rowling.
Renee Tellez and Jenn McKee contributed to this roundup. Bob Needham is director of entertainment content for AnnArbor.com. Reach him at bobneedham@annarbor.com or 734-623-2541, and follow him on Twitter @bobneedham.