Posted on
Fri, May 28, 2010 : 11:19 a.m.
American Idol record deals; what if Eminem went to U-M Law School?
By Bob Needham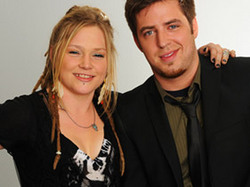 Fox
Today's fallout from the end of "American Idol" includes the news that both winner Lee DeWyze and runner-up Crystal Bowersox —Â widely considrdered the better singer — have new record deals, according to Billboard.
Meanwhile, following a season-long trend, ratings for the finale were down compared to past years. And E!Online has an opinion piece about how "Idol" voters seem to keep voting for the same sort of contestant.
Other entertainment items of note online today:
TELEVISION
• Former "Diff'rent Strokes" star Gary Coleman is on life support after suffering a fall, E!Online reports.
• Now that the reality shows that people actually watch have ended their seasons, EW.com is recapping "So You Think You Can Dance."
MUSIC
• People.com reports that Alicia Keys and rapper Swizz Beatz are engaged —Â and Keys is pregnant.
• 50 Cent lost a bunch of weight for a movie role, but he's already putting it back on to prepare for touring, MTV.com reports.
MOVIES
• Universal Studios has reopened its backlot, destroyed two years ago in a fire, USAToday reports.
• Rosie Huntington-Whiteley, a Victoria's Secret model, will replace Megan Fox in "Transformers 3."
ONLINE
• This is fantastic — newly uploaded to YouTube by user agollada, but coming from the 2004 Michigan Law School Law Revue Talent Show. Imagine "Eight Mile" set at the Law Quad. It might look something like ...
Bob Needham is director of entertainment content for AnnArbor.com. Reach him at bobneedham@annarbor.com or 734-623-2541, and follow him on Twitter @bobneedham.