Posted on
Mon, Oct 11, 2010 : 11:09 a.m.
Solomon Burke remembered; 'Social Network' tops again; Banksy does 'The Simpsons'
By Bob Needham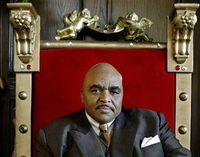 Solomon Burke should have been a bigger star.
The soul singer —Â who made some fantastic records in the 1960s, with a powerful voice, a crack band and great songs —Â has died at age 70. "King Sol" continued to actively record and tour in recent years.
Good basic obituaries have been produced by the Los Angeles Times and The New York Times. Meanwhile, Rolling Stone revived a profile of the singer and also lists 15 of his best songs.
Here's a latter-day performance of one of his signature songs, "Everybody Needs Somebody to Love": (If you're not familiar with Burke but recognize this song, it was used in the movie "The Blues Brothers.")
There's another video at the end of this post.
Other entertainment items of note online today:
MOVIES
• Despite some pretty decent competition from new releases, "The Social Network" held down the top spot at the box office for the second straight weekend.
• The A2 Journal has a story on Friday night's sneak preview screening of locally shot "Answer This!" Jenn McKee also covered the event for AnnArbor.com.
ART & EXHIBITS
• The Grand Rapids Press has a wrapup report as ArtPrize shuts down for the year.
TELEVISION
• Wow. If you haven't seen it, this is definitely worth watching — an extended, dark-edged opening sequence for "The Simpsons," aired last night and created by famous graffiti artist Banksy.
EW.com has some interesting background.
• The New York Times' Arts Beat blog has a recap of last night's episode of "Mad Men."
• Jane Leeves of "Glee" had some fun hosting "Saturday Night Live." Here's the opening monologue:
COMICS
• Marvel Comics icon Stan Lee and MTV are teaming up on a new comic book.
MUSIC
• The "60 Minutes" feature on Eminem covered a lot of ground.
• Today's item that must pass without comment involves Justin Bieber's line of nail polish.
AND FINALLY ...
Wrapping up today, my favorite Solomon Burke song, "Got to Get You Off My Mind," in performance last year:
Renee Tellez contributed to this roundup. Bob Needham is director of entertainment content for AnnArbor.com. Reach him at bobneedham@annarbor.com or 734-623-2541, and follow him on Twitter @bobneedham.