Posted on
Tue, Oct 26, 2010 : 10:47 a.m.
Jon Stewart on Juan Williams' firing; Michael Jackson still raking it in
By Bob Needham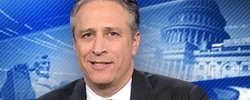 This is really good. After a week layoff, "The Daily Show" is back — but in Washington, D.C., in preparation for Jon Stewart's "Rally to Restore Sanity" this weekend (and, you know, the midterms).
Last night they had some fun with Juan Williams' firing from NPR. Watch it here: (Note there's a fair amount of profanity — it's bleeped out, but it's still very obvious.)
Other entertainment items of note online today:
MORE TELEVISION
• ABC has ordered an additional five episodes (bringing the total to 18) of "Detroit 1-8-7," the Detroit Free Press reports. Meanwhile, The Detroit News has a look at a real Detroit cop who has become a prominent extra on the series. If you haven't seen the show, I recommend it — it's really pretty good and has the potential to be great.
• Brandy was on top again and Bristol Palin was much improved on last night's "Dancing with the Stars."
• TMZ says a guy whose wife was missing went ahead with an audition for "America's Got Talent."
MUSIC
• A fascinating piece from Forbes looks at Michael Jackson's earnings potential after his death, leading off with the astounding fact that his estate has made more money in the past year than Lady Gaga, Jay-Z, Beyonce and Madonna combined.
• The collaboration between Jay-Z and Kanye West has grown from an EP into a full album, Rolling Stone reports.
• Taylor Swift has told MTV.com she doesn't need her new album, "Speak Now," to top her previous smash, "Fearless."
• Sony stopped making the iconic, cassette tape Walkman yesterday. Wait —Â yesterday? Not 15 years ago?!?
• Kevin Costner will host the upcoming "CMT Artists of the Year."
• A new area singing group of young teen girls will perform at the Village of Rochester Hills this weekend, the Oakland Press reports.
THEATER
The Chelsea Area Players will perform "The Rocky Horror Show" next month, the Chelsea Standard reports.
ART & EXHIBITS
• The Detroit News reports on the opening of the new N'Namdi Center for Contemporary Art in Detroit.
• The Dexter Leader notes that Art on the Farm comes to Dexter Township this weekend.
MOVIES
• MTV.com reports on a new trailer for Justin Bieber's upcoming 3D movie.
Renee Tellez contributed to this roundup. Bob Needham is director of entertainment content for AnnArbor.com. Reach him at bobneedham@annarbor.com or 734-623-2541, and follow him on Twitter @bobneedham.