Posted on
Wed, Jun 26, 2013 : 5:31 a.m.
Detroit band Dale Earnhardt Jr. Jr. all revved up for Thursday's Sonic Lunch show
By Roger LeLievre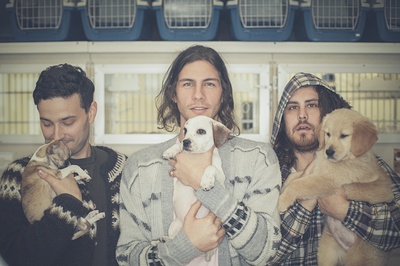 Nope, it's not a typo, or even a story that belongs in the sports section. The band playing this Thursday's installment of the downtown
Sonic Lunch
series really
is
named
Dale Earnhardt Jr. Jr.
Formed in late 2009, that's the dubbed-on-a-lark, NASCAR-driver-referencing title under which Detroit-area natives Joshua Epstein and Daniel Zott record and perform their electro-indie pop music.
"To be honest," said Zott, "we were making music and we didn't realize we would be a band and tour and all that kind of stuff. We didn't think that through, I guess. When it came time to name the band we didn't think it was that important."
Now signed to Warner Bros. Records and expanded to a foursome that includes Jon Visger (part of the Ann Arbor band Mason Proper of a few years back) on keyboards and Mike Higgins on drums, the group was fresh from its second appearance on TV's Conan O'Brien show recently when Zott talked to AnnArbor.com by phone from Los Angles.
While the band has no ties to the real Dale Earnhardt Jr., Zott said the popular NASCAR circuit driver is actually just fine with the group appropriating his name. "When we got signed to Warner's they were a little nervous," Zott admitted. "We were pretty sure we were going to change the name to just Jr. Jr. But then we wrote Dale Earnhardt Jr. and he wrote us back and was super kind and wished us the best of luck (and said) he was flattered that we would reference his name in our band name.
PREVIEW
Dale Earnhardt Jr. Jr.
Who: Popular Detroit band. Presented by Bank of Ann Arbor's Sonic Lunch series.
What: Indie pop, folk, and electronic elements swirled together into one breezy package.
Where: Liberty Plaza, corner of South Division and East Liberty streets, Ann Arbor.
When: Noon Thursday, June 27.
How much: Free. Information: www.soniclunch.com.
"When someone has that much money and that much fame it's kind of a deadly combination. … But he seems very normal and down-to-earth, which is really great," Zott added.
In 2011, Dale Earnhardt Jr. Jr. released the album "It's a Corporate World." Most recently, the band released the EP "Patterns," which includes the catchy pop single "If You Didn't See Me (Then You Weren't on the Dancefloor)." Their upcoming full album coming this fall will be called "The Speed of Things." The title comes from a line in one of the songs contained on the disc.
"It's basically a comment on how fast the world is moving and trying to find connections with all sorts of things when the world is rapidly changing and nothing seems to be stable," he explained.
Not that the whole CD is that heavy, Zott was quick to add. "There's dance-y, goofy tracks with sarcastic lyrics, like 'If You Didn't See Me,' or tracks like 'The Haunting," which is super-poetic and deep."
In just a few years, fans have seen the project grow from basement recording project to an international touring group known for their energetic and anything-goes live shows. Zott said that the move from Ann Arbor record label Quite Scientific to big-time Warner Bros. has been a positive one so far.
"When we got signed, we had already finished recording the (new) record and they didn't make any changes to it - they were fine putting it out as it was," said Zott. "We did it all in my basement. … It's kept the great things about being with a small label - there's not all this pressure and weird tension going on - at the same time we've got someone that has our back that can really extend our reach."
Zott said he and Epstein are proud of their native city and are flattered anyone would include them in with other Detroit musicians who have made their mark.
"I grew up listening to Motown - not just that but Kid Rock and Eminem and The White Stripes, MC5, the punk bands," he recalled. "I think there are so many great bands that can only exist in Detroit, and if we can be a sliver in that conversation that would be amazing."