Dan Rather coming to Michigan Theater in May for talk, book signing
Posted on Thu, Apr 12, 2012 : 11:39 a.m.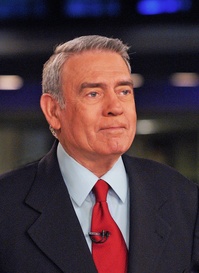 The Ann Arbor District Library will host an evening with journalist Dan Rather as he discusses his new memoir "Rather Outspoken: My Life In The News" on May 21 from 7 p.m. to 8:30 p.m. The event, which will include a book signing, will be held at the Michigan Theater, 603 East Liberty. Books will be on sale at the event, and there is no charge to attend this special evening event, which is cosponsored by Michigan Radio.

Given his distinguished record and exposure on television around the globe, Rather may be the best-known journalist in the world. He has covered virtually every major event in the world in the past 60 years. His resume reads like a history book, from his early local reporting in Texas on Hurricane Carla, to his unparalleled work covering the assassination of President John F. Kennedy; the civil rights movement; the White House and national politics; wars in Vietnam, Afghanistan, the Persian Gulf, Yugoslavia and Iraq. From his first days as the Associated Press reporter in Huntsville, Texas, in 1950, Rather has more than earned his reputation as the "hardest working man in broadcast journalism."

Rather served as anchor and managing editor of "The CBS Evening News" from 1981 to 2005, the longest such tenure in broadcast journalism history. He helped to found "48 Hours," a broadcast he anchored and reported for from its premiere on Jan. 19, 1988, through September 2002. He was a correspondent for "60 Minutes" from October 1975 to September 1981, and again from March 2005 to the summer of 2006. Rather also helped to found, and served as a correspondent for, "60 Minutes II," from its debut on Jan. 13, 1999 to its final edition in September 2005. His regular contributions to CBS News Radio included "Dan Rather Reporting," a weekday broadcast of news and analysis on the CBS Radio Network from March 1981 to November 2004. In 2006, Rather founded the company News and Guts and became anchor and managing editor of HDNet's Dan Rather Reports, which specializes in investigative journalism and international reporting.

During his 44 years with CBS News, Rather held many other prestigious positions, including anchor of the documentary series CBS Reports and of the weekend editions of "The CBS Evening News." He served as the CBS News bureau chief in London and Saigon and was the White House correspondent during the Johnson, Nixon and Ford administrations.

Over the many years of his career, Rather has regularly landed the biggest interviews with the world's most important and compelling figures, from the famous to the infamous. Among the landmarks of his illustrious career was his tenacious and critically acclaimed live reporting on the terror attacks of Sept. 11, 2001. Rather spent 53 hours and 35 minutes on the air over less than four days beginning the morning of the attacks. In 2000, he anchored Election Night 2000, a marathon that kept him on the air continuously from 6 p.m. on Tuesday, Nov. 7, to 10 a.m. on Wednesday, Nov. 8.

He has received virtually every honor in broadcast journalism, including numerous Emmy and Peabody Awards and citations from critical, scholarly, professional and charitable organizations. Rather has also authored or co-authored seven books, four of which have become New York Times bestsellers.

This memoir "Rather Outspoken: My Life In The News" is told in a straightforward and conversational manner, and readers will note his distinctive voice on every page. Rather discusses all the major stories from his decades of reporting. This very personal accounting includes his dismissal from CBS, the Abu Ghraib story, the George W. Bush Air National Guard controversy, his coverage of the JFK assassination, the origin of "Hurricane Dan" and inside stories about all the top personalities Rather has either interviewed or worked with over his remarkable career.

The book will also include Rather's thoughts and reflections on the state of journalism today and what he sees for its future, as well as never-before-revealed personal observations and commentary.

For more information about this event, call the Ann Arbor District Library at 734-327-4555.