Posted on
Tue, May 15, 2012 : 7:59 a.m.
Things you may not know about Dan Rather, appearing Monday (for free) in Ann Arbor
By Jenn McKee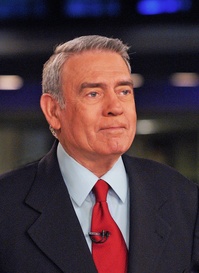 Longtime television journalist
Dan Rather
is coming to the Michigan Theater on Monday—not to break a story, but to tell his own.
Rather's new memoir, "Rather Outspoken: My Life in the News," revisits the major stories Rather covered during the course of his 60-year career; thoroughly explores the controversy surrounding his 60 Minutes II story about George W. Bush's Texas Air National Guard service record in 2004 (which led to Rather leaving CBS News); and includes Rather's thoughts on the present state, and future, of journalism.
Rather will discuss his memoir, and sign copies of his books, at Monday's free event, which is hosted by the Ann Arbor District Library. In the meantime, you might want to brush up on your knowledge of the seasoned, loved-and-loathed former anchorman.
Childhood: Born October 31, 1931 in Wharton County, Texas. Rather grew up in a blue collar Houston neighborhood called Heights Annex and was the child of a waitress mother and a ditch-digger father—avid readers, both.
College: Rather attended Houston State Teachers College (now Sam Houston University), where he struggled to pay his way; earned a degree in journalism; and edited the school newspaper, The Houstonian.
Surprising early career offshoot: While in college in Huntsville, Rather provided radio coverage of his college's football team, as well as loal junior high and high school games. He spent 4 years as the play-by-play announcer for the University of Houston football team, and in 1959, Rather provided play-by-play for the a triple A baseball team called the Houston Buffs.
Military service: In 1954, Rather enlisted in the United States Marine Corps, but was soon discharged because he'd had rheumatic fever as a child.
Married: In 1957, Rather married his wife, Jean, with whom he has two children: daughter Robin, an environmentalist and community activist in Austin; and Dan, an assistant district attorney in New York City.
Breakthrough moment: Rather reportedly tied himself to a tree while covering Hurricane Carla in Galveston, Texas, in 1961. The incident resulted in Rather's nickname, "Hurricane Dan," and a job with CBS News in 1962.
Most personally meaningful story he covered: The coverage of Martin Luther King and the Civil Rights movement. "It changed me as a person, and it changed me as a pro," he recently told George Stephanopoulos on Good Morning America.
PREVIEW
Dan Rather
What: Longtime television journalist Dan Rather will talk about his career and his new memoir ("Rather Outspoken: My Life in the News") in this talk and book-signing, hosted by the Ann Arbor District Library.
Where: Michigan Theater, 603 E. Liberty St.
When: 7 p.m. Monday, May 21.
How much: Free; no tickets required. More information: www.michtheater.org and www.aadl.org.
Dark distinction:
Rather was the first network television journalist to report
President John F. Kennedy
's assassination.
Soviet invasion of Afghanistan: Rather memorably wore native garb while reporting from Afghanistan in 1980, and as he writes in "Rather Outspoken," "This was the birth of (the nickname) 'Gunga Dan,' and I've endured a fair share of ribbing about it ever since. The clothes were, however, absolutely necessary for the journey." At that time, Rather caught the attention of Congressman Charlie Wilson, whose efforts led to the largest-ever CIA covert operation in supplying aid and advanced arms to the mujahideen - a story told in the Tom Hanks/Julia Roberts movie, "Charlie Wilson's War."
CBS Evening News: Taking the reins from Walter Cronkite, Rather anchored the CBS Evening News from March 9, 1981 to March 9, 2005. Cronkite had wrapped up his nightly broadcast by saying "And that's the way it is"; Rather's first attempt at a sign-off, "Courage," was widely mocked, so he later settled on "That's part of our world tonight."
Folksy Ratherisms: Part of the Texas-bred CBS anchor's on-air persona derived from his regular use of colorful, folksy, sometimes-odd expressions, like: "His chances are slim to none right now, and if he doesn't carry Florida, Slim will have left town," and, "If a frog had side pockets, he'd carry a hand gun."
Odd, Rather-centric event that became part of the cultural lexicon: On Oct. 4, 1986, as Rather was walking to his Manhattan apartment, he was attacked from behind by a man who demanded to know, "Kenneth, what is the frequency?", while a second assailant also chased and beat him. The bizarre incident inspired songs by Game Theory and R.E.M., and became slang for a confused person.
Controversy: Rather's long career at CBS ended when the authenticity of documents—provided by George W. Bush's former Texas Air National Guard commanding officer, Lt. Col. Jerry B. Killian—used in his "60 Minutes II" report about Bush's supposedly spotty service record came into question in 2004. Rather defiantly tells his version of events, from inside the controversy, in great detail "Rather Outspoken," but at the time, he announced on the air, "If I knew then what I know now, I would not have gone ahead with the story as it was aired, and I certainly would not have used the documents in question."
Afterlife: In 2006, Rather founded the company News and Guts and became anchor and managing editor of "Dan Rather Reports" on Mark Cuban's HDNet.
Lawsuit: In 2007, Rather filed a $70 million lawsuit against his former bosses, claiming they made him a scapegoat in the Killian debacle. In the end, the case was dismissed.
No regrets: In that same "Good Morning America" interview, Rather said, "My attitude has gotten, in recent years, that sometimes things in journalism go badly for the correspondent. But it's important not to get baffled, not to be afraid, and to never quit. I have a passion for covering news. I love covering news. But particularly when you do investigative stories, not everything is going to go well."
Jenn McKee is the entertainment digital journalist for AnnArbor.com. Reach her at jennmckee@annarbor.com or 734-623-2546, and follow her on Twitter @jennmckee.