Posted on
Wed, Nov 28, 2012 : 5:52 a.m.
Sex columnist Dan Savage bringing his blunt advice to the Michigan Theater
By Jenn McKee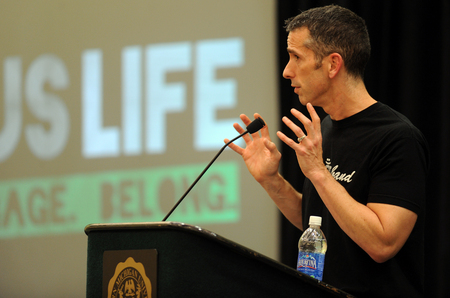 Melanie Maxwell | AnnArbor.com
If nothing else endears you to outspoken sex columnist and gay activist
Dan Savage
—who will speak at the
Michigan Theater
on Sunday, Dec. 2—perhaps this will: His drag name was Helvetica Bold.
But the more commonly known elements of Savage's biography include a Roman Catholic upbringing in Chicago; studying theater and history at the University of Illinois; suggesting to The Onion cofounder Tim Keck, who was about to move from Madison, Wisconsin to Seattle to launch an alternative newspaper called The Stranger, that he should feature an advice column—which became Savage's launching pad to fame ("Savage Love"); marriage to Terry Miller, with whom Savage adopted a son; and founding the national "It gets better" video campaign after teen gay suicides became a topic of national discussion. (Video features adult language.)
Savage never seems at a loss for words, so here are some of his insights, drawn from recent interviews.
On getting started as an advice columnist (Fray.com):
"I was really caught by surprise by the fact that people wanted to ask me real questions. When the column started, it was a joke. We sort of brainstormed what a column could do and how it could be different, and having a (gay man) write a sex advice column that was mostly for straight people. The whole idea was I would treat heterosexual sex with the revulsion and contempt that heterosexual advice columnists had always treated homosexual sex with. I would just sneer at it and what happened really quickly: I started getting real questions from heterosexuals in trouble, and I found that I had this untapped well of sympathy for straight people that I didn't know was there."
PREVIEW
Dan Savage
What: Writer, TV personality, columnist and "It Gets Better" anti-bullying campaign founder/activist Savage will offer his funny and uncensored views.
Where: Michigan Theater, 603 E. Liberty St. in Ann Arbor.
When: Sunday, December 2 at 3 p.m.
How much: $22.50-$37.50. For advance tickets, call 800-745-3000 or visit www.ticketmaster.com.
On what makes "Savage Love" stand apart (Fray.com):
"What you get in my column that you don't get in other sex advice columns is I'm not invested in some bologna idea about what sex ought to be. I'm very realistic about what sex is and how you wrestle with it in your life and accommodate it within your relationship in a way that makes having that relationship possible.
"You know, it would be great, when somebody writes and says, often a woman, 'My boyfriend looks at porn and it makes me upset.' It would be great if I could say your boyfriend is a bad person and shouldn't look at porn and tell him I said so and that would fix it. It won't. What you have to say is your boyfriend needs to lie to you and tell you that he won't look at porn, continue to look at porn, do a better job of not getting caught, and when you catch him you need to give him some credit for the effort he went to fool you and turn a blind eye or you're never going to have a relationship that's going to succeed. You need to get a dog or a (lesbian), not a boyfriend, if you can't handle the porn."
On parenting (Interview Magazine):
"TV commercials make parenting look like there are going to be good days and bad days—like, it'll be this gentle wave, like you'll have a blissed-out, really wonderful day or two, and then, you know, then you'll have an issue. And what parenting is, is kind of... [He mimics a Richter scale with his finger.] It looks like an earthquake. There's a good two minutes and then a bad three and a good 10 and a bad four—it's just like [faster Richter scale] all day long, until the kid is asleep.
On the contemporary experience of being young and gay (Interview Magazine):
"The successes of the LGBT civil rights movement and the more prominent role openly gay people are playing in the public eye has actually turned up the temperature in middle schools and high schools for queer kids. We've had a culture war roaring away, and the kinds of people who want to abuse and discriminate against gay people who are adults can't really lay their hands on us unless they want to be gay-bashers and go to jail. They abuse us from afar and in the abstract, they abuse us with checkbooks and ballots, but their kids go to school on Monday morning. And there's a gay kid. And they feel they have license to beat that gay kid up in a way that I don't think they did when I was in school. I think it's gotten worse.
… (David) Sedaris, in his essay in the "It Gets Better" book, writes that when he was growing up nobody called him gay because you might as well have called him a warlock. Nobody knew what gay was. Now people know what gay is. It really did take Billy Lucas's suicide to wake me up to, kind of, the damage of the success of the LGBT civil-rights movement—higher-profile LGBT people—has done to LGBT youth who are trapped out there. … But I don't think we need Pride. I am still opposed, on philosophical grounds, to the flap of the rainbow windsock and the damage that does to us intellectually. Pride became this dogma which meant you couldn't criticize anything gay - if you were the least bit critical of gay culture or people or any gay person doing any gay thing, that was an insufficient display of pride. You were suffering from internalized homophobia. As opposed to external homophobia, like, 'I think you're (messed) up. I'm fine. You're a mess.' And that's what bothered me - still bothers me - about Pride. To be gay is nothing to be proud of. It's in how you are gay that you have something to be proud of, considering the obstacles placed in your path if you are gay.
On whether he ever considered suicide when growing up (GoodMenProject.com):
"I thought about suicide - not because I wanted to die, but because I thought it would be the nice, polite thing to do. I thought, when I was a kid, that my mother and father would be devastated if I ever told them I was gay, that they would never be able to love me. So there was a year or two where I thought it would just be easier for everybody - Mom, Dad, me - if I died. That way I wouldn't have to come out and they wouldn't have to suffer. And they wouldn't stop loving me.
But it never got past simple contemplation. No plans were made, no pills were hoarded. And it didn't take me long to realize that I was selling my parents short."
Here's a Live Wire interview with Savage, during which he discusses Don't Ask Don't Tell as well as the "It Gets Better" campaign. (Video contains adult language.)
Jenn McKee is the entertainment digital journalist for AnnArbor.com. Reach her at jennmckee@annarbor.com or 734-623-2546, and follow her on Twitter @jennmckee.