Posted on
Wed, Apr 3, 2013 : 11:09 a.m.
'Dance for Mother Earth' Powwow to return to Crisler Center
By Ann Dwyer
The Annual Ann Arbor "Dance for Mother Earth" Powwow at the Crisler Center is a wonderful event that celebrates a proud tradition—prouder even than U-M sports. The powwow has been an integral part of ushering in spring, and a beautiful reminder of history and culture.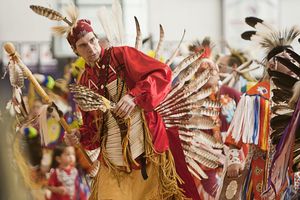 This is the 41st year of the powwow, which will feature drum and dance contests, Native American traditions and vendors selling Native American crafts, jewelry, art, clothing, home decor and more.
Sat. April 6 and Sun. April 7, 2013. Both days doors open 10:30 a.m. Grand entry on Saturday, noon and 7 p.m. Grand entry on Sunday, noon. $10 per day or $15 weekend pass. Crisler Center is located at 333 E. Stadium Boulevard, Ann Arbor.