Posted on
Sat, Jul 20, 2013 : 9:02 a.m.
Danny Britt, Marvin Dykhuis bringing their Texas roots sounds to The Ark
By Kevin Ransom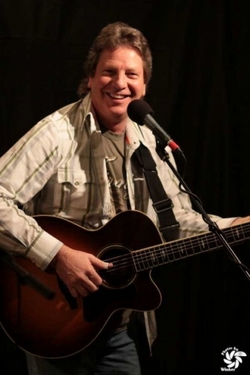 If
Danny Britt
had his druthers, he would play most of his shows with a full band. But the cost of lugging five guys, a drum kit and a trailer full of guitars, basses, amps, etc., is just too prohibitive.
So, about 25 percent of his shows feature him fronting a full band, and about 75 percent are duo shows, pairing him with Marvin Dykhuis, the supremely talented lead guitarist in his band and a real gunslinger on the Texas Americana-music scene. (They're also sometimes joined by a bass player.)
But, by no means is he complaining. Dykhuis is an impressive, proficient player who is just as nimble and expressive when playing syncopated blues, country-rock twang, or deft, delicate folk ballads. And Dykhuis is also a songwriter who co-writes some of the tunes for Britt's full-band albums.
He also wrote or co-wrote several songs on the duo record Britt and Dykhuis released last year, "Two Guys, Two Guitars."
"Before then, I didn't have any records like this—my previous albums had been full-band recordings, and many people would come up to us after our duo shows and say they really liked the two-acoustic-guitar sound, and asked if we had an album that represented what they had just heard from us that night," says Britt.
"So we knew we definitely needed to record something like that, for the fans who like what Marvin and I do together in that more spare, acoustic setting," adds Britt, who comes to The Ark on Sunday for one of those duo shows with Dykhuis.
"Not only is Marvin a world-class guitarist, but he 's also a fine producer, and he was Tish Hinojosa's bandleader and producer for years," says Britt by phone from Austin, following one of two shows he'd done that day. Both of those were duo shows with Dykhuis, and he had two full-band shows scheduled for the next day.
For their duo shows, and on the duo album, Britt and Dykhuis also trade-off lead vocal duties, and harmonize wonderfully.
PREVIEW
Danny Britt and Marvin Dykhuis
Who: Two guys with guitars who are staples on the Austin country-folk-rock scene.
What: Roots tunes from their duo recording, as well as acoustic renditions of songs from Britt's full-band albums.
Where: The Ark, 316 South Main St.
When: Sunday, July 21, 7:30 p.m.
How much: $15. Tickets available from The Ark box office (with no service charge); Michigan Union Ticket Office, 530 S. State St. or online from MUTO.
Britt grew up in Kentucky, playing a mix of bluegrass, country, rock and even classical. After doing stints in several bands there, he moved to Texas in 1980. He spent a couple of years as Jerry Jeff Walker's road manager in the mid-late '80s, and has since played many live shows with Jerry Jeff. He began doing his own shows in Austin in the early '90s, and has been a mainstay on that vibrant roots-music scene ever since.
Britt's debut album, in 2001, was the full-band recording "Danny Britt and Red Dawg: Texas Stuff," produced by Dykhuis After that came "The Other Side" in 2003, and featured various Austin-based guests, including Kelly Willis, Bruce Robison, Christine Albert, Chris Gage and Dykhuis.
Then in 2007 was another full-band disc, "Walk this Road," although it was more of an acoustic-country-rock disc than an electric one.
One of the highlights of "Two Guys, Two Guitars" is a poignant Britt composition, "She Only Drinks Whiskey in the Morning."
"That one was inspired by a comment made to me in a club in Austin, by a gal who said she only drinks in the morning—although with her, it was tequila. So it gave me this idea to depict this good old West Texas woman, who's had a hard life, her father had walked out on her, nothing came easy for her, and she ended up drinking too much, and drank so much that she would dance on the bar, and end up sleeping in her car. So, to remedy that, she now only drinks in the morning."
Britt leaves the song open-ended, and doesn't say whether she continues drinking throughout the day. "No, I decided to just leave it at that"—which was a good choice, because it plants that question in the listener's mind and makes you wonder what her life is like. On the track, Dykhuis underscores the emotion in the song with shimmery, mournful slide guitar.
Another stand-out track is "Brother Put the Hammer Down," co-written by Dykhuis with two other writers. On the album they play it in a syncopated, Piedmont-blues style. "We can do that one in a few different ways," says Britt. "Sometimes we'll give it a reggae type of vibe, sometimes we keep that bluesy feel, sometimes it's got more of a country sound," says Britt.
"Texas Eagle," meanwhile, chugs along to a subtly locomotive groove that is both fitting and intentional, since it's about a train ride between Dallas and San Antonio and is named after a train that is actually called the Texas Eagle. "I like the way we get the guitars to evoke that sound of the train clicking down the tracks," he says.
Looking back on his years playing music and touring, Britt still cites Jerry Jeff as his biggest influence. "In the mid-'80s or so, he decided to quit touring with a band, and he called me up and said he just wanted to do a bunch of solo shows, and said 'I'll pay you what you're making now, and it's just going to be you and me and the pilot,' and we would play a different city almost every night, back to back to back.
"We did that for a few years, non-stop, and being with him so much was the best education I could have ever had as a songwriter. I hadn't really started writing songs yet, but he really opened my eyes up when it came to how to write a song.
And those who know what a hell-raiser Jerry Jeff was back in the day - and that his audience was even more boistrous - won't be surprised to hear this anecdote from Britt: "We played many different kinds of venues, from the nastiest dance halls to the most foo-foo theaters, and everywhere we went, the venue told us they'd never seen so much alcohol consumed by the audience at a single show."
Kevin Ransom is a free-lance writer who covers music for AnnArbor.com. He can be reached at KevinRansom10@aol.com.