Posted on
Thu, Jul 29, 2010 : 5:43 a.m.
Dan's Downtown Tavern a fine stop for pub fare in Saline
By Will Stewart
Note: Dan's has undergone an extensive renovation since this review appeared, including new handicapped-accessible bathrooms.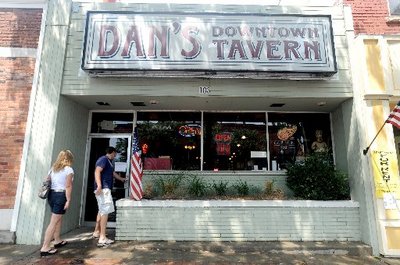 Angela J. Cesere | AnnArbor.com
Dan's Downtown Tavern, in Saline, is the kind of neighborhood bar that every neighborhood should have — a watering hole serving cold beer and good pub grub in a no-nonsense, friendly manner.
We were looking forward to a visit to Dan's, having remembered a stellar burger there some years back while passing through Saline.
And, while the burger we enjoyed recently wasn't quite the thing of beauty we remembered, it's easy to see why Dan's has established itself as a destination for Saline locals as well as out-of-towners.
Dan's bills itself as "the little bar with a big atmosphere" and its menu bears this out. In addition to typical bar fare like burgers and wet burritos, Dan's has a range of unusual salads and gourmet sandwiches, including an intriguing chicken cordon blue sandwich on a Kaiser roll.
RESTAURANT REVIEW
Dan's Downtown Tavern
103 East Michigan Avenue, Saline
734-429-3159
Dan's Downtown Tavern in AnnArbor.com restaurant guide

Hours: Monday through Saturday, 11 a.m.-2 a.m..; Sunday, noon.-9 p.m.
Plastic: Visa and Mastercard.
Liquor: Yes.
Prices: Inexpensive to moderate. Burgers from $5, all entrees less than $10.
Value: Good.
Noise Level: Can be loud.
Wheelchair access: Yes.
We settled in for ice-cold beers from a well-tapped bar (Dan's also has a full liquor selection) and chicken wings, good but a little scrawny and thirsty for more buffalo sauce. Burgers — fresh ground from Knight's Market and served on buns from Benny's Market in Saline — were on the agenda for most of our party. In addition to standard options, Dan's offers a selection of specialty burgers, including the Adrian burger — Swiss cheese, sautéed onions, mushrooms and peppers — which arrived perfectly grilled to order, with the cheese fairly dripping off of it.
It was the kind of burger that Dan's made its reputation on, and it was easy to see why.
Unfortunately, one burger — double stacked with American cheese — was overcooked to the point of bring dried out and flavorless, serving as the only real disappointment during our visit.
A friend's steak salad featured tender meat, with the nice added touches of mozzarella and bleu cheeses, as well as dried cranberries.
We'd happily return to Dan's and its raucous, family-friendly atmosphere that makes you feel like a regular, even when you aren't.
Will Stewart is a free-lance writer for AnnArbor.com.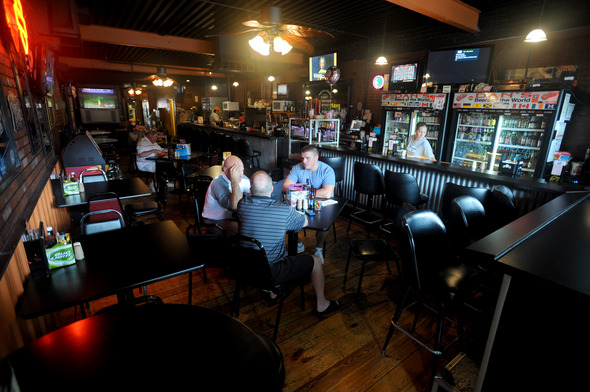 Angela J. Cesere | AnnArbor.com