Posted on
Thu, Jun 13, 2013 : 7:43 p.m.
Darren Criss and Theo Katzman thrill capacity crowd at Michigan Theater
By Jenn McKee
What did you think of the concert? Leave a comment and / or vote in the poll at the end of this post: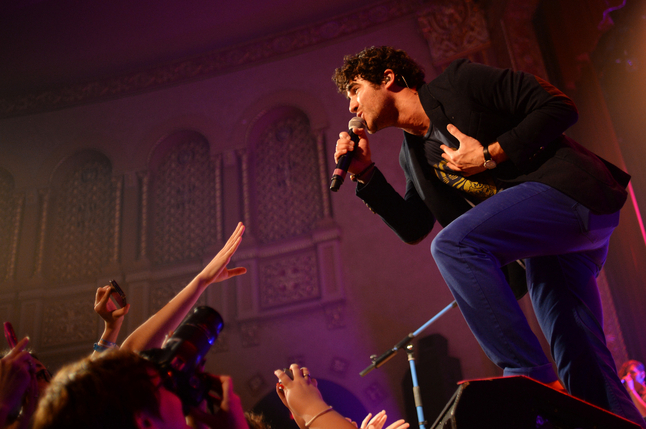 Photo gallery: Images from Darren Criss and Theo Katzman Sonic Lunch at the Michigan Theater
Between the rabid fans who arrived at the 1,700-seat Michigan Theater in the wee hours of Thursday morning, and the fact that "Glee" star (and U-M grad) Darren Criss' 90-minute set began more than an hour after it was originally scheduled, Sonic Lunch, at some point, just became Sonic Thursday.
But no one in the capacity crowd — who stood throughout both Theo Katzman's and Criss' sets — seemed to mind in the least.
Opener Katzman — also a U-M grad who formerly played in the local band My Dear Disco/Ella Riot — had a large contingency of his own faithful fans who cheered and danced through his six-song set, which kicked off with "Pop Song," followed by "Brooklyn," "It's Gonna Be Hard for You," "Every Few Days," "Country Backroads," and a new tune called "As the Romans Do."
Katzman announced he was playing a guitar built for him by people at the Ann Arbor Music Center — Katzman's former employer — and was wearing new clothes bought Thursday morning at Sam's Clothing.
"This is my fifth year doing Sonic Lunch," Katzman said during his set. " … I've been doing this concert since there was a $500 guarantee and you had to bring your own PA system,. For those of you in the business, you'll know that that leaves you about $7 to split among you. It was a labor of love back then, … and it's still a labor of love. There's no concert series like Sonic Lunch and the Ann Arbor Summer Festival anywhere. I've played all over the country, and no joke, that's for real."
After a 30-minute transition, and some short-lived chants of "Darren, Darren, Darren," the lights went down, and as the band (with Katzman now on drums) began to play "Circle of Life," from "The Lion King," the crowd turned, like wedding guests awaiting the bride, to see security guards walking Criss down one of the aisles, singing all the way to the stage. (In the spirit of the song, a man held his toddler up above the crowd.)
"I don't even know where to begin, Ann Arbor," Criss told the crowd. "It's so great to be back."
Criss began his regular set with "I Still Think" and "Burning Up," followed by the new song, "Any of Those Things."
Criss mentioned he used to play his music at downtown Ann Arbor's Potbelly restaurant, at State and Liberty, and work at the Michigan Theater — "I used to usher these aisles. I saw so many shows here" — and called his band members "some of the University of Michigan's finest. … I think I'm the only guy up here who hasn't played on this stage before." (Band members included Katzman, Joe Dart, Tomek Miernowski, and Tyler Duncan.)
As one of several nods to his U-M days, Criss played "Sami," from a U-M student-produced web series called "Little White Lie," and brought a woman (wearing a tiara and light-up sash) who was celebrating her birthday onto the stage during "Picture Perfect."
"(The band and I) have been looking forward to this for so long," Criss said. "It's like Christmas morning."
For "The Muse," Criss invited his former musical collaborator (and fellow U-M grad) Charlene Kaye onto the stage, explaining that they "met at an open mic night freshman year … and ever since then, we've been the closest of friends"; and by way of introducing "Don't You," Criss explained some tips he picked up while broke and playing music at restaurants around Los Angeles.
"The trick when you're a restaurant musician is to not be in the way, but to be just interesting enough to where they tip you. The least invasive thing you can do is usually play jazz standards and American classics. … So what I would do to insert my own songs into the set … is I would write songs that sound like standards."
Fans of Criss' "A Very Potter Musical" music likely thought the show was, well, totally awesome, since Criss performed "To Have a Home" (one of his mother's favorites, apparently) and "Gotta Get Back to Hogwarts" (alone on a acoustic guitar), which closed out the set.
The adoring crowd sang along with every word of both songs.
For the show's encore, Criss performed the song that first introduced him to "Glee"'s audience, Katy Perry's "Teenage Dream," and the rock song "You Were Never My Lover," concluding the concert with a "Circle of Life" coda and the words, "Go Blue!"
Criss' proud parents, Bill and Cerina Criss, were among those in the Michigan Theater crowd.
"Since Darren went to school here, we come back whenever we get the chance," said Cerina Criss. "We love Ann Arbor."
"Both of our sons are musical, and their mom's very musical," said Bill Criss. "It was a house full of love, and full of musical instruments."
Rena Laws of Dearborn, and Brandi Hovizi of Kalamazoo, meanwhile, were among those lining up at 6 a.m. Thursday morning to get the best spot possible in line.
"There were probably 40 or 50 people already there with wristbands, and there was a huge line for people without wristbands," Hovizi said.
The two hardcore fans drove together from Kalamazoo at 3 a.m. Monday for the last Crissband giveaway — they were first in line — and Laws also traveled to Chicago to see Criss perform this past Saturday.
"That show was phenomenal, but this was way better," said Laws. " … The Chicago show didn't have the same hometown feel. (Criss) seemed so glad to be back in Ann Arbor. There was just a lot more energy."
Jenn McKee is an entertainment reporter for AnnArbor.com. Reach her at jennmckee@annarbor.com or 734-623-2546, and follow her on Twitter @jennmckee.