Posted on
Fri, Jun 7, 2013 : 9:09 a.m.
Darren Criss talks about his time at University of Michigan, Team StarKid, and 'Glee'
By Jenn McKee
"Glee"
may have recently wrapped up its fourth season, but 2009 University of Michigan grad
Darren Criss
, who plays Blaine on the hit show, is busier than ever—launching his first-ever national solo concert tour, called "Listen Up!," which will include a free
Sonic Lunch
show at the
Michigan Theater
.
The tour kicked off May 29 in Criss' hometown, San Francisco—so you might wonder what brought the California boy to the University of Michigan's department of theatre and drama.
PREVIEW
Darren Criss' Sonic Lunch concert
What: Criss - a U-M grad and star of "Glee" - will appear with a band made up of fellow Wolverine alums, including Theo Katzman, who will offer an opening set.
Where: Michigan Theater, 603 E. Liberty St.
When: Thursday, June 13 at noon. (Katzman's set will start at 11:30 a.m.; be at the theater by 10:45.)
How much: Free. Attendees must have a wristband to enter; 1,000 wristbands will be distributed before the show date at various times and locations, announced via Sonic Lunch's website, Twitter feed, Facebook page, and newsletter. The remaining 800 wristbands will be distributed on June 13, for those lining up no earlier than 6 a.m. at the Michigan Theater. One wristband per person in line.
"I think the gateway drug was my dad," Criss said during a recent phone interview with AnnArbor.com. " … It's one of the beautiful accidents of my life, given that Michigan played such a massive role in my life. My dad kind of lived all over the place when he was growing up, but his father worked for GM, and so he grew up going to Michigan games. So getting that sense of Michigan's grandeur from him appealed to me, and I auditioned and got in."
This acceptance altered Criss' view entirely. "It's like that girl or guy at the bar that you're not thinking about too much, but then a friend tells you she's interested, and you're suddenly like, 'Oh, really?' and your whole perspective changes, … and you're interested back," said Criss. "Then I visited the campus and fell in love instantly."
At the time of Criss' phone interview, a group of 6 of his old U-M friends—musicians who are performing as his backup band on the "Listen Up!" tour—were camped out at his home in L.A.
"There's a whole lot of chainsaw juggling happening right now, because I'm essentially running a Wolverine orphanage in my house," said Criss. "Plus, I was trying to get home early from rehearsal so we could watch Michelle Chamuel on 'The Voice.' I knew her in school (at U-M), and I played with her a few times. So Michigan is alive and well and running rampant in my house right now."
Criss claims that he's wanted to play with his touring crew of U-M musicians—including Theo Katzman (who will open Criss' Sonic Lunch show); Tyler Duncan and Joe Dart, formerly of My Dear Disco/Ella Riot; Tomek Miernowski; Buddy Paul; and Jack Straton of Vulfpeck—since he was in college.
"I'm not even saying this because I'm sentimental about my time in Ann Arbor," said Criss. "But every one of these guys … I met in college, and I would have done anything to be in a band with them. … I don't use hyperbole often, but I've never met or known people like these guys. And I didn't know if I'd ever be able to do it, but it was my dream to put these guys together, … and here they are."
So although Criss may have learned a good deal inside U-M's classrooms, he feels most indebted to "the Ann Arbor scene."
"Me and the guys always talk about it—and maybe this is just our delusions of grandeur talking, but to us, there's something palpable about the music and arts scene there," said Criss. "We may be tooting our own horn, … but there's something magical about the town. It does something to bring certain kinds of artists together. I don't know if it's something in the water or what. And maybe it just feels that way because we were all so excited to meet each other and play music there. … But the greatest thing for me was feeling like part of that community, and to have that community be open to what I was interested in."
Criss even made a recent, short, spontaneous trip to Ann Arbor on his own.
"I didn't know it was graduation weekend, so I couldn't get a hotel room," said Criss. "So that was an oversight on my part. But I loved it."
Criss got his first taste of fame, of course, when he starred in (and, with A.J. Holmes, co-wrote the music and lyrics for) the original U-M Basement Arts production of "A Very Potter Musical," which was produced and filmed in April '09, and then went viral when the show became available online a few months later. This led to the formation of the (now Chicago-based) theater troupe Team StarKid, which followed up with "A Very Potter Sequel," as well as a world premiere, puppet-filled production of "Starship," which featured music and lyrics by Criss.
Most recently, StarKid presented a staged reading of the last part of the musical trilogy, "A Very Potter Senior Year," starring Criss in the lead role, at the Harry Potter fan event LeakyCon in Chicago on Aug. 11, 2012. (The full show appeared online in March 2013.)
Criss' "Glee" schedule, as well as his music pursuits (he's getting an album together), keep him from being very involved with StarKid these days. "I'm a cheerleader at this point," said Criss. " … I'm now more on the sidelines with pompons going, 'Yay!'"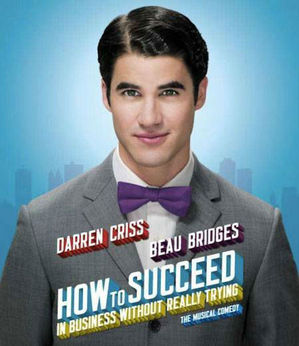 But Criss was center stage when he assumed the lead role, for three weeks, in the Broadway production of "How to Succeed in Business Without Really Trying," taking the reins from—prepare for yet another Harry Potter connection—
Daniel Radcliffe
, star of the Potter movies.
"Broadway veterans probably wanted to just punch me in the face," said Criss. "My run in the show was very, very short, and knowing that, I could conduct myself accordingly. From the start, I could already see the light at the end of the tunnel, so I could just go all out, knowing I didn't have to sustain it all for several months."
Criss found the day-to-day experience of working on Broadway to be the exact opposite of working in television.
"In television, you've got these long hours, sometimes 13 to 15 hours a day, and a lot of times, you don't know when you'll be working, so you can't really make plans," said Criss. " … But there's something new every day, and things shift just enough to keep you on your toes. In theater, you sleep in for much of the day, and it's the same thing every day, so you don't have to be on your toes all the time. But you have to take that with a grain of salt, because you can kind of go into some semblance of auto pilot, and you have to be careful with that, too. … But I was so spoiled, and it was so great to be on stage. I thrive in live performance—the immediacy of it, the symbiosis of each person feeding off each other."
Many of Broadway's biggest stars, of course, have appeared in guest roles on "Glee" during Criss' run, as have major television and film stars.
"I never got to do anything with Gwyneth Paltrow on the show, but she has been lovely to me every time I've run into her," said Criss. "She's everything you think she would be. She's just as angelic as she looks."
One of Criss' all-time favorite "Glee" guest stars is Matt Bomer, who played Blaine's older brother Cooper. Significantly, Criss confessed that when the character he's playing is supposed to be close to another character, he likes to get to know the actor playing that role off-stage/set by asking him/her to dinner; but he often holds himself back from doing just that, because "I don't want to be weird."
"But Matt got in touch with me, because we were going to play brothers," said Criss. "It's not like we were doing intense Mamet play for a year together. It was just a guest spot on one episode. But he called me and said, 'Do you want to go to dinner with me, and I said, 'Yes, I would love that.' … We became fast friends. I love Matt Bomer, and I would gladly do any other project with him."
Criss' post-college television career began with roles on "Cold Case" and a short-lived show called "Eastwick," and these worked as a kind of introductory course to the medium.
"But nothing can prepare anyone for 'Glee,'" said Criss, who originally auditioned for the role of singing football star Finn before the show premiered. "There's no learning curve. It's just a learning experience all the time. And after a show is done, I feel like I can do anything."
For while all shows have dialogue and blocking, "Glee" also requires dance rehearsals, recording sessions and lots of wardrobe fittings.
"It's just a lot, all the time, and the machine never turns off," said Criss. " … But I say this all while acknowledging that I wouldn't have it any other way. There's no way anything in my career lives up to this experience, and I get a pain in my stomach at the idea of it being over one day. … But inevitably, even things you love become work at some point. Like when you're a college student, and the 7 a.m. alarm goes off, and you were up the night before having a drink with a friend, so you think, 'Oh, I don't want to go to class. I hate this.' But by the time you graduate, you don't want to leave. That's the same thing with 'Glee.' I have a job, and it's so fun, and such a great platform for all of us, but it's a lot of work. … It's been an extraordinary boot camp. … I feel like I'm getting a master's degree at McKinley High."
Jenn McKee is an entertainment reporter for AnnArbor.com. Reach her at jennmckee@annarbor.com or 734-623-2546, and follow her on Twitter @jennmckee.