Posted on
Wed, Jun 13, 2012 : 5:28 a.m.
Daughter's questions spur local photographer's book on 'Horses of Greenfield Village'
By Roger LeLievre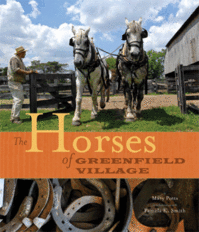 When
Mary Potts
took her young daughter Zoe to
Greenfield Village
a few years ago and they saw the magnificent Percheron and Morgan horses that live and work there, the Ypsilanti-based photographer had no idea the visit would turn into a book.
In particular, her daughter was fascinated by the William Ford horse barn, one of the few structures off-limits to the public at the famous historical park.
"Where do they sleep in there? Where do they eat in there?" Potts recalled the 6-year-old asking. "She couldn't get over the idea we were not allowed to see that part. I started thinking that there is a good deal of information that the public doesn't get to see about how much the horses do for the village.
"There's a whole lot of care that goes into them year-around, not just for the nine months that the village is open. … I thought there was really a story there that could be told in photographs. Having been an event photographer for many years, I was very used to the idea of telling a story with pictures," she added.
"The Horses of Greenfield Village," with pictures by Potts and text by Pamela K. Smith, was recently issued by Ann Arbor-based Huron River Press.
With photographs and stories, readers are guided through a year in the lives of horses named Stephen and Foster, Noah and Webster, Doc and Howard, Abe and Lincoln, Mark and Max, Tom and Henry, Orville and Wilbur, and Rosa and Kate. It's a behind-the-scenes look at how the animals are a key part of everyday operations in the village: The Percherons, with their strength, are used in farming and pulling; the Morgans are used by the forest ranger and for light draft work.
The 119-page volume was created in partnership with The Henry Ford, which operates historic Greenfield Village, located in Dearborn. Not only does the book offer a present-day look at the roles of the horses in the operation of the village, it also provides a glimpse of a way of life that's mostly vanished from American life.
"That's a happy by-product," Potts acknowledged. "They really do everything, even behind the scenes, as authentic as possible."
First, Potts recalled, she had to get an OK from the Henry Ford to pursue the project, which turned out to be easier than she thought it would be. "I just called up some people in the marketing program and said 'I have this idea about a book, I'm a photographer, I think there's a story here.' It was an idea that was well-received—I never heard a 'no'."
The book project consumed 18 months for the photography and writing the first draft. Editing and design followed, with about 2.5 years spent on the project from beginning to end, Potts said.
Potts said the draft horses, unlike higher-strung thoroughbreds, have a very steady demeanor, which made them easy subjects to photograph. "They care, but they don't really care," she said. "They are very relaxed, not easily set off at all, very smart and fun to be around."
Potts, who lives in Ypsilanti, grew up around horses at the old Northville racetrack where her mother worked. "I used to be able to go and hang out in the back stretch, and watch the horses go out, watch the races, and watch the horses come back in. I was fascinated," she recalled.
Smith, a professor at Eastern Michigan University, grew up in southern Ohio, and from a young age had a love of horses.
Although "The Horses of Greenfield Village" is Potts' first book, it will not be her last. She is working on two more photo-documentary books that tell their stories over a period of time. One is about Michigan microbreweries and brewpubs, and the other explores the world of the Oklahoma-based Kelly Miller Circus, the last traveling outdoor big-top circus in the country. The project will involve traveling with the group off and on of the course of a season, Potts acknowledged.
"I never thought I'd get to officially say I've run away to join the circus," she laughed.
There are two local book signings scheduled for "The Horses of Greenfield Village." The first is June 16 from noon-2 p.m. at the Ypsilanti Library Whittaker Branch, 5577 Whittaker Road. The second is June 19 from 5-6 p.m. at the Ann Arbor District Library's Pittsfield Branch, 2359 Oak Valley Dr.