Posted on
Tue, Nov 13, 2012 : 10:37 a.m.
Jazz great Dave Holland talks about influences, rare Big Band date at the Michigan Theater
By Kevin Ransom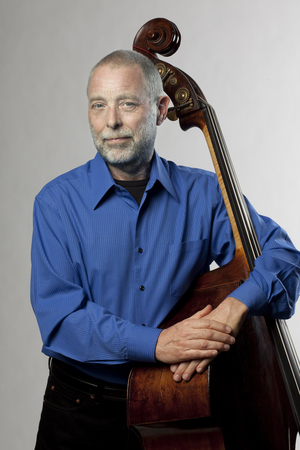 These days,
Dave Holland
—one of the greatest jazz bassists / composers of the last 40-plus years, and a true jazz giant—only breaks out his renowned Big Band on special occasions. That's mostly due to economics: It's just too costly to take a large ensemble on the road for extended tours.
But, one of those special occasions will be Saturday, when Holland brings his Big Band to the Michigan Theater under University Musical Society auspices.
"Yeah, this is not part of a tour, it's a one-off," says Holland. "We try and make it work economically, and I also want to make sure the music is as great as it can be, so I also need to be able to ensure that I always keep the best guys—we've had the same personnel in the big band right along. So, the last couple of years, with the economy what it is, we've only done a handful of shows a year."
Holland first formed his Big Band in 2000, but for the last 15 years or so, Holland's Quintet has been his primary ensemble. But he's so restlessly creative that, in the last several years, he's also recorded and toured with his Octet, and done a flamenco record ("Hands," in 2010, with all-world flamenco guitarist Pepe Habichuela).
And, this year, he also assembled a quartet, dubbed Prism, that includes guitarist Kevin Eubanks (best known to mainstream audiences as the former bandleader on "The Tonight Show with Jay Leno"). And THAT group has already recorded an album that will be out next year.
"There was a time when the big band was front and center," says Holland, a native of England whose Brit accent is still prominent. He and his Big Band released two albums in the last decade—"What Goes Around" in 2002 and "Overtime" in 2005. "When those records came out, we did some touring, but then I moved on to the other projects. But it's great fun to bring the band together when we get the right opportunity. There's a really nice feeling within the band, so when we get back together to do a show, it's like a family reunion.
PREVIEW
Dave Holland Big Band
Who: Holland is one of the greatest jazz bass players / composers of the last 40 years, and leads a variety of ensembles—his big band, his quintet, his octet and, most recently, a new quartet.
What: For this show, Holland breaks out the 13-piece Big Band, which, in recent years, he's only done on one-off "special occasions," as he calls them.
Where: Michigan Theater, 603 East Liberty Street.
When: Saturday, Nov. 17, 8 pm.
How much: $18 - $48. Buy tickets by calling 734-764-2538 or online.
Segueing back and forth between different ensembles "keeps my creative juices flowing," says Holland by phone from Saugerties, New York, which he has called home for 34 years. "Working with those different ensembles is a great source of creative energy. These varying musical experiences keep the creative fire alive, and that comes out in the music I write and play."
One aspect of writing for, and playing with, his Big Band that he especially enjoys is that "the compositional palette is larger—there's a wider range of orchestral colors," he says. "It offers a greater opportunity for more extended writing. I also love the communal aspect of what we do—we have a greater variety of musical personalities contributing to the music, compared to my smaller ensembles. And they're all outstanding soloists, and everyone gets a chance to display their unique talents in the context of a large ensemble.
For Saturday's performance, the repertoire will largely draw from the songs on the aforementioned "What Goes Around" and "Overtime" Big Band albums, says Holland.
On those albums, Holland and his band displayed their affinity and talent for creating exuberant, adventurous, free-wheeling arrangements and improvisations—not to mention their ability to push and pull against the groove, and unspool heady, exhilarating polyrhythms.
One thing that's unique about Holland's ensemble that it's 13 pieces instead of the standard 17-or 18-piece big band. As a result, the music has a "slightly lighter texture," as Holland puts it. "So, it sounds more like an expanded smaller group—we go for a slightly different sound than what you hear from the classic big band."
Although Holland already has a tour booked with Prism for next year, and is also already rehearsing for another flamenco album with Habichuela, he also wants to record another Big Band album after he's wrapped up those projects. In addition to everything else he has on his musical plate, "I've also been working on new compositions for the big band," he says.
As a leader of a big band, when he's composing and arranging and recording, Holland continues to draw from his various big-band influences and past experiences—like "Duke Ellington and Billy Strayhorn—that was a wonderful collaboration—plus Kenny Wheeler, an incredible composer, and Thad Jones—his music and writing were also incredible." (Wheeler and Jones are among the many jazz greats that Holland has played with over the years.)
But when it comes to being a bandleader in general, one of Holland's main influences, to this day, continues to be Miles Davis.
Holland was already a fixture on the London jazz scene when Davis saw him perform at the iconic jazz club Ronnie Scott's in '68. Within a month, Holland was playing in Davis' band at a Harlem nightclub. Davis was so impressed with Holland's tone, artistry and technique that he tapped Holland for the recording sessions for his groundbreaking, electrified fusion albums, "In a Silent Way" and "Bitches Brew" albums (1969 and '70, respectively).
"Like anyone who worked with Miles, I learned so much from him," says Holland. "Being around him and seeing how he ran a band was a great lesson. He was not a man of many words, but he always found the context to allow players to explore their creativity, and always knew how to choose the right players for the music he wanted to create. If you have to say too much, you probably don't have the right players in the band.
"I remember, the first night I played with him, I was standing two feet away from him, and feeling his incredible intensity, and being struck by the clarity of what he was playing, how every note seemed to be coming from such a strong musical intention.
"And he did that over and over again, in every band he was in, or led," praises Holland. "And he had the same impact on every musician who played with him—he just inspired us to keep moving forward, not to sit still, to keep finding new ways to do what you do."
Kevin Ransom, a free-lance writer who covers music for AnnArbor.com, can be reached at KevinRansom10@aol.com.