Posted on
Mon, Jan 18, 2010 : 5:31 a.m.
Local bandleader Dave Sharp finds satisfaction in musical diversity
By Will Stewart
From the Melvins to Miles Davis to the students he teaches how to play the blues at the Ann Arbor Music Center, bassist Dave Sharp is all over the musical map.
So it only makes sense that Sharp's latest project, Dave Sharp's Secret Seven, would combine multiple genres under the broad umbrella of jazz.
"I wanted to create a world-music jazz band, but we ended up using different genres to create what you might call 'groove jazz,'" he said. "It's not really traditional jazz and it's not straight-ahead jazz.
"One of my students called it bright, modern jazz."
That description certainly fits the tunes on the band's new record, titled "7." But it hardly covers all the bases the trio — yes, the Secret Seven is fundamentally a trio, not a septet — travels on the new record, which visits everything from New Orleans funk to drone-y Middle Eastern and Indian classical forms. Listen to Dave Sharp's Secret Seven "Africano" (MP3).
It's still is, fundamentally, a jazz record. Just one that you can dance to.
"I love jazz records and I listen to them all the time," Sharp said. "But their identities are usually in the composition and the improvisation.
"I wanted to do more with textures, which is where the world-music elements come in, with the use of instruments like the tabla and some other unusual instruments and motifs."
Sharp, who arrived in Ann Arbor from Detroit during the mid-1980s to attend the University of Michigan, has a history as varied as the sounds on the new record. After achieving regional success with the hard-rock band Mol Triffid in Michigan, he and the rest of the band moved to San Francisco, where Sharp discovered a deep love for the Middle Eastern and Indian music that has a stronghold in the Bay Area.
And even though he started playing jazz in California, he was still playing rock 'n' roll and spent a year touring with pre-grunge pioneers the Melvins, playing up and down the west coast.
"It was an exciting time and I got to meet a lot of the stars in the Seattle music scene," he recalled. "And all those influences stuck with me and led me to where I am now with the Secret Seven."
Eventually, a desire to be closer to family and his future bride called him back to Ann Arbor in the late 1990s and Sharp formed his self-titled quartet, which became a stalwart band on the local jazz scene.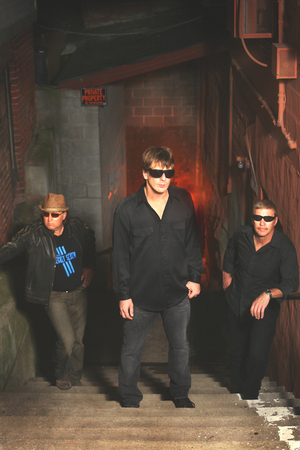 Through his quartet, Sharp met reedman
Chris Kaercher
and drummer
Eric Wilhelm
, who constitute the other two-thirds of the Secret Seven's core. Together with Kaercher, Sharp began composing the 7 tunes that make up the bulk of the new record (there are 2 bonus tracks, also, including an inventive cover of Eddie Bo's "Can I Be Your Squeeze?"). The two then demoed the tunes in Sharp's rehearsal space at the
Ann Arbor Music Center
, then honed them at live gigs, before doing the majority of the tracking at
Big Sky Studio
.
In the process, he brought in a host of his musical friends, including guitarist Alex Anest on lap steel and Dale Grisa on keys, as well as singers Chris McCall and Sean Ike.
"It went so far beyond what I was expecting," Sharp said. "But I knew all these great players, who I knew I wanted to be part of this project."
And, although he had served as the leader of his quartet for years, Sharp said recording the new record really honed those kills and brought them to the forefront.
"I really like steering the vision and encouraging other people to bring in their vision, as well," he said. "I know what these guys can do and it's very gratifying to put them into an environment where they can do what they do best.
"I like juggling all the strengths and, hopefully, pulling out everyone's strong suits to benefit the songs."
And for all the fireworks on display on the record, Sharp said the band really shines onstage. In the meantime, he said he's been thrilled with the reception the record has received, both here and on jazz radio stations across Europe.
"Everyone's favorite songs seems to be different from everyone else's," he said. "That tells me that there's a lot of great tunes and a good variety of styles, which is exactly what I was going for."
The new CD is available at CDBaby. Dave Sharp's Secret Seven will play Live at PJ's, 102 S. First St., at 8 p.m. Feb. 20. Will Stewart is a free-lance writer for AnnArbor.com.