Posted on
Sat, Sep 7, 2013 : 9:58 a.m.
David Berkeley brings his melancholy, poetic style to The Ark Monday night
By Roger LeLievre
David Berkeley, who, according to the New York Times, has a "lustrous melancholy voice with shades of Tim Buckley and Nick Drake," brings an album's worth of new songs to The Ark on Monday night.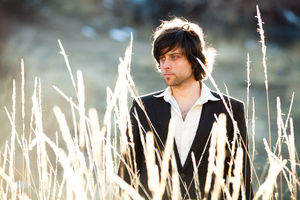 Courtesy
With his doleful baritone, he's been compared to Cat and Sufjian Stevens as well as a host of other literate songwriters. Insite Atlanta calls him "one of the undiscovered gems of the modern folk music scene, and Rolling Stone says that Berkeley has a "voice sweeter than incense and peppermints."
Given the tone of his music, his between-song persona can be surprising, as Berkeley manages to weave his heartbreaking songs with anecdotes that bring the house down.
His newest album is "The Fire In My Head," released earlier this year.
Born in New Jersey, Berkeley has lived in Cambridge, Mass., where he got a degree in literature and philosophy from Harvard. He also called Alaska, Idaho, Brooklyn, Santa Cruz, Santa Fe and Corsica home. Each of those places has left its mark on his sparse, atmospheric guitar-based songs.
As influences, he cites Paul Simon for the lyrics, Nick Drake for the mood, and then Neil Young, The Band, Elliot Smith and Jerry Garcia of the Grateful Dead.
"My wife and my son inspire me the most," he says. "Most of my songs are about them to some extent. I'm also inspired by traveling and by the outdoors. … I get pretty moved by the landscape and by change of scenery. … I get inspired by things that piss me off, political things that bother me.
"Anything that gets me going, whether it's love or anger or frustration with the world, that's where my songs come from."
David Berkeley plays at The Ark, 316 S. Main St., Monday, Sept. 9 at 8 p.m. Tickets are $15. Details at www.theark.org or 734-761-1800.