Posted on
Thu, Jun 13, 2013 : 10:41 a.m.
Huron High alum David Goyer reflects on writing career, his new 'Man of Steel' Superman movie
By Kurt Anthony Krug
Ann Arbor native David S. Goyer—co-writer of the new "Man of Steel" Superman movie debuting Friday—originally wanted to be a homicide detective.
However, teachers noticed his aptitude for writing.
"I won a national writing award in high school. I wish I could remember the name of it. I do remember getting a letter from (then-Gov. James Blanchard because of this award)," recalled Goyer, 47, a 1984 Ann Arbor Huron High School alumnus and a 1988 University of Southern California alumnus.
Ellen Sapper had Goyer in her English class, where he'd give her superhero drawings and 2-3 page horror stories. By the end of the year, she had quite the collection.
"We read a lot of Ray Bradbury. He told me he hoped one day to make a movie out of a Ray Bradbury story. After he went to USC, he told me he met Bradbury and mentioned the same thing to him, which is cool because Bradbury was my hero," said Sapper, now a counselor at Ann Arbor Pioneer High School.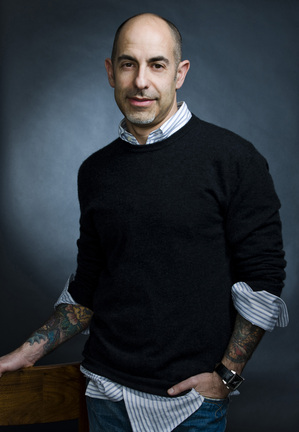 Growing up, Goyer was a fan of horror authors Stephen King and Peter Straub and comic books. He read Marvel's "Incredible Hulk," "Avengers," "X-Men," and "Spider-Man," as well as DC Comics' "New Teen Titans" and "Watchmen."
"Comic books have always represented modern myths ... They're modern-day versions of the Greek tragedies. They exist halfway between the written word and film; they're essentially storyboards, so they're easier to visualize," explained Goyer. "Some of the filmmakers who are making movies now cut their teeth on comics growing up - Guillermo Del Toro, ('Man of Steel' director) Zack Snyder, Joss Whedon, myself."
Goyer's claim to fame is reinventing Batman with "The Dark Knight Trilogy" after the Bat-movie franchise was left for dead, thanks to 1997's poorly received "Batman and Robin." Goyer co-wrote the trilogy with director Christopher Nolan, starting with 2005's "Batman Begins." They made Batman (Christian Bale) a dark and tormented hero, and made no references to Batman's previous movie and TV incarnations.
"People were ready for a change… ('Batman and Robin') was not well-received and that was another big hurdle to get over in terms of re-educating the audience. It's obvious now, but the route we decided to take was just to say this isn't the world that looks like Fritz Lang's 'Metropolis'—this is our world," said Goyer. "We tried making everything in the film as relatable to our world as possible. It's not just going to introduce things solely because that's the why they were done in the comic book; we had to come up with our own internal logic... It's a misnomer to say it's going to be realistic—I understand that. More relatable is what we were going for, and that approach resonated."
Last year's "The Dark Knight Rises" grossed approximately $1.08 billion worldwide, barely beating 2008's "The Dark Knight," which grossed approximately $1 billion.
"I don't think any of us in our wildest dreams ever imagined those films doing as well as they did," said Goyer.
While taking a week off from "Rises," Goyer jotted down ideas for a new take on Superman, whose success as a movie franchise has had ups and downs. He shared his ideas with Nolan, who immediately called Warner Bros.
"A week later, we had a deal to work on Superman, while simultaneously working on the third Batman film. It was very unexpected and happened very quickly. It was the right place at the right time," recalled Goyer, who co-wrote "Man of Steel" with Nolan.
Like "The Dark Knight Trilogy," "Man of Steel" has nothing to do with the previous Superman movies, four of which starred the late Christopher Reeve. Henry Cavill (TV's "The Tudors") plays Superman and alter-ego Clark Kent, Amy Adams ("Enchanted") plays Lois Lane, Michael Shannon ("Revolutionary Road") plays General Zod, Russell Crowe ("Gladiator") plays Jor-El, Kevin Costner ("The Bodyguard") plays Jonathan Kent, and Diane Lane ("Unfaithful") plays Martha Kent. One of the producers of the new movie is Wes Coller, who is originally from Pinckney.
"Superman's a difficult character to adapt. There had been misfires previously. He's obviously not purely human, as Batman is. He's harder to relate to and it's harder to empathize with a character who's seemingly invulnerable," said Goyer.
"People revere—and rightfully so—the (two Superman films directed by Richard Donner), but Superman's been preserved in amber. The first film came out 35 years ago. Cinematically, he really hasn't evolved since that time. We had that hurdle to get over as well. He's been reinvented in the comic books, but not so much so in the movies."
Goyer wanted to flesh out the character of Jor-El, Superman's biological father. The first 20 minutes of the film occur on Krypton, giving the doomed planet some back story.
"Since we wanted to showcase that (Superman) was an alien and came from an alien world, I felt strongly that we needed to spend some time on Krypton and also some time with Joe-El," said Goyer. "I remember how fun it was in 'Batman Begins' in the first half to be all Bruce Wayne and not Batman. I thought it would be fun to do something similar with Jor-El. We would never imagine Jor-El as a man of action. It would be neat to see that and to depict Krypton in the throes of civil war."
Goyer also wanted to make Superman more relatable by having him deal with the universal human issues of love, family, divided loyalties, and his place in the world. In short, focus on the "man" instead of the "super," which attracted Snyder.
"Without breaking the canon, without taking away the things that make him Superman, they were able to make him totally relatable. They took me on a journey that was interesting to me, and that was the reason to do (the film)," said Snyder. That's not to say that Goyer didn't feel any pressure.
"There was enormous pressure. But you have to put that out of your head; you can't think about that. You can't think about how much Warner Bros. has riding on the success of this film; if you do, you'll become paralyzed," he said.
Asked what gives Superman such staying power after 75 years, Goyer replied, "First of all, he's the original superhero. All the other superheroes, one way or another, are inspired by him. He's a classic, iconic character. He represents the otherworldly stranger. It takes a stranger to shine a mirror back on our own humanity—it's a classic, classic story. He's got antecedents in Gilgamesh, Hercules, Beowulf, and—most obviously—Jesus Christ. Superman draws his inspiration from both the Old Testament and the New Testament."