Posted on
Tue, Sep 4, 2012 : 1:33 p.m.
Davy Rothbart, Ann Arbor native and public radio star, releases a new book of essays
By Jenn McKee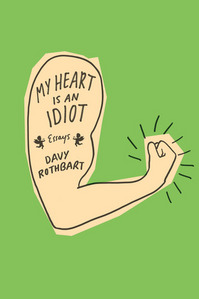 Hitting bookstore shelves today is "My Heart is an Idiot," a new collection of essays by Ann Arbor native, Found Magazine founder and "This American Life" contributor
Davy Rothbart
.
Published by Farrar, Straus and Giroux, the book's description reads: "Davy Rothbart is looking for love in all the wrong places. Constantly. He falls helplessly in love with pretty much every girl he meets—and rarely is the feeling reciprocated. Time after time, he hops in a car and tears across half of America with his heart on his sleeve. He's continually coming up with outrageous schemes, which he always manages to pull off. Well, almost always. But even when things don't work out, Rothbart finds meaning and humor in every moment. Whether it's humiliating a scammer who takes money from aspiring writers or playing harmless (but side-splitting) goofs on his deaf mother, nothing and no one is off-limits.
"But as much as Rothbart is a tragically lovable, irresistibly brokenhearted hero, it's his prose that's the star of the book. In the tradition of David Sedaris and Sloane Crosley but going places very much his own, his essays show how things that are seemingly so wrong can be so, so right."
With effusive blurbs from Elizabeth Gilbert, Tom Robbins, Charles Baxter, Susan Orlean, Sarah Vowell, Dave Eggers and, of course, Ira Glass, the book is now available in stores and various places online, including Amazon.
Rothbart grew up in Ann Arbor and now lives in Los Angeles.
Jenn McKee is the entertainment digital journalist for AnnArbor.com. Reach her at jennmckee@annarbor.com or 734-623-2546, and follow her on Twitter @jennmckee.