Posted on
Tue, Nov 13, 2012 : 6:55 a.m.
Davy Rothbart shares experiences in new essay collection, and celebrates a decade of Found Magazine, at The Last Word
By Jenn McKee
The headline for this story has been changed to reflect the correct event venue.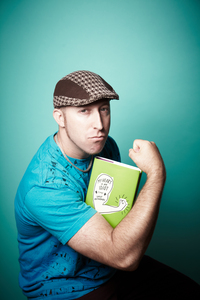 Photo by Dan Busta
One of the first things you might notice about
Davy Rothbart
's new collection of personal essays, "My Heart is an Idiot"—which he'll be in town to promote, while also celebrating the 10th anniversary of
Found Magazine
, on Nov. 16—is the list of ecstatic, effusive blurbs from A-list writers on the back, including:
Dave Eggers, Susan Orlean, Charles Baxter, Tom Robbins
, and
Elizabeth Gilbert
; inside, on the book's flaps, meanwhile,
Ira Glass, Kid Rock
and
Jim Carroll
offer their praise.
Not bad for an Ann Arbor kid. Rothbart graduated from Community High and the University of Michigan; and he founded Found Magazine (an annual magazine that collects quirky letters, notes, journal entries, and lists that people find) and contributed stories to the radio show, "This American Life," both of which earned him national attention. And while Rothbart spends much of his time in Los Angeles these days, Ann Arbor is the backdrop for a handful of essays in "My Heart."
"Collecting blurbs was all on me," said Rothbart from L.A., where he was preparing to embark on the second half of a 79-city tour (with his brother Peter, a musician and Found editor). "They were my responsibility. So I contacted people I've been in touch with for one reason or another over the years."
Orlean and Gilbert, for instance, are longtime Found fans. "And Tom Robbins, whose writing I've always liked, had just had eye surgery, but still said, 'Let me see what I can do,'" said Rothbart. "He had a young niece … in her 20s read most of the book to him, and he loved it and wrote a nice blurb for me. I really appreciated the people who took the time to read something by an unknown writer. … That they were so passionate about the book felt like a great honor."
PREVIEW
Found Magazine's 10th anniversary tour
Who: Davy and Peter Rothbart
What: Davy will share recent finds from the mailbox at Found HQ, while Peter offers songs based on Found notes, and Davy will share stories from his new book of personal essays, "My Heart is an Idiot."
Where: The Last Word, 301 W. Huron St. in Ann Arbor.
When: Friday, Nov. 16 at 7 and 9 p.m.
How much: $8 ($6 for students), with proceeds benefiting 826michigan. Advance tickets may be purchased at Liberty Street Robot Supply and Repair, 115 E. Liberty St. in Ann Arbor.
"Passionate" would aptly describe Rothbart himself, given that the 16 essays in "My Heart" often chronicle the writer's Kerouac-like road adventures over the course of the last several years, including: several failed attempts at finding his dream girl; a neurotic plot to humiliate a con man who runs bogus writing contests; a late-night run-in with a dead body; an unexpected layover with a busload of passengers trying to get to New York in the days after 9/11; the removal of a dead elk from a dark highway; and the plight of a young Found fan who's imprisoned for life. Rothbart has been a contributor to the radio show "This American Life" and several national magazines, but only two of "My Heart"'s essays have been previously published.
Several of the bizarre events depicted in "My Heart" make you wonder if Rothbart is particularly blessed or cursed.
"But it's more than that," he said: "It's just being open to adventure, and engaging with strangers."
By way of example, Rothbart mentioned that he'd just driven through Arizona and picked up a hitchhiker. "I made the choice that day in part because I was so tired, and I thought, 'How can I stay awake?'" he said. "And I saw this guy, and I thought, 'This guy will talk to me.' … So it's about saying 'yes,' and being open to new people, … and inviting improvisation and luck and adventure and chance into your life. I think when you do that, these things happen."
Rothbart also noted that the content of "My Heart"'s essays was culled from 15 years of experiences. "Obviously this stuff doesn't happen to me every day," he said. "With 16 stories in the book, that breaks down to an average of one per year."
Of course, writing about family members, friends and loved ones can be like navigating a minefield, but Rothbart claims he simply needed to apply common sense, maintaining a story's authenticity while sometimes altering names, locations, and character details.
"I wanted to keep their identities anonymous, because it's one thing for me to open my own life up and spill my guts," said Rothbart. "That's me making a choice for myself. But to make that choice for other people felt presumptuous. That being said, I did get in touch with various people to get their blessing to write about these experiences, and sometimes, they'd share their memories, too, and that really helped to fill in the blanks I didn't remember. Because some of these things happened years ago, so that was really helpful. … And sometimes people surprised me and said, 'You don't have to change my name.'"
Rothbart estimates that he's been working on "My Heart"'s essays for five years.
"Pretty much nobody had read them but my editor and my mom," he said. "So now, for the book to be out in the world, and to be getting emails everyday from people who find it meaningful … is really cool. … Even if the stories are unique to my own life, the feelings seem like things that other people more broadly have gone through themselves."
Readers' first impression of "My Heart" is inevitably informed by the book's cover, for which Rothbart's publisher lined up Rodrigo Corral (who's designed books for Junot Diaz, Jeffrey Eugenides and Gary Shteyngart, among others). Though initially excited, Rothbart blanched upon receiving Corral's first cover design.
"It had this pathetic vibe to it," said Rothbart. " … I wrote to (editor Sean McDonald) and said, 'Is there any way that the title could be worn as a badge of pride, rather than being pitiful and pathetic?' He said, 'Let me talk to Rodrigo.' He came back with this one"—a crude illustration of a muscular, flexed arm, with the title and author info written out like a tattoo, all on a bright green backdrop—"and I said, 'That's it.'"
Rothbart's current tour is his first in three and a half years, so he's been taking the opportunity to see and visit several of the people mentioned in his essays. But then, because Rothbart emotionally strips himself bare in "My Heart," more and more people feel they know him inside and out, though they've never met him in person.
"It's funny to have people come up to me and say, 'I read your book, it's a funny book,' and then look at me sideways," Rothbart said. "And I'll say, 'Then you know a lot about me, don't you?' And I'll feel a little sheepish. It's like, I forgot I was writing these things for other people to read. It's almost like I was just entertaining myself and writing about these raw memories. … But because I'm sharing these experiences with people, they feel free to share personal stories with me, too. Which is fine with me, because I'm not into small talk. … I like being let into other people's lives and hearing about what's happening to them."
Listen to Rothbart read a selection from "My Heart is an Idiot." (Rothbart reads the entire audio version of the book, available through MacMillan Audio.)
Here's a lighthearted video featuring Rothbart talking to people at Venice beach about what they thought of his book, though it hadn't yet been released.
Jenn McKee is the entertainment digital journalist for AnnArbor.com. Reach her at jennmckee@annarbor.com or 734-623-2546, and follow her on Twitter @jennmckee.