Posted on
Wed, May 5, 2010 : 5:16 a.m.
Deborah Diesen and "The Pout-Pout Fish" spread cheery-cheeries to the Ann Arbor District Library
By Leah DuMouchel
Here's a clue that the latest picture book is a total success in your household: an hour after reading it, you find yourself absent-mindedly singing the first 2 lines of the refrain-like verse that runs through it — and your kid sings the last 2 lines back at you as she wanders by. So it was with Midland, Michigan author Deborah Diesen's 1st children's book, "The Pout-Pout Fish" (Farrar Straus Giroux) selected by the Michigan Department of Education for the "Michigan Reads! One State, One Children's Book" program to promote early literacy.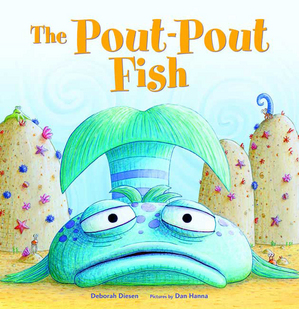 Telling the story of Mr. Fish, whose congenitally sour mug leads him to think his destiny is to "spread the dreary-wearies all over the place," it's the kind of book that every parent can tuck into the arsenal of tricks to be deployed when we see a case of the grumpies gathering. And indeed, it won't surprise any parent who's frantically tried to lighten a mood that's threatening to drift into meltdown territory to hear Diesen say that this story "came from real life. I had a funny afternoon with my son — he was grouchy, so I pouted at him, and he pouted back, and I said, 'We look like pout-pout fish!'"
Knowing a good nugget when she heard 1, Diesen began working on the story right away, taking about a year to make sure the words and rhythm — the whole story is in hopelessly catchy verse — were just right before sending it out to publishers. Then, as she notes on her website, "I received lots and lots of rejection letters. It's hard to hear 'NO' over and over again. 'NO, we don't want to publish your story.' 'NO, not quite for us.' 'NO, it doesn't suit our present needs.' NO, NO, NO. I almost gave up! But I decided to keep trying, and I'm glad I did." Once published, the book found no shortage of adoring fans. Besides being selected for the Michigan Reads! program, it spent 2 weeks on The New York Times Book Review children's picture book bestsellers list and was named 1 of TIME magazine's 10 best children's books of 2008.
Though Diesen has been writing since she was a young girl, there was a long stretch in adulthood in which she says she allowed herself to think she was too busy to write. But when her children were young, she began to look at their books and think, "I'd like to try that." Picking the pen back up, she's now written "dozens of stories, hundreds of poems and even 2 novels," all while keeping her day job as a financial manager for a nonprofit. In the "For Kids" section of her website, she takes a tone that's both straightforward and encouraging as she explains that, while she'd like to find publishing homes for all of her work, she'll keep writing in any case. "It's fun! And it's part of who I am. I forgot that for a while, but now I know it, and I don't plan to forget it again."
Actually, Diesen's math-based day job caught my interest, in part because I was utterly taken with the book's strong, rolling cadence that seems to propel the reader through the pages rather than the other way around. When I read her statement that "Writing in rhyme is especially appealing to me, as it combines my love of words with my more analytical love of form and rhythm," I had to ask: is the structure of those rhymes so perfect because there's a bit of math in them? "That is kind of funny," she laughed. "I love to write in general, but when I'm writing in rhyme there are lots of parameters to meet. When you decide your rhyme scheme, it sets your limitations. And I think it's great, because it's both left and right brained."
Diesen and "The Pout-Pout Fish" embarked on a formal 12-city Michigan Reads! tour last fall, and she has continued to make stops at schools and libraries across the state since. "I'm really grateful for the opportunity to continue to do visits," she said, adding that "I don't think I've ever given the same presentation twice. There's a lot to be learned about doing a good story time or a good school visit." Like what? "The things I've learned are 1st, to keep the kids active. Even with the older kids, I have them do a song with me or some sort of fingerplay and try to get them on their feet and move their bodies and shake things up. And the 2nd thing is that kids are such a forgiving audience. They just enjoy the process of being visited with and treated with respect. When you share your stories, they're excited. I think it's a success if kids leave with a little bit of excitement about reading your book. And I always make sure to tell them that you may like my book, you may just love my book, or you may not like my book at all — but there are so many great stories out there that, if you keep reading, you'll find 1 that seems like it was written just for you."
In a charming and generous gesture of solidarity, Diesen also uses her blog "Jumping the Candlestick" to promote other Michigan authors and illustrators. "That is just sort of something I stumbled into," she said modestly when asked how that came about. "I've managed to meet a fair number of Michigan authors in conferences and writing groups, and I've always been impressed by the talent we have here in the state. I think sometimes the term 'author' causes people to think of the coasts, but it's simply not true. I think we have more authors per square inch in Michigan than in most places. And, especially given everything that's been going on here lately, I think it's a good thing to draw attention to the talent pool here."
Besides highlighting the writers, artists and their works, these "Michigan Monday" interviews also feature a series of questions on our fine state. So I thought it would be fun to turn the tables and get Diesen's own answers, seeing as she's the current face of local children's literature.
Q: What's your favorite place in the state? A: There are so many to choose from! My parents have a cottage up on Platte Lake, in the Traverse City area. I love that not only because it's a beautiful place, but because the people I love live there. To spend time with my family in such a beautiful setting — I'd have to say that's my favorite.
What's your favorite Michigan event? A: Probably spring. You know how Michigan winters can be, and it's such a wonderful experience to come through it and have spring there on the other side. That would probably top any other event out there.
Q: Any fun Michigan people we should know about? A: All the great writers and illustrators I've met! … Nancy Shaw, Shutta Crum, Ruth McNally Barshaw, Amy Huntley, Buffy Silverman and Bill Castanier. (To name a few.)
Q: Something a non-Michigander should know about our state? A: Probably the biggest misconception I run into is that people who aren't from Michigan tend to forget about the upper peninsula! So it wouldn't hurt to remind them.
Deborah Diesen reads from "The Pout-Pout Fish" at Ann Arbor District Library's Pittsfield branch on Tuesday, May 11 at 7 p.m. She also has a 2nd book out called "The Barefooted, Bad-Tempered Baby Brigade," which she says is "about a bunch of babies who go on a protest crawl. It's actually a sentimental story about how babies can be cranky, but they don't stay babies for long." You can find it at Borders.
Leah DuMouchel is a freelance writer who covers books for AnnArbor.com.