with video:

Debut video from local troubadour Drew De Four serves as a good intro to piano man's style

Posted on Sun, May 13, 2012 : 5:15 a.m.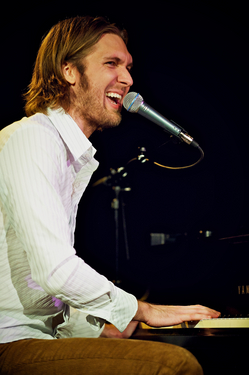 Ann Arbor singer/songwriter Drew De Four may be touring in Europe the next four months, but that doesn't mean things are quiet on the home front.

For one thing, the video for his new single, "Keep a Light" is getting plenty of hits on YouTube, and he also promises to hit the ground running once he's back in town in August.

"It's my first major effort at a promotional and artistic thing that I think represents me well," De Four said of the video. "When people ask 'Who are you?' I can say 'Watch this video.' This is what I look like, these are the musicians I play with, this is kind of music I play … It's how we live—pretty humble. We carry our own gear, we don't have roadies. We play in small venues for small, enthusiastic crowds. That's where I'm at right now."

The 2006 University of Michigan graduate and longtime student of the dueling-pianos format has released four albums independently and has toured the U.S., U.K, Ireland, Japan and Poland, all without the help of a major label.

Reached by phone in Miami, he and his wife/partner in all things music Colleen De Four (aka Kin Curran) were about to board a cruise ship for Europe. They will be performing on board on their way overseas as a way to finance the tour.

"We perform on the ship as we go across the Atlantic, and they pay for our return flight - which saves us $3-4,000. That makes it so we can actually afford to tour," the 28-year-old, 6-foot-7-inch tall De Four said.

He described his music as "piano bar potpourri, the whole amalgamation of everything that's Top 40 over the last 50 years … rhythmic, strong stuff like Motown, Dr. John, '90s bands like Live and Pearl Jam. I love Peter Gabriel. I love good pop music that's really lyrically interesting and rhythmically strong and has a good melody.

"As far as comparisons, I'm not saying I'm up there with these guys, but I try to follow the piano-man lineage and do my homework … I study all the way from Scott Joplin to Ray Charles to Tom Waits to Billy Joel, Elton John, Ben Folds, Rufus Wainwright … Tom Waits is my hero. He is absolutely the most important musical influence of my life."

De Four's previous discs include 2011's "Bartillery" (billed as "an album for your bar, your car, or your next party") and "The Troubadour" (about "the physical and metaphysical exploits of the traveling musician," recorded with members of local band My Dear Disco and some of his U-M professors), from 2009.

He said being an independent musician is a mixed blessing.

"It's been really tough—managing, booking, doing my own taxes, writing, recording, coming up with the budget—it's always a struggle. And every time I feel like I'm getting ahead with my career I have to go back and play three months of piano bars to pay the bills I've been running up." And the upside? "I feel like I've been 100 percent in control the whole time. At 28 I'm not famous. I don't have a major record label, but I've got independent ones. I've played 1,000 shows and I've written and released a lot of music on my own terms," he said.

He waxed enthusiastically about his background as a dueling-piano player.

"Dueling pianos at its best is a combination of pop music, sing-along, theater, stand-up comedy, improv comedy, jazz, blues, rock - I'm in love with dueling pianos. I've seen it at its worst too (where) it's just a bunch of tired, dirty jokes - a bunch of guys hacking through some pop songs without any soul. At its best, I could do it for the rest of my life if it wasn't for the fact that I'm really trying to make it as a singer songwriter," he explained.

Look to see more of De Four playing around town in this fall, even though he used to be a little apprehensive about playing so close to home.

"We're looking at getting some bigger shows in Ann Arbor when I get back. We have recording work scheduled for my wife - she's got an amazing voice - and a music video for her as well. I'm working on a few singles and new videos also.

"Because I live there and I'm from Michigan … I used to be nervous about playing locally," he admitted, worried that his shows wouldn't draw a huge crowd. But, he said, he's over all that now. "If only four people come to see me in Ireland (where he may not be that well known) … or if four people come out in Ann Arbor, it's the same thing. Give them the love and the music you've got, 100 percent" he said.

"Ann Arbor is my favorite city in the world," he added, "and I've been around the world."

For more information, see De Four's website, wwwdrewdefour.com.