Posted on
Thu, Nov 24, 2011 : 9:52 a.m.
'Descendants' good, but not as good as we expect from Alexander Payne
By AnnArbor.com Freelance Journalist
The Descendants
Now showing at the Michigan, Rave, Quality 16
Review by Jeff Meyers of the Metro Times
Grade: B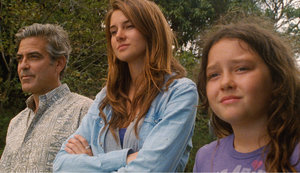 On its surface, "The Descendants" seems like a typical Alexander Payne project ("About Schmidt," "Sideways"). It's another road movie about a sad-hearted man who sometimes behaves ridiculously in search for the truth about himself. It has a rambling family of complicated characters whose motivations aren't easily summed up. And it has soapy melodrama played for tart laughs.
And yet "The Descendants" has less of those things than the director's previous films. Maybe Payne is getting kinder and gentler in middle age, but his latest foray into tragic-comedy is his least caustic and insightful to date. It's good, but far less than you'd expect from the guy who started his career with the gleefully provocative Citizen Ruth and Election.
Read the full review here