Posted on
Thu, Dec 10, 2009 : 5:50 a.m.
Details of Sundance screening announced, plus the week's new movies
By Russ Collins
Win free movie tickets Editor's note: Comment on today's "Cinema Chat" for a chance to win free movie tickets to the Michigan Theater. Some time between now and 6 a.m. Wednesday, leave a comment on this column, written by the Michigan Theater's Russ Collins. Offer your opinion on a recent movie you've seen, or on anything Russ mentions. We'll randomly select a winner and notify that person via the email address they signed up with. They will get two passes to a movie of their choice.
Ann Arbor has a world-renowned film festival that plays our town each March — the experimentally oriented Ann Arbor Film Festival. In cinema circles, this festival literally makes Ann Arbor and the Michigan Theater famous worldwide. One significant consequence of this fame is recognition of Ann Arbor by other international film festivals as a place that truly loves and appreciates motion pictures. As a result, the Sundance Film Festival has selected the Michigan Theater as one of eight venues outside of its home state of Utah, to be an official Sundance venue. The program, called "Sundance Film Festival USA," will see theaters in Los Angeles, San Francisco, Madison, Chicago, Nashville, New York, Boston and Ann Arbor present Sundance Film Festival screenings on January 28, 2010. In Utah, the Sundance Film Festival takes place in and around Park City, January 21-31. The film selected to play at the Michigan Theater is the Sundance Film Festival's Closing Night film, "Cyrus." Since the Michigan Theater will play the film on January 28, three days before the close of the festival, it means Ann Arbor will see the film before it is shown in Park City. The Michigan Theater screening will be its world premiere!
The film stars Marisa Tomei, John C. Reilly, Jonah Hill and Catherine Keener. There is a decent chance one or more of these stars will be at the Michigan Theater, along with the film's writer and director, the Duplass Brothers — Mark and Jay Duplass. The Hollywood marketing machine has just begun beating the drum for this clever comedy called "Cyrus." Tickets for the world premiere screening of "Cyrus" at the Michigan Theater can be purchased at TicketMaster. The Duplass brothers are darlings of the Sundance Film Festival. The writing-directing duo had several shorts films and two feature films, "The Puffy Chair" and "Baghead," screened at Sundance. "Cyrus" is the Duplass brothers' first mainstream comedy made with well-known Hollywood stars. The film is described by Sundance as a domestic comedy about "a recently divorced guy (John C. Reilly) who meets a new lady (Marisa Tomei). Then he meets her son (Jonah Hill) who is, well, … interesting." More Sundance at the Michigan However, you don't have to wait until January to get that Sundance Film Festival feel at the Michigan Theater. From Friday, December 11 to Thursday, December 17, you can experience the very best of the short films from the 2009 festival. The 10 short films in the special program clearly represent the cream of the crop among domestic, international, live-action and animated Sundance entries.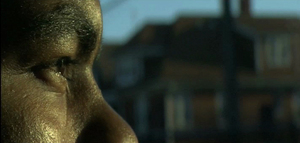 And more Sundance news ...
Sultan Sharrief, a Michigan native and recent University of Michigan (filmmaking) graduate, will have his film screened at the 2010 Sundance Film Festival! The film, "Bilal's Stand," will be shown in competition in the "Zero and Very Low Budget" programming category.
I spoke with Sultan last week and he is very excited, but also overwhelmed. He needs to raise about $20,000 to finish post-production work on the film. Good luck, Sultan! Sultan and I are working to see if Sundance will allow the Michigan Theater to do a special benefit screening of "Bilal's Stand" — so stay tuned to Cinema Chat!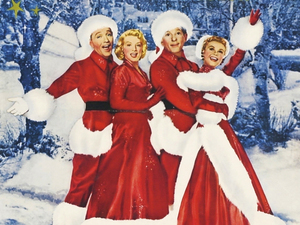 Holiday, sing-along fun "White Christmas" will be presented this Saturday, December 12 at 1:30 p.m. in a special sing-along presentation. Song lyrics will be projected on the screen and yours truly will lead the singing to this Christmastime classic. Special ticket prices apply. On Sunday, December 13 at 1:30 p.m., come to a free Christmas sing, presented by the Ann Arbor Western Kiwanis Club. The sing will also feature a special performance by the talented twins Ariel & Zoey and their brother Eli. Radio personality Lucy Ann Lance will be your holiday hostess. Following the sing, Santa will listen to children's Christmas wishes and at 4:00 there will be a screening of "It's a Wonderful Life." The sing, the special performance and the movie are all free. Quality films at the local multiplex Disney's "The Princess and the Frog" is a hand-drawn animated film that features the voices of Anika Noni Rose, Keith David and Oprah Winfrey. It is a fairy tale centered on a young girl named Princess Tiana who lives in New Orleans' French Quarter during the Jazz Age.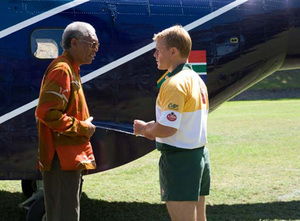 "Invictus"
stars Morgan Freeman in an outstanding performance as Nelson Mandela. Directed by Clint Eastwood, it also stars Matt Damon as a South African rugby star. Mandela successfully campaigned to host the 1995 Rugby World Cup event as an opportunity to unite his countrymen. Reviews indicate that Clint Eastwood has crafted a wonderful and compelling film.
See you at the movies!
Russ Collins is executive director of the Michigan Theater in Ann Arbor. Tune in to the audio version of "Cinema Chat" on WEMU radio (89.1-FM) each Thursday at 7:40 AM and 5:40 PM, or listen to it online at WEMU's web site.