Posted on
Sat, Jul 2, 2011 : 8:05 a.m.
Dexter's Encore Theatre hopes to charm audiences with 'Music Man'
By Jenn McKee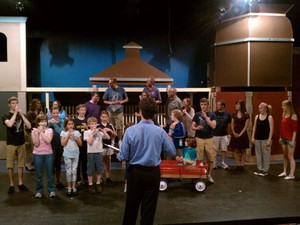 While watching auditions for the
Encore Musical Theatre Company
's upcoming production of
Meredith Willson
's "The Music Man," director
Jon Huffman
and his team were captivated, charmed, and utterly won over by a man none of them had ever seen or met before.
Sound more than a little like "Music Man"'s lead character, Harold Hill? Perhaps that's not surprising, since that's the role that U-M musical theater student Zachary Barnes landed by way of his try-out.
"He just blew us away," said Huffman. "We were tickled to death to find him, and he embodies the character very well. He's a charismatic, smart, fun guy. Just a perfect Harold Hill."
Hill, of course, is the charming, fast-talking con man who convinces a small Iowa town to buy musical instruments and uniforms for a boys' marching band that he's promised to organize. But a skeptical librarian aims to reveal the truth and thus derail Hill's latest scheme.
"I refer to (the role) as the Hamlet of American musical theater," Huffman said of Hill. "He's in virtually every scene, and everything in the show revolves around him."
The show opened on Broadway in 1957—with a stirring score that included the songs "(Ya Got) Trouble," "Seventy-six Trombones," "Marian the Librarian," "Shipoopi," and "Till There was You"—and it has since established itself as a staple of the American musical theater canon.
"It's just one of the most perfect shows ever written," said Huffman. "There's not one wasted period or comma. It's so perfectly put together, and it has one of the great all-time leading characters in any form of theater. I just love the show."
PREVIEW
"The Music Man"
Who: Encore Musical Theatre Company.
What: Meredith Willson's classic American musical about fast-talking con-man Harold Hill, who charms a small Iowa town—and an initially skeptical librarian—into buying musical instruments and marching band uniforms, believing that Hill will organize a boys' band, even though he doesn't know a trombone from a treble clef.
Where: 3126 Broad St. in Dexter.
When: Thursdays at 7 p.m.' Fridays at 8 p.m.; Saturdays at 3 and 8 p.m.; and Sundays at 3 p.m., July 7-31.
How much: $28 ($25 for seniors 55 and older, and youths 17 and under). Tickets available at 734-268-6200 and theencoretheatre.org.
Indeed, Huffman—a playwright and actor ("Designing Women," "Quantum Leap," "Murder, She Wrote," etc.) who's also a longtime friend of Encore co-founder
Dan Cooney
—has been involved with several previous productions of "Music Man," as a director and an actor.
"It's set at a time when America was still kind of innocent, and it has a lead character who is both charismatic and bad," said Huffman of the show's enduring appeal. "He really is a con man, and kind of a bad guy, but he's also wonderful and charismatic and joyful about what he does, and he comes to this town, and he changes people. He makes them feel good. … I tell the cast this, and I firmly believe it: if you can entertain people, especially in the time we're in now, in this recession, … if you can take them to place like River City for a couple of hours, it's one of noblest pursuits you can undertake."
And while Huffman confesses that he might not have been tempted to helm another production of "Music Man" elsewhere this summer, the chance to work with choreographer Barb Cullen (with whom he wrote "Club Morocco," staged by Encore last June) in Cooney's unique, intimate regional theater - which combines professional performers with talented local actors/dancers/singers—proved hard to resist.
Not that there haven't been challenges along the way.
"As Encore discovered with 'Oklahoma!' and 'The Sound of Music,' when you take a giant piece like 'Music Man' and put it in a small theater like this, you're necessarily forced to concentrate on the very human aspects of the story—on the emotions of it, and on the minutiae of the human relationships in the story. That's what's exciting about doing it at Encore. … But there are several big production numbers (in 'Music Man') where all the characters are on stage, and there are lot of characters. So it requires a lot of thought. How do you, for instance, get 30 people off-stage without making it look like a mass, giant migration?"
Huffman claims that he and his team have concocted some clever solutions (which they're keeping under wraps) to these logistic problems, and seems excited to be once again staging the musical that managed to beat out "West Side Story" at the 1958 Tony Awards.
"'West Side Story' was fantastic and groundbreaking in so many ways," said Huffman. "But 'Music Man'—I don't care how many times you see it, … you cannot watch it without leaving the theater smiling."
Jenn McKee is the entertainment digital journalist for AnnArbor.com. Reach her at jennmckee@annarbor.com or 734-623-2546, and follow her on Twitter @jennmckee.