Posted on
Mon, Dec 3, 2012 : 10:46 a.m.
Iconic jazz singer Dianne Reeves playing Hill Auditorium
By Will Stewart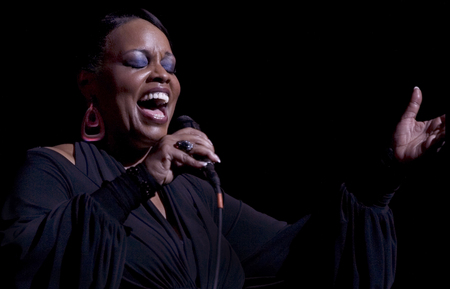 photo by Andrzej Liguz
If there's any question that
Dianne Reeves
is the pre-eminent jazz vocalist working today, consider this: Reeves has captured the Best Jazz Vocal Performance Grammy Award for each of her past four recordings, dating back to 2000.
It seems all Reeves has to do is record an album and the Grammy belongs to her. As Reeves herself says, she was born to sing jazz. A Detroit native, she grew up in a musical family Denver with the music of Carmen McRae, Sarah Vaughan and Billie Holiday providing the soundtrack to her childhood. So it should come as no surprise that Reeves' own singling follows those singers' traditions of telling the stories that can be found between the lines on the lyric sheets.
"I guess I'm a singer first," the 56-year-old singer recently told Jazz.com. "I like to write songs, but I like more than anything to find songs that, whether I write them or not, really address my life."
PREVIEW
Dianne Reeves
Who: Iconic jazz singer presented by the University Musical Society. Raul Midon opens.
What: Classic jazz with quartet.
Where: Hill Auditorium, 825 N. University Ave.
When: 8 p.m. Saturday, Dec. 8.
How much: $48-$10. Tickets available from ums.org.
Reeves will appear with her quartet at Hill Auditorium on Dec. 8 under the auspices of the University Musical Society. Guitarist-singer Raul Midon opens the show.
By the time she reached high school in Denver, Reeves was singing with a big band and she came into contact with the renowned trumpeter and jazz instructor Clark Terry, who took her under his wing and has been a lifelong mentor.
After studying music at the University of Colorado, Reeves moved to Los Angeles, where she worked with a number of Latin-jazz ensembles, including touring with Billy Childs, in his band, Caldera. From 1983 to 1986, she toured with Harry Belafonte, a stint that increased her awareness of world music.
But it wasn't until she signed with the re-launched Blue Note Records in 1987 that the jazz world at large took notice of the singer with her self-titled recording from that year. Nearly 20 albums later, as well as high-profile appearances at the closing of the closing ceremonies of the Salt Lake City Winter Olympics and her role in George Clooney's acclaimed film "Good Night and Good Luck," Reeves is the reigning queen of jazz vocalists.
For all the Grammy Awards and appearances with the likes of Wynton Marsalis and other jazz royalty, Reeves' role in "Good Night and Good Luck" may be her biggest claim to fame.
Her performance provides an emotional climax in the film, during which her character sings "How High the Moon" after another character has committed suicide after being investigated by Sen. Joseph McCarthy's anti-communist campaign against him in the 1950s period piece.
But Reeves isn't worried that the movie's retro look at her vocal abilities will pigeonhole her in audiences' eyes and ears.
"On the contrary I think they are curious about what else I can do than what they saw in the film," she said. Some didn't know me before, so they have gone back in my catalog, trying to discover what I did before.
"I guess my audience is more mature than you may think it is, and it accepts that an artist is multifaceted."