Posted on
Wed, Nov 10, 2010 : 5:57 a.m.
Public radio's Dick Gordon to explore 'The Story' of sustainable agriculture (and his show)
By Kevin Ransom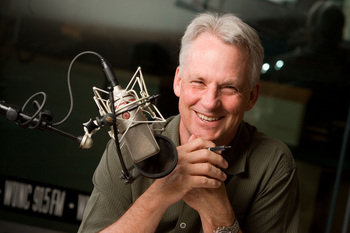 For more than four years, "The Story with Dick Gordon" has been airing on public radio stations all across the country.
WUOM, 91.7-FM, in Ann Arbor, has been broadcasting it since March 2007.
And now, local fans of the show will get to see a more-or-less live approximation of "The Story" on Saturday, when Gordon, the show's host, comes to Rackham Auditorium for an appearance that's a benefit for Avalon Housing.
Avalon is a local non-profit group that develops and manages permanent supportive rental housing for very-low-income Washtenaw County residents. The group presently owns and/or operates 324 units at 23 sites.
"The Story" does in-depth and often poignant reports on important social and cultural issues, or news events, through the eyes of regular, everyday people — generally folks who have gone through some sort of transformative experience.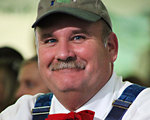 Gordon's appearance will include a live interview with Ohio farmer Lee Jones of Chef's Table, which is a sustainable, organic family-run farm that provides specialty vegetables and edible flowers to leading chefs around the world.
Jones is also an expert in sustainable agriculture, and has appeared regularly on the Food Network. The interview will be recorded for possible use on a broadcast of "The Story."
Gordon will also play short audio clips from recent radio shows, and discuss how the program is put together.
"They will definitely be short clips, maybe a minute long, because when it's a live situation like this, in front of an audience, I can't play a two-and-a-half-minute long clip and just sit there," says Gordon with a laugh.
"The Story" has done many stories on the housing and foreclosure crises that have plagued U.S. over the last few years, causing so many Americans to lose their homes — in some cases ending up on the street. That's one reason Gordon was interested in coming to Ann Arbor and doing the Avalon Housing benefit show.
"They invited me, and I read up on what Avalon does, and it does match up well with some of the journalism we've been doing," says Gordon by phone from his home in Chapel Hill, North Carolina, where the show is based. "We've done stories on other agencies who are doing the kinds of thing that Avalon is doing, and what they do has become very critical at this time, with more and more people in need of that kind of assistance."
Gordon recalls one heartbreaking installment of "The Story" about a man in Minnesota who was head of sales at a trade magazine, who first lost his job, then his house, and ended up sleeping on the streets.
And in another story that underscored the current ravaged economy and the subsequent increase in the number of homeless people, "The Story" also interviewed an elderly woman, who talked at length about being homeless during the Great Depression when she was just a child. "She talked about being homeless, in Buffalo, when she was just seven years old, and her parents fighting, and the whole experience," recalls Gordon. "To tell her story was important, too, I think, because it provides a historical context for the current plight of people losing their homes."
While this kind of story can indeed pierce your heart, Gordon sees it as the show's responsibility to tell such stories in order to illustrate and personalize the hardship that so many Americans are now going through.
What makes "The Story" unique, says Gordon, is "our selection of guests. So many shows, whether on TV or radio, tend to interview pundits and politicians and others who are 'experts' at offering opinions. But they're so practiced and so smooth that, although we are seduced into thinking they are wise, there is not as much substance to their comments, not compared to hearing a regular person talk at length, and in depth, about their own experience in a difficult situation."
As an example, Gordon recalls that, when "The Story" did a piece on the BP oil spill in the Gulf of Mexico, the producers and Gordon did not do interviews with politicians or BP executives. "Instead, we went down and talked to the fishermen and the shrimpers — people whose lives were tremendously changed by the spill. And we didn't just hear them saying three or four sentences — we got them to talk at great length about how this disaster impacted them on a daily basis."
Gordon admires other public-radio news programs, like NPR's "All Things Considered" and "Morning Edition." But "those shows serve a different purpose than ours," he says. "If we did what we do at 7 o'clock in the morning, with our longer stories, listeners would put a bullet through the radio — because they're busy, getting ready for work, eating breakfast, heading out the door — so they need their news quickly, in short, digestible pieces. Same thing at 5 p.m or 6 p.m., when they're driving home, making dinner, tending to their kids, etc."
PREVIEW
"Changing The Story: An Evening with Dick Gordon"
Who: Public radio host Dick Gordon, with special guest farmer and food expert Lee Jones.
What: A live approximation of "The Story with Dick Gordon, " a public-radio show that tells in-depth stories about news events and social issues through the eyes of regular, everyday people. A benefit show for Avalon Housing, the event is followed by an afterglow reception with drinks and desserts.
Where: Rackham Auditorium, 915 East Washington Street.
When: Saturday, November 13, 8 p.m.
How much: $50, $75. Tickets for sale online via Brown Paper Tickets. More info: 734-663-5858.
That's why stations that broadcast "The Story" know to run it in midday, or later in the evening, or on the weekends, he says. WUOM airs it Monday through Friday at 8 p.m.
When Gordon does live appearances, and explains how the show is put together, listeners are sometimes surprised to hear how much time goes into preparing one segment, he says.
"We want the show to sound as natural as possible," explains Gordon. "So, people are sometimes surprised to hear that we have a highly-skilled group of producers who interview the people before I even have a chance to speak with them — and that we might interview someone for more than an hour, but maybe only 20 minutes of it makes it into the story you hear on the air."
Ultimately, says Gordon, "The Story" is about telling the stories of people who "ordinarily don't have an opportunity to tell their stories — people who found themselves in a situation that has had a profound impact on them, and in some cases, has literally transformed their lives."
Kevin Ransom is a free-lance writer who covers arts and entertainment for AnnArbor.com. He can be reached at KevinRansom10@aol.com. Listen to the November 9 episode of "The Story" (MP3).