Posted on
Fri, Jul 22, 2011 : 5:34 a.m.
At the halfway point: Heat keeps the crowds down, but the diehards keep on buying
By Jennifer Eberbach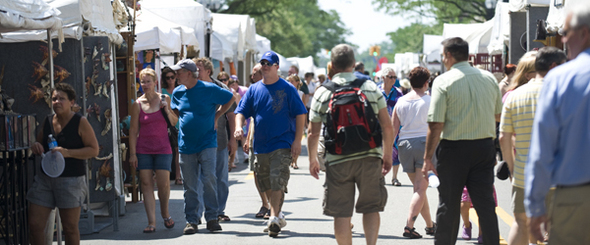 Melanie Maxwell | AnnArbor.com
Thursday's crowd at the 4-day-long
Ann Arbor Art Fair
was not as large as it usually is. There is no question that the extreme heat kept some people away. Instead of being shoulder-to-shoulder, visitors who braved the hot weather had more space to walk around.
Fewer people meant fewer sales for some of the artists. However, many found that the heat didn't deter the diehard Art Fair shoppers, who were on a mission to buy.
"We are in the middle of a heat wave, but we're getting really positive responses from the audience and the artists," said Maggie Ladd, the director of Ann Arbor's South University Art Fair, one of the four concurrent fairs that make up the event. In her experience over the years, "the people who come to the fair in extreme weather, whether it's the heat or it's raining, these are the serious buyers. So in a way it's good for the artists. We've gotten reports from a number of them that they made good sales. It's not about the quantity of patrons; it's about the quality of patrons."
Kathy Krick, the director of the State Street Area Art Fair, agreed that the heat might have actually helped some artists. "The ones who are out today are really looking to buy. They're not just here to enjoy themselves. They have a mission to buy," she said.
"The Art Fair is part of Ann Arbor's mythology," said Debra "Max" Clayton, who directs The Guild's Ann Arbor Summer Art Fair. "It's going to go on no matter what. They know it's a once-a-year event, so they are going to be here." Clayton wasn't worried about Thursday's thinner crowd: "Thursday is always the lowest attendance day. It's just a quirk of the event."
More on the fair
Additional Ann Arbor Art Fair stories:
Krick added that "it's too soon to tell" if fewer people overall will attend this year's fair. "The artists tell me Wednesday was great, and today they don't expect to do well, but they've heard from people who are coming back on Friday or Saturday," she said.
Lois Bosworth, a fabric artist from North Olmsted, Ohio who has exhibited at The Guild's Ann Arbor Summer Art Fair for 18 years, said Thursday, "sales are fine, not as fine as we'd like. The crowds were much bigger and better yesterday." Most of her business, on Main between Liberty and William, has been in the morning when it's cooler. She thinks "the people coming this year are the dedicated buyers. And they don't seem as lethargic as I've seen them some other years, when they look absolutely withered out there."
Don Bodenberg and Lynn Marcus of Da Vinci Silver, who hail from Cincinnati, Ohio, are selling jewelry at the Summer Art Fair on Main between Liberty and William. They have exhibited here about a dozen times, and "normally it's one of our best shows of the year," Bodenberg says. However, he reports that "this year, it's off because of the heat. We are getting significantly less people. The weather people on the news told people to stay home, and many did." He estimated sales in the first two days of the fair were down about 20 percent, "but we'll still make a profit."
Hot or not, artist Jerry Berta, who has been exhibiting at Ann Arbor's South University Art Fair with his wife, ceramicist Madeline Kaczmarczyk, since 1974, had a stellar first half of the fair. "Even in the heat today, I sold one of my biggest pieces in five years," Berta said. "The crowd is way down, but sales for me are actually up. It's not like the old days before the recession, but our sales are up this year. We've already made what we hope to make for the whole show," in the first two days, he said.
Kaczmarczyk thinks the heat might actually be helping with sales. "People who collect my work aren't avoiding making a decision. Either they are going to buy it or not, and they aren't going to go off to see the whole show and then come back. So, people are making those decisions right off the bat, rather than wandering off and never coming back to buy. So, in some respects, the heat has been good to us!" she said with a laugh. Midway through day two of the fair, "I'm definitely ahead of where I was last year."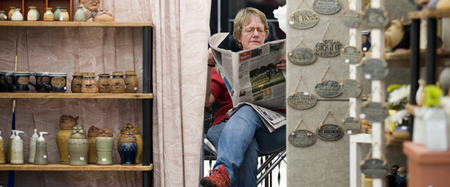 Melanie Maxwell | AnnArbor.com
Art Fair shoppers
Steve and Donna Dunyak
from Kalamazoo didn't get deterred by the hot weather, "because we're insane," Donna joked. Regardless of the heat, the couple was determined to "see the whole thing," Steve said. He saw Thursday's smaller crowd as a plus: "One advantage is that you don't have to move through a herd of people."
Nancy and Pedro Mondejar weren't sure they would be able to make it around to see everything in the hot weather. The couple, who drove in from Charlotte, Mich., found that "the crowds are down today, but we think tomorrow and Saturday maybe there'll be a lot," said Pedro, who is an artist himself. How far they would get wandering the fair "depends on when we get too tired from the heat. We don't really know where we are heading. We just keep going until we are too tired and hot."
Indeed, the heat led to some health problems throughout the county, including at the Art Fair.
Art Fair directors and artists agreed that "the fat lady hasn't sung yet" on whether the heat will impact overall sales and attendance at the fair. There are two days left to attend, 10 a.m. to 9 p.m. today and 10 a.m. to 6 p.m. Saturday. Temperatures are expected to be somewhat more moderate.