Posted on
Fri, Jul 9, 2010 : 5:20 a.m.
Berlin band Die Roten Punkte bringing music, laughs to Lydia Mendelssohn Theatre
By Jennifer Eberbach
Note: This story has been updated to reflect a venue change. The concert is now planned for Lydia Mendelssohn Theatre in the Michigan League.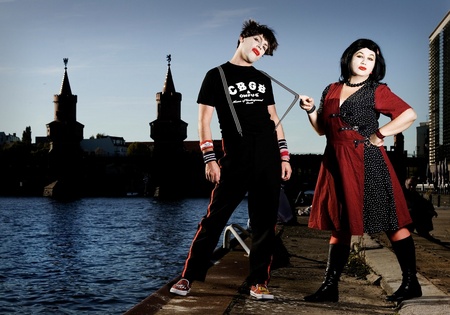 There are plenty of stories out there about the true identities of Astrid and Otto Rot of humorous Berlin-based rock band Die Roten Punkte (The Red Dots), who play the Lydia Mendelssohn Theatre on Saturday as a part of the Ann Arbor Summer Festival's "Fringe" series.
Even though a look at their biographies requires sorting fact from fiction, these characters told me they are truly serious about putting on a quality rock show — that's making audiences laugh and rock out at the same time on their international Robot/Lion tour. Sometimes it is just fun to play along.
There is a lot of humor in Astrid and Otto's stage theatrics, their bold makeup and clothing, their set of miniature instruments, and their songs, which you can get a sense of by watching the music video for "Ich Bin Nicht Ein Roboter (I Am a Lion)," which appears on their newest album, "Super Musikant," and their older tune "Burger Store Dinosaur."
Watch the "Burger Store Dinosaur" video:
But they explain that it's not all about comedy; the duo put genuine energy into writing songs and performing a show that people can rock out to.
In fact, Astrid maintains that she was surprised at first when people laughed at their shows. "Otto and I sit down and write the songs the best we can and we pour everything into them. Then something happens when we get on stage — people laugh at us!" she says, seemingly shocked that audiences find Die Roten Punkte's music funny.
"At first I didn't like it at all. I'd get quite mad and throw my boot at a few people's heads. But Otto said to me one day, 'Astrid, we are making people happy. Look, they are smiling and laughing. I've gotten used to it, but I don't really understand why people laugh. I think they may just be nasty or something," Astrid claims.
Astrid and Otto's official back-story says the brother and sister moved to Berlin together and grew up in the underground punk scene after their parents were killed on Astrid's 12th birthday, which is the subject of their song, "The 4:15 to Spandau Will Not Run Today." However, the pair disagree how it happened. "It was a train," Astrid contends. But Otto maintains, 8220;It was a lion."
Many different stories have been written about their escapades. Some are probably true and others total fiction — many could be a mix. The band has had some success keeping their origins ambiguous, leaving music review readers wondering whether they are really German orphans or Australian comedians who sometimes get compared to New Zealand comedy band Flight of the Conchords.
Talking with them I got the sense that regardless of where the Die Roten Punkte duo come from, Astrid and Otto are real personalities who probably really do draw on their life experiences and musical interests when writing their songs — no matter how comical they get. Aren't we all just a bunch of self-styled personalities anyway?
I didn't specifically ask Astrid and Otto about alternate personalities, because the characters maintain that they don't pay much attention to their "managers," as they call them. But Astrid mentions them. "I don't listen to any of them. I think they are a waste of time. The music and the concert is what I do," she says.
The band's sound covers a few different genres, and their songs and performance style are informed by a range of influences. Many of their songs are generally stripped down — they may use simple chords or create compositions that some might call minimalist.
Otto explains; "Sometimes we don't have a lot of choice because there are only two of us. You have to keep things pretty simple, I think. Also, it's just the kind of music that always appealed to me. Like, I'm a big DEVO fan... and I like old bands like the Ramones and Iggy Pop. It's real simple, but it makes you want to jump around — that is my favorite," he says.
Otto also names people like Mick Jagger, James Brown and Freddie Mercury as some of his favorite frontmen. After seeing the Scissor Sisters live, "I had to lock myself in a room for about four days because I had to rethink what I was doing. (Frontman Jake Shears) is so physical and he uses the stage. He's like Elton John trapped in Mick Jagger's body from the '80s. That's the kind of show we want to put on. We aren't shoe-gazers. I want to have high energy and be sweaty."
PREVIEW
Who: German music duo.
What: Tongue-in-cheek rock, The White Stripes meets Flight of the Conchords.
Where: Lydia Mendelssohn Theatre, in the Michigan League, 911 N. University Ave.
When: Saturday, 7:30 p.m.
How much: $20. Available online from Tickets.com, by phone at 734-764-2538, or in person at the Michigan League Ticket Office, 911 North University Avenue.
Die Roten Punkte's song are also inspired by a number of other artists and genres. Otto says the new album "Super Musikant" includes "a lot of different styles," he says. It includes pop rock 'n' roll or old school punk-inspired songs like "Burger Store Dinosaur" or "OMG Yeah." Other songs, like "Ich Bin Nicht Ein Roboter (I Am a Lion)," have an electronic sound that he compares to bands like Kraftwerk or New Order. He also says he draws influence from bands that have "a more rootsy style — like the Pogues and Tom Waits," which you can hear in "Astrid's Drinking Song." Listen to Die Roten Punkte "Super Musikant" (MP3).
They also go acoustic on Otto's love song, "Straight Edge Girl," "which I wrote because Tony Robbins says, if you want something in your life you have to write it down. It is about the kind of girl I want to marry and have kids with and all of that," says the straight-edge vegan.
There are rumors out there about a sibling rivalry between Astrid and Otto, sparked by antics the pair have gotten into at shows. However, Astrid thinks that "people have blown it out of proportion; it's not true," she says. Otto chimes in from the other side of the room: "She used to have problems; now that she's been in drug and alcohol rehabilitation, it's better," he says.
Ann Arbor Summer Festival "Fringe" series performances are being held at a number of venues around town, which showcase "eclectic" music and performances. Find a full schedule of Summer Festival events at the website.
Jennifer Eberbach is a free-lance writer who covers art and music for AnnArbor.com.