Posted on
Sun, Nov 21, 2010 : 6:01 a.m.
New book 'Dirt Road Washtenaw' explores the joy of bicycling the back way
By Leah DuMouchel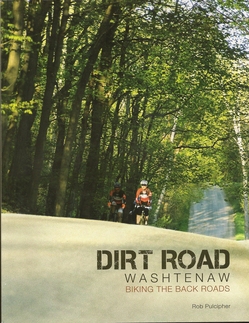 You might think bike riding season is about wrapped up around here for the year, but Rob Pulcipher would probably disagree. The local author, photographer, cartographer and publisher of "Dirt Road Washtenaw: Biking the Back Roads" (Clay House) thinks pretty much any day is a good day for a ride. "Snow," reads a cheery caption under a white-blanketed photo, "with the right bike setup, is a good smooth surface to ride on."
Whether you decide to weather the weather or wait until the siren song of spring drags us all out of our houses next year, Pulcipher makes a pretty good case for putting two wheels in contact with the just-under-half of the county's roads that are dirt.
Well, actually, they're "macadamized soft-surface" roads, named for early-1800s Scotsman John McAdam, who pioneered a road design of crushed angular stones with a higher crown in the middle and ditches on either side. They were better for the bicycle in this pre-car era than either the rutted roads that needed constant fixing (and still became impassable) or the planked toll roads that nobody used, so the League of American Wheelmen and its Good Roads Magazine lobbied for macadamized roads throughout the state.
After a Michigan constitutional amendment passed in 1905 creating the State Highway Commission and authorizing funds for road improvement, the magazine proudly boasted that "There is no question but Michigan has swung firmly and permanently into the line of good roads states." (They can maybe be forgiven their enthusiasm on the overly optimistic "permanently" bit.)
This is just the sort of thoughtfully-researched trivia that peppers the first half of Pulcipher's book. The glaciation that formed our hills and natural features, the county's protected natural lands, local flora and fauna and the workings of the modern county road commission get the same treatment before he ever turns his full attention on the actual bicycle. When he does, we get a thorough education on bike types, basic maintenance, riding techniques, what to pack and wear and which snacks to bring.
Now we're ready to hit the (dirt) road.
The second half of the book details 17 actual routes spanning pretty much every corner of the county except for those pockets of downtown Ypsilanti and Ann Arbor that have been decisively paved over.
A former landscape architect, Pulcipher had learned Adobe's Photoshop and Illustrator along with AutoCAD and noted that "You just make maps when you're doing that kind of work," so after getting quite lost on a few rides, he decided to put together a few. The result is a series of cartographic delights that include possible alternate routes, places to park your car, hills, buildings of architectural interest, historic bridges and even potential chasing dogs. (Pulcipher says he's had "a very few" serious encounters with dogs, but they're among the scariest things that happen on a bike ride, so I'm going to pass along his excellent advice: Don't try to outrun them if they're already on you. Get off your bike and keep it between your flesh and the dog's teeth at all times, then walk slowly out of their territory.)
Although the suggested routes range from 20 to 40 miles on average, Pulcipher doesn't want that to scare us amateur riders off; that's why he included the alternate routes.
"I have the caveat that you can make all these shortcuts, and wandering is part of what makes it fun. I tried to make it clear enough that you wouldn't get lost if you had the map. I don't think it takes any great skill. You want to have a bike in reasonably good condition, you want to know how to change a tire — that's true for any ride — and as long as you have some spare stuff, you should be able to handle it. If you go slowly and take it easy, you'll be fine."
He concedes that a certain comfort level is probably required just to get out there, but after that, the rest is up to you: "You just have to be sensible and know your limits. The more you do it, the more you feel comfortable with it."
Every route also comes with a series of dramatic photographs taken by Pulcipher. "I'm an amateur photographer for sure, but I keep trying," he says modestly, but I think he's selling himself short — the black and white images are pretty stunning. Many of them vividly portray Michigan's agricultural activity, a fact sometimes lost to us city dwellers who may not know that our state's 10 million acres of farmland are the country's leading producers of tart cherries, cucumbers and several varieties of bean.
Is there, then, an education to be had on these macadamized byways? "Yeah, big time," he answers. After growing up in Traverse City and spending time in Lansing, he and his wife moved to Philadelphia for a few years.
There, he says, "you spent forever getting to the countryside, and even then it seemed like there were a lot of people around. I'm not knocking Philadelphia. It's one of my favorite cities in the world, but I drove to Dexter (the day I moved to Ann Arbor in 1985) and on the way, there were farms! And I thought, Wow, how did that happen? There are great farms nearby, they're large, they seem to be surviving, we have recreation lands — particularly in the northwest part of the county — that are phenomenal, and they take like 20 minutes to get to in the car. We are so fortunate in appreciating the rural side of life. And the more you do it, the more you discover, and the more you can learn."
Pulcipher has plans to learn plenty more, too, and to let us in on it as he does: this has become his full-time job. "I plan on doing more recreation guidebooks," he says, adding that "Dirt Road Washtenaw" has a Facebook page, and he's working on a greater web presence.
"I'd really love to get some apps on this stuff eventually. I'm pretty devoted to finding ways to get outside and stay healthy and get to know the area around you, because it's a daily thing — you can do it almost every day and it's like little snippets of vacation. It's beautiful here. I've been in various parts of the world and I'm very glad I've gone, but the more I come back to Michigan, the more I'm in awe of where we live."
"Dirt Road Washtenaw: Biking the Back Roads" is available at retail stores around town and at www.dirtroadwashtenaw.com.
Leah DuMouchel is a freelance writer who covers books for AnnArbor.com.