Posted on
Sat, Jun 15, 2013 : 9:36 a.m.
Summer Festival hosting the unique pop-rock sound of Django Django
By Kevin Ransom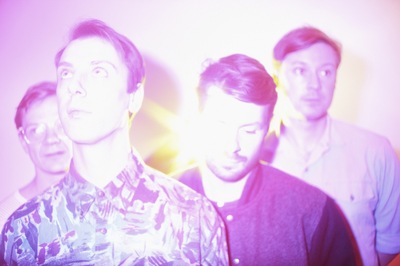 For the mostly Scottish band
Django Django
, what started out as a necessity turned into a virtue.
When these lads from Edinburgh (plus one Brit from Leeds) first formed a band and began writing and recording songs for their self-titled 2012 debut album, they didn't have a record contract, so they didn't have enough money to go into a recording studio.
But that's just as well for a new young band that is just finding its footing - and still finding its sound. Better not to rush things, and not have A&R weasels looking over your shoulder, prodding you to "write a hit single."
So they took their time, writing and recording one song at a time - and mostly recording them in the bedroom of drummer / producer David Maclean.
"We were all still working day jobs, and didn't have any money, and recording in David's room meant we didn't have enough space to set up a full drum kit, or use much of our equipment," says bassist Jimmy Dixon (that lone Brit in the band), who will join his mates at the Power Center on Tuesday for an Ann Arbor Summer Festival show.
"David had a kick drum and floor tom set up, and for other beats, we'd end up whacking wine bottles, and tin cans, and the radiator," recalls Dixon, during a phone interview from his apartment in London. (The guys all relocated to London a few years ago).
"And we would work out the parts of the songs on David's computer, and I didn't have room for my bass and amp, so Vinnie (Neff, the guitarist and singer) would tune down his guitar to get a bass sound, and we would run that into the computer. We really were learning on the job."
PREVIEW
Django Django
Who: Young UK band that released its acclaimed debut album in 2012.
What: The group's music is built on a foundation of computer-generated synth-pop / dance rock, but also draws on and eclectic mix of influences that includes Krautrock, Brian Eno, the Beta Band, Jamaican dancehall and '60s-era psychedelia.
Where: Power Center 121 Fletcher St.
When: Tuesday, June 18, 8 p.m.
How much: $20, $25. Tickets available at the ticket office by calling 734-764-2538 or toll-free in Michigan at (800) 221-1229, or online.
And since the tracks were mostly assembled and built up on the computer, the band members later had to go about the business of learning to play the songs live, as a unit. So, the live performances of the songs are not note-for-note, texture-for-texture replications of the studio tracks, but rather more organic versions of those songs. "And in terms of the individual songs, when we were writing and recording, we tried our best not to have any pre-conceived notions about what kind of sound we wanted, or what kind of record we wanted to make," says Dixon.
"We just took one idea at a time, and worked on it until we were happy with it, then we would move on to the next song, and didn't worry about whether one song was completely different than the previous song. We just wanted the whole thing to grow naturally, even if they all sounded stylistically different."
And many of them do. Although the band's sound generally falls under the umbrella of synth-pop / electro-dance rock, the group members were clearly not shy about drawing on their broad range of other influences, from strains of Jamaican dancehall to the 1960s-era psychedelic / progressive rock of the Silver Apples.
On some of the songs, you can hear the ambient, ticking whoosh of Kraftwerk, and elsewhere the Brian Eno influence rises to the surface. The opening track, "Hail Bop" is notable for its sunny Beach Boys-style harmonies, and "Life's a Beach" is propelled by a syncopated, Bo Diddley guitar groove.
The band has also clearly drawn inspiration from various Krautrock bands, like Cluster and Neu!, and "the German electronic bands in general," says Dixon. "Those bands have been a big influence on all of us."
And the musical legacy of the Beta Band also looms large in Django Django's sound. And that comes naturally, since Maclean is the younger brother of John Maclean, who was the keyboard player for that influential but now-defunct Scottish band.
"Yeah, there are definitely similarities due to that family connection," says Dixon. "They grew up together, and shared the same record collection, and played music together when they were kids and teenagers, so those similarities are definitely going to be there. "I remember, when I was about 15, and not many bands were coming through Leeds, being pretty excited by the music of the Beta Band, because they were experimental, and they opened me up to different kinds of music—they also draw on reggae and dub."
And the guys in Django Django definitely share the Beta Band's fondness for experimentation, in the way that they draw on those disparate influences and combine them to create coherent whole.
That "Django Django" debut album was released in the UK in January of 2012, but not in the U.S. until eight months later, in September.
"Actually, when we were writing and recording, we really didn't expect it would even be released in the States," confesses Dixon. "So, those eight months were a nice progression for us—the album was getting good reviews, and we got a chance to slowly build an audience in the UK, and get better at playing the songs live, before it hit the States, which is obviously a much larger market. So, that was a good way for it to happen."
After the U.S. release, the band's profile did increase significantly. "The first time we toured the States, we were playing really small rooms, to audiences of maybe 200 or 400 people," says Dixon. "But the next time we came to the States, after the album was released there, we noticed the change—we were playing to crowds of 1,200 to 1,500."
Presently, the band is kicking around ideas for the next record. Now that they're signed to a label, they have some money, "so we'll be able to hire studio technicians who know how to mic the guitars and bass and such, which will speed up the process," says Dixon.
"But we're not going to spend 50,000 pounds to go into a big studio and crank out an album in one week. We like the approach to creating songs that we used for this album, and we don't want to deviate too much from that."
Kevin Ransom is a free-lance writer who covers music for AnnArbor.com. He can be reached at KevinRansom10@aol.com.