Posted on
Thu, Dec 10, 2009 : 5:32 a.m.
DKY Sushi shines with specialty rolls and desserts
By Julie Halpert
Duo Chen had been looking to launch his own Japanese restaurant in Ann Arbor for the past 2 years. Though he's only 24 years old, he's been a child of the restaurant business, learning the trade through the Asian fusion restaurants his parents owned in Lansing. When a location on the West side of town became available, he jumped at the chance to launch DKY Sushi in July. The title combines letters of Duo Chen's name, as well as those of his wife's, Kit Yu, who both run the restaurant. This location is sure to have little competition, as it's tucked into a new shopping plaza in an otherwise residential area.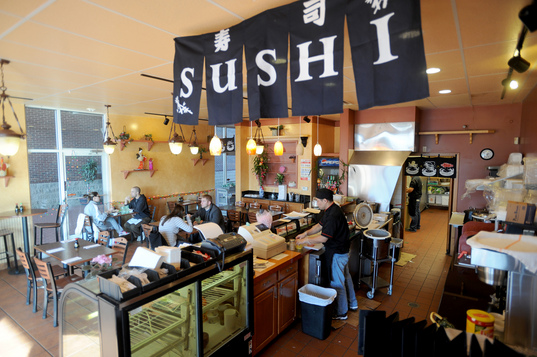 Angela J. Cesere | AnnArbor.com
The restaurant is clean, modern and unremarkable, and on the small side, with only a few tables. DKY Sushi specializes in the basic Japanese dishes. In addition to sushi and sashimi, there are teriyaki and tempura entrees, as well as udon soup. There's not a huge variety here. Many of the appetizers, like the shrimp and spider tempura, double as entrée rolls. We chose a standout that was purely an appetizer: the agedashi tofu, large, crispy squares lightly coated and served with a delicious sauce.
If you're keen on ordering sushi here, my advice is to stick to the DKY special rolls, which all proved superior to the basic regular or hand rolls. While the shrimp tempura was the best among the basic rolls, the California roll was begging for more imitation crab meat to add flavor and texture, while the cucumber and avocado rolls tasted similar to each other and were a bit bland. The price tag of the basic roll is cheaper, an average of $5.50, but that only includes a few rolls.
The special rolls are twice the price, but far more hearty. My favorite was the volcano roll, a mixture of shrimp tempura, spicy tuna and avocado, which, indeed, resembled a volcano on fire (in looks, not taste). It was a perfect melding of ingredients and the rolls were enormous.
It was so good that I decided to try more of the special rolls on my second visit. I especially liked the crazy roll, where fresh, delicious whitefish melded beautifully with crab stick asparagus and fish roe. The entire roll was deep fried. I couldn't get enough of this for my table.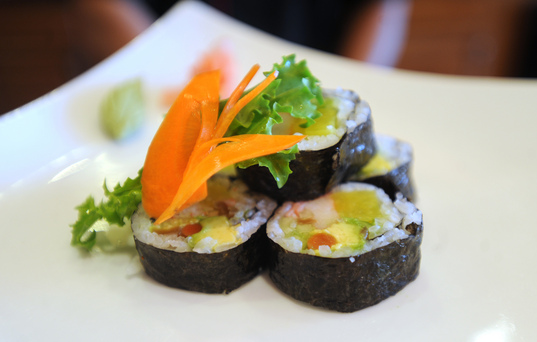 Angela J. Cesere | AnnArbor.com
The teriyaki dishes weren't the restaurant's forte; the beef in the teriyaki dish was overcooked and tough to chew, and the teriyaki sauce could have been sweeter. That same bland sauce made the chicken teriyaki an unexciting dish as well.
Udon soup, the only dish served in an enormous portion, provided soothing relief for my older daughter's cold. The broth was piping hot, with thick, smooth noodles and vegetables.
Desserts scored well, too, with the green tea mochi a refreshing conclusion to our meal, and the vanilla tempura ice cream a very rich, but quite good, finale.
Service can be challenging here. During our first visit, we were the only diners there for the entire two hours, and the servers hovered, but weren't particularly quick with the food. The second time, every table was full and our server, with a panicked look on her face, said, "it will take 15 minutes" as she seated us. It appeared there was only one sushi chef working to deliver the food. If this restaurant remains popular, some additional staff may be in order.
DKY Sushi 283 South Zeeb Road, Suite H Ann Arbor 734-997-9177 dkysushi@yahoo.com Hours: Monday-Thursday, 11 a.m.-10 p.m. Friday and Saturday, 11 a.m.-11 p.m. Sunday, 12 p.m.-10 p.m. Plastic: Visa, Mastercard, Discover, American Express. Liquor: No. Prices: Moderate: Roll prices range from $4.50-$13. Value: Good. Noise level: Quiet. Wheelchair access: Yes. Smoking section: No.