Posted on
Fri, Jul 5, 2013 : 10 a.m.
Indulge in some 'Dirty Dancing' Sunday, Tuesday at Michigan Theater
By Roger LeLievre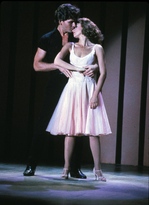 If the movie line "Nobody puts Baby in a corner" means anything at all to you, then you might want to head over to the
Michigan Theater
for screenings Sunday and Tuesday of "Dirty Dancing," the latest in the Michigan's Summer Classic film series.
The 1987 coming-of-age movie, set in 1963 at a Catskills resort, stars Patrick Swayze, who plays handsome dance instructor Johnny Castle, and Jennifer Grey as the 17-year-old "Baby" Houseman, who falls head-over-heels in love with the older Castle during summer vacation.
As the action heats up on screen, Baby's father, Dr. Jake Houseman (a pre-"Law & Order" Jerry Orbach), will have none of it, convinced that Johnny is a lowlife and that his daughter is too young to understand her own feelings.
Originally a low-budget film by a new studio and with no major stars, it was one of the highest-grossing films of 1987. Interestingly, the closing song, "(I've Had) The Time of My Life" has been listed as the third most popular song played at funerals in the United Kingdom.
"Dirty Dancing" screens at the Michigan Theater, 603 E. Liberty St., Sunday at 1:30 p.m. and Tuesday at 7 p.m. Admission is $10; discounts for seniors, students & members. Details at www.michtheater.org or 734-668-8397. Running time is100 minutes and the rating is PG-13.