Posted on
Thu, Aug 5, 2010 : 5:04 a.m.
Dos Hermanos lunch counter small on frills, big on flavor
By Will Stewart
If you've gone to Dos Hermanos in downtown Ypsilanti for food to prepare your own Mexican feasts, that's a great start. This charming Mexican market isn't anything fancy, but you can find everything from beans, to fresh produce, to cane sugar Pepsi in glass bottles, to every sort of meat you can imagine at its amazing butcher counter.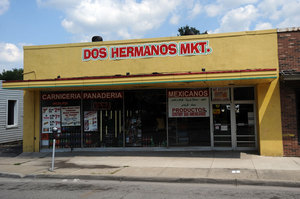 Lon Horwedel | AnnArbor.com
But if you haven't been to Dos Hermanos on a weekend and tried the lunch counter, you haven't really experienced Dos Hermanos.
Until the other day, neither had we. This is strange, since some of my favorite meals were eaten inside stores, like at the Walgreens lunch counter, where I dined with my grandparents as a child. There's something old-fashioned and quaint about this kind of dining that appeals to my nostalgia.
What the eatery lacks in elegance, it more than makes up for in charm. And the food — cheap, fresh and flavorful — ain't half bad. And there's nothing fancy about eating at Dos Hermanos. Plop down on one of the small handful of stools or just walk up to the counter. If you don't speak Spanish, count on a fair amount of pointing and gesturing to place your order.
RESTAURANT REVIEW
Dos Hermanos Market
412 West Michigan Avenue, Ypsilanti
734-487-8839
Hours: Friday-Sunday, 11 a.m.-3 p.m
Plastic: Visa, Mastercard.
Liquor: No.
Prices: Inexpensive.
Value: Excellent.
Noise Level: Loud.
Wheelchair access: Yes.
It's tough to go wrong, even with a language gap. Carnitas tacos — pork slow-cooked in lard — were delicious, with just the right amount of fat to add flavor without being greasy. My dining companion and I polished off three without realizing just how overfilled they are and barely had room for the rest of our order. At $1.50 each, this might be the best bargain in town. Barbecued beef tacos were similarly overstuffed with meat and, like their pork counterparts, came served atop lightly grilled corn tortillas and topped with onion and cilantro. The beef had a vaguely jerky-esque flavor that was good, if a little overpowering.
Both the carnitas and the beef, as well as lamb, are available for carryout at $5.99 per pound which, judging from our time there, appears to be a popular choice. If you choose to go this route, don't forget to doctor up your meal with the salsa. The verde is robust and hot; the red is muy caliente!
If you're feeling adventurous, try the consommé, which is actually drippings from the roasted lamb, poured into a Styrofoam cup over a handful of onions and cilantro. You might be surprised how good it is, just as long as you try not to think too much about it.
In fact, all of the food at the lunch counter is pretty authentic. In other words, don't be surprised to find the occasional bone in your taco. And please don't let it take away from the joy of eating such wonderful, flavorful food.
Be sure to save room for one (or three) of the best pork tamales you'll ever taste — and for just a buck. Unlike the rest of the items at the lunch counter, which is only open Friday-Sunday from 11 a.m. until about 3 p.m., you can always grab a tamale to go at Dos Hermanos.
And if you really want to bring out the best in your meal, be sure to wash it down with an ice-cold Pepsi from the cooler. It's the perfect complement to a near-perfect lunch.
Will Stewart is a free-lance writer for AnnArbor.com.