Posted on
Tue, Jul 9, 2013 : 10:56 a.m.
Download local humorist Mike Ball's new book for free, through July 11
By Jenn McKee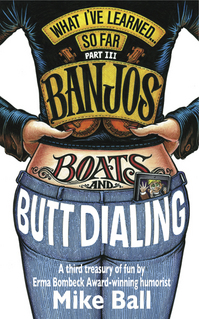 Whitmore Lake-based humorist
Mike Ball
recently released his third book, "Banjos, Boats and Butt Dialing," and from July 9-11, the e-book version is available for free on
Amazon
.
A press release offers more information:
Mike writes with a quirky, irreverent sense of humor coupled with a rare talent for poignant insight that has led reviewers to compare him favorably with masters like Mark Twain and Erma Bombeck. In his new book he explores topics like the history of beer, email spam, alpaca testicles, owning a paddle boat, rabbit hunting, Facebook, iPhones, coping with cleavage, and, of course, butt dialing.

Mike is known for his internationally popular weekly syndicated column "What I've Learned So Far..." He is a member of the National Society of Newspaper Columnists, recipient of the 2003 Erma Bombeck Award, and a finalist for the 2011 Robert Benchley Award. He was also awarded the Kindness Community Hero Award from USA Today.
Here are a few excerpts from "Banjos, Boats and Butt Dialing":
"I think email just might be the most powerful communication medium ever invented. Think about it; in a matter of seconds I can fire off a note to a reader in Jakarta, Indonesia thanking her for pointing out that three months ago I stranded a preposition in my column about dog poop. I can let her know that her alert grammatical assistance is something I will always be grateful for."
***
"A Paddle Boat is a small lake-going craft that appeals to guys like me - guys who shrugged off that last remaining shred of self-respect the first time we made the decision to wear Dockers, flip flops, and an Aerosmith t-shirt to the mall. The only other people who really like them are young children who, face it, never had any sense of dignity to begin with."
***
"Last week I wrote about my new-found fondness for the popular social networking site Facebook. This is an online resource originally designed for college students, a virtual world where the young scholar could post photographs of her best friend, wearing a pair of men's boxer shorts and a hot pink Gap sweatshirt, passed out in a bathtub with a picture of a penis drawn in lipstick on her forehead.
Unfortunately, those halcyon days of artistic expression may now be threatened by a group of Net denizens who are gradually infiltrating every corner of Facebook. I am, of course, referring to myself and all my friends."
Jenn McKee is an entertainment reporter for AnnArbor.com. Reach her at jennmckee@annarbor.com or 734-623-2546, and follow her on Twitter @jennmckee.