Posted on
Tue, Jul 23, 2013 : 10:58 a.m.
Dr. Mike and the Sea Monkeys, at Crazy Wisdom, play music that's good for what ails you
By Roger LeLievre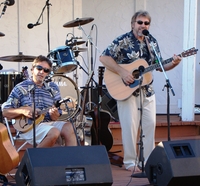 With a name like
Dr. Mike and the Sea Monkeys
, you'd expect this folk/blues act to be a little off the wall, and you'd be right.
The band, made up of Mike Ball, Scott Clauser, and a fictional advice columnist named Dr. Mike, grew around the work of humorist and nationally syndicated author Ball, who lives in Whitmore Lake. They play Saturday at Crazy Wisdom.
Dr. Mike and the Sea Monkeys was born when Ball, a musician since the 1960s, began promoting his book "What I've Learned So Far... Part I: Bikes, Docks & Slush Nuggets," by performing original songs based on the book. Among his tunes are the tongue-in-cheek "And the Camera Went In - The Colonoscopy Song."
Clauser has been a multi-instrumentalist for nearly 40 years, including stints with the folk-rock group The Brakemen and southern rockers The Willies. Ball is also the founder of Lost Voices, a non-profit group that offers songwriting and performing workshops for incarcerated and at-risk kids.
According to the band's Web site, the shows are aimed at grown ups but are basically family friendly.
Dr. Mike and the Sea Monkeys play at Crazy Wisdom Bookstore and Tearoom, 114 S. Main St., Saturday, July 27 at 8:30 p.m. Admission is free. Details at www.crazywisdom.net or 734-665-2757.