Posted on
Tue, Jul 10, 2012 : 10:27 a.m.
Dragon Wagon, breathing fire into its touring schedule, stops home with new CD at the Pig, Woodruff's
By Roger LeLievre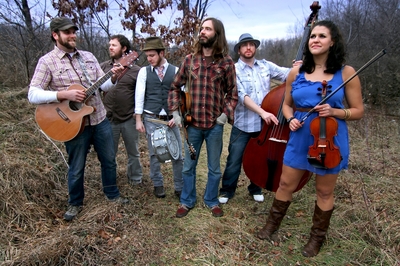 photo by Dree Ziegler
There's nothing mythological about local band
Dragon Wagon
's widening popularity. With recent dates in Chicago, Green Bay, Flint, Ferndale, Madison, Munising and more, it's clear the group is working hard to expand its fan base beyond Ann Arbor.
"For about two years now we've been touring pretty heavily. We're at a point where we feel the music is there, the crowds are growing—everything seems to be lining up. We're all just putting everything we've got into it and hoping for the best," explained Don Sicheneder, the band's guitarist/vocalist.
"I think we played about 22 of the 30 days in June and did about the same in May. I think we'll be up to about 180-190 shows this year," he added.
Dragon Wagon will bring the action back home with a Friday night show at the Blind Pig, planned as a CD release party for the band's new, self-titled CD. Back Forty, Match by Match and Nickie P. will also perform. A show at Woodruff's in Ypsilanti follows on July 27.
"We're really focused on a lot of markets right now, not just Ann Arbor. We love playing Ann Arbor—it's our home—but at the same time, we're trying to expand and I think with this new album coming out it's going to afford us a lot of opportunity," Sicheneder added.
Dragon Wagon, founded in 2008, also includes Fritz McGirr (drums, percussion), Mike Bustos (bass), Diana Ladio (fiddle, vocals), Troy Stanley Radikin (mandolin, vocals) and Rich Delcamp (banjo, vocals).
The new, 13-song CD, which consists of 12 original and one traditional tune, is a kind of "greatest hits" collection, Sicheneder said.
PREVIEW
Dragon Wagon
Who: Local roots band. With Back Forty, Match by Match and Nickie P.
What: Bluegrass folk rock with an Irish influence. CD release party.
Where: Blind Pig, 208 S. First St.
When: 9:30 p.m. Friday, July 13.
How much: $7-$10. Info: www.blindpigmusic.com, (734) 996-8555.
Also: 9 p.m. (doors) July 27, Woodruff's Bar, 36 E. Cross St., Ypsilanti. $7. Info: 734-483-2800 or www.woodruffsbar.com.
"We've taken the best songs of our four-plus years of being together and put them into one piece of work. It's going to have an acoustic feel, it's going to feel real warm and it's going to have a nice live feel," he said.
"We generally don't cut things more than three times—we don't mind mistakes here or there because it gives the feeling of being more live. We really want to make sure this album is a good depiction of who we are when we play live and I think we've really accomplished that," he added.
Sicheneder said the band's sound is hard to categorize.
"Ten people could come see our show, and if you asked those 10 people what kind of music would you say that is, everybody comes up with something different. It's really difficult to pigeonhole us into one genre," he said.
"We've all got different backgrounds … I've got a heavy rock background, Fritz is a phenomenal percussionist … and Diana, our fiddle player, has a very heavy Celtic background. … I would say bluegrass folk-rock is a good description."
As far as the Blind Pig show is concerned, fans can expect something just a little bit different, thanks to the inclusion of local musician Nickie P.
"I did some research—she's got an opera background and a vocal background, and I was blown away by her," said Sicheneder. "She's going to play between the sets and do what she does, which is a little bit of hip-hop. (She's) vocally talented and very melodic."
Fans who can't take in the Blind Pig show, should be aware that there's another CD release party upcoming, this one on July 27 at Woodruff's in Ypsilanti.
"We have completely different crowds there," Sicheneder said. "We wanted to make sure we covered all the people who have been with us from the beginning, and felt doing a show in both places made the most sense."