Posted on
Mon, Jan 28, 2013 : 10:55 a.m.
Drapetomania, Cloakfern, Sail and Canyon at Lab Cafe
By Elisha Israel
I stopped into Lab Cafe on Liberty Street after work on Sunday, Jan 28, to catch a few sets by Drapetomania, Cloakfern, Sail and Canyon.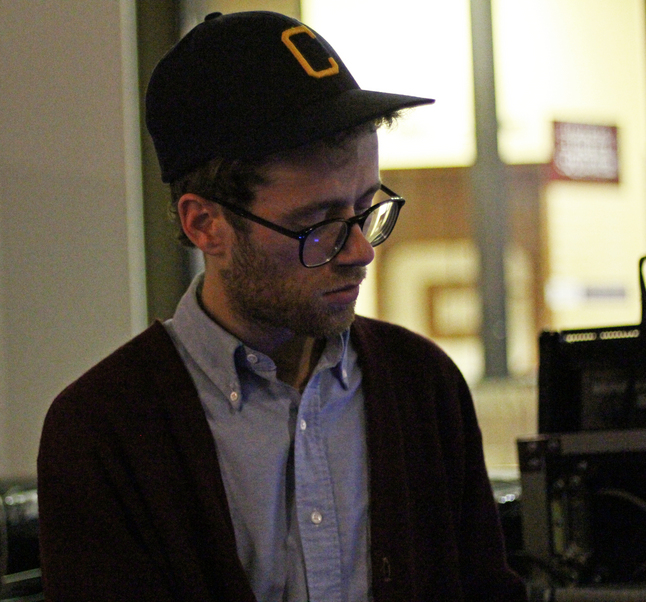 Canyon's set started with an atmospheric build utilizing spacey synths and extended guitar notes. The duo is comprised of Dylan Maxey on guitar and Charles Tillinghast, a producer. Both are Ann Arbor natives and Community High School graduates.
"I've know Charles forever," said Maxey. "We've been friends and collaborators for, I don't know, 10 years." Tillinghast added, "Over the years we've recorded many times for our own ears. We're finally trying to release actual compositions."
The two man group plays an experimental style, utilizing modern technology to create synthesized textures that might be what one could imagine hearing while floating in outer space. "We play in another band that's more psychedelic harsh noise and this is my departure from that," said Maxey. "More ambient soundscapes. We're trying to write more compositions, most of what we've been doing up until now has been improv. This is our first show."
Tillinghast creates an atmospheric build while Maxey, using loopers, adds layers of guitar notes and slides that ring eerily into the listener's ears. "I come from more of an electronic background," said Tillinghast. "This is my first time making this type of electronic music, but I've been producing electronic music for 15 years under the name Charles Trees."
The duo introduces each part in a patient manner, hinting at themes that may or may not present themselves in later sections of the piece.
"This project is mostly songs I've been thinking about for a long time. These are just ideas that have been floating around in my head that I needed to expel," said Maxey. Tillinghast added, "I listen to a lot of modern composition of sound and ambient music. John Cage, Brian Eno. That's where I'm coming from. Aphex Twin. Eno and Aphex Twin have a similar synthesis."
Maxey concluded by saying, "There's a lot of great local music going on." Canyon is a perfect example of that statement.
The following act was called Sail. Sail is a project of Detroit born and Ypsilanti based musician Raphael Vincent Brim. When I asked how he would describe his sound, he replied, "space folk."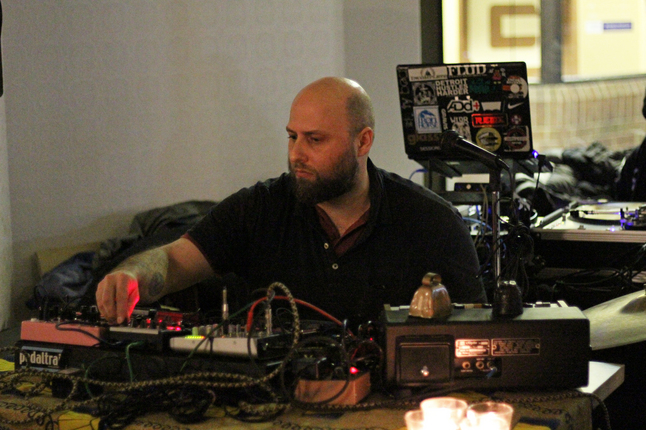 Brim uses a raga guitar as well as primitive electronics such as a modular synth, an analog drum machine and tape delays. "I'm trying to use electronics that sound as organic as possible." Brim combines these to create a psychedelic, ever-changing, improv based set.
"Music has always been a part of my life. My mom is a piano teacher, my dad is a musician as well and I've been toying with it for years."
His set was divided into two acts. Act I was an ominous wave of ambient soundscapes, filled out with bells and a cymbal. Act II was more uplifting, accompanied by Brim's guitar playing in addition to the synthesizer.
Influenced by Popol Vuh, John Fahey, Neu and Alice Coltrane, Brim acknowledges his predecessors while attempting to make his own mark on the world of music.
If you would like to hear more of Sail's music, you can find it online at: https://www.facebook.com/pages/Sail/156652087716949
The next set was called Cloakfern. Cloakfern is a project by Kevin McKay, an Ann Arbor local. McKay played an entirely analog set, starting with a pulsing atmospheric build and taking the listener on a journey of patient synth progression.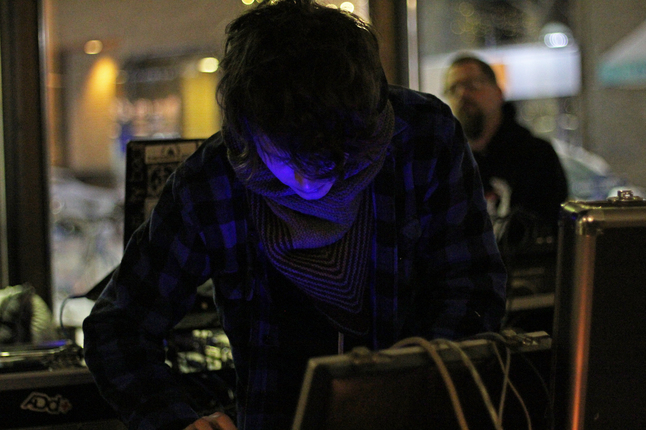 His style is self described as "minimal drone inspired by by electronic composers from the '50s. People that were using tape." His set was simultaneously eerie and, in its own way, reminiscent of the natural rise and fall of daily life.
"I've been making recordings for the past year and I want to complete those recordings," said McKay. "Since I've been making all this material, I'm excited for that to come to end. I'm excited to finish my first recording as a solo act."
Mckay is influenced by Pierre Schaeffer, Delia Derbyshire, Eliane Radigue and Jan Jelenik. "I started playing music when I was seven years old. I played the piano. Its moved in the direction of radiating loving kindness."
If you would like to hear more of Cloakfern's music, you can find it online at: https://soundcloud.com/cloakfern
The final act was Drapetomania, a hip hop duo featuring Kyle Hunter, also known as GenPop, and Walter Lucken IV, also known as Big Walt.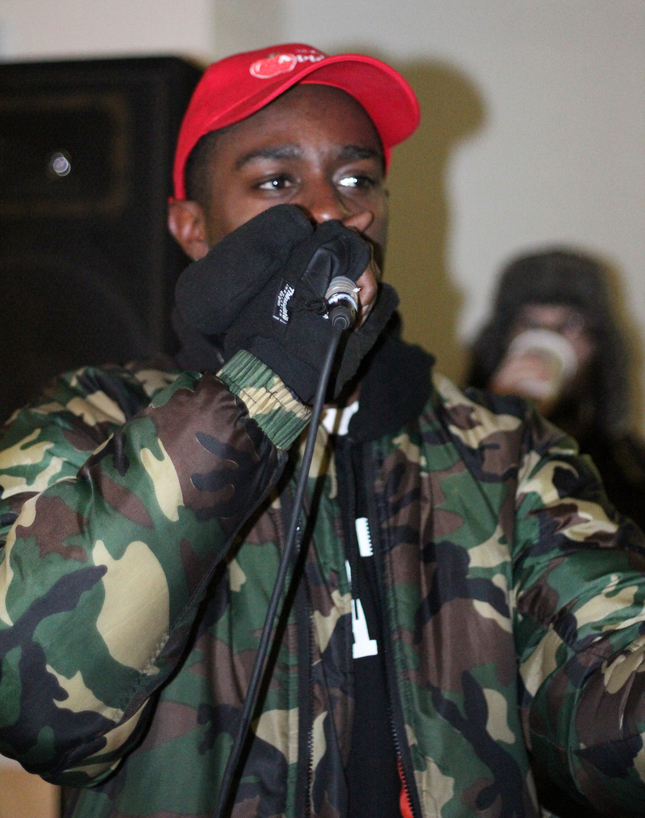 Drapetomania is a "documentation of a specific period of our lives," said Lucken IV. "Everything was all messed up. Everyone was dying, going to jail, killing themselves." Hunter added, "and I was broke, living in co-ops."
The duo has a very relaxed demeanor while performing, joking around with each other as well as members of the audience. However, this does not dilute the quality of the material that they perform. It's obvious that both of them respect the artist work ethic, while at the same time understanding that a sense of humor is essential in life.
Influenced by artists ranging from Company Flow, Cannibal Ox, Steely Dan, Lil B, Blaine Nash and Blaine Nash, Drapetomania's goal is to "get the music of this period into as many people's hands as possible since they seem to relate to it," according to Hunter.
Lucken IV and Hunter met in fall 2010 and originally planned to only record one song together. The duo ended up recording an album, soon to be released, as well as recording a music video. Their set included features from local MC Clavius Crates as well as producer/MC Professor Megablown.
If you would like to hear more of Drapetomania's music, you can find it at: https://www.facebook.com/Drapeto
In addition, the following link is for their recently released music video called EEMNAA. https://www.youtube.com/watch?v=9_Exf7bIo48
I talked with the organizer, Malcolm Fleming, for a few minutes about the musicians he brought in for the show and what his plans are in terms of future shows.
"All the music is composed by the artists. They're part of a very large body of musicians in Ann Arbor. This is one scene but it also mixes with the Detroit scene a lot. Here in southeast Michigan, you're talking hundreds of musicians of different types. The gentlemen from Canyon are included in a band called Anonymous Touch. Cloakfern is in a locally recognized band called Chit Chat. He's the drummer for that group. Half of Drapetomania [Kyle Hunter] is part of Tree City, which is part of Branch Out Collective and the Alibi Crew."
When I asked his thoughts on his personal goals, he replied, "My goal is to keep this scene flourishing, thriving. To bring exposure to it. I'd like to continue to do this, not with the interest of myself making profit, but because it's something I enjoy. There isn't a lot of profit but we all do this because each person works hard at what they do. I just want to respect that by giving avenues for their exposure, so people can hear them in the community."