Posted on
Sat, Oct 29, 2011 : 1:04 p.m.
DreamWorks cashes in with 'Puss In Boots'
By AnnArbor.com Freelance Journalist
Puss In Boots
Now showing at Rave, Quality 16, Brighton
Review by Corey Hall of the Metro Times
Grade: B-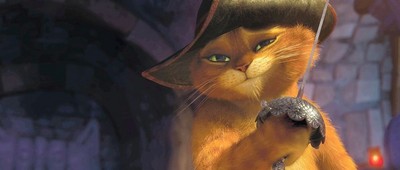 Having rightly surmised that they had wrung all the possible joy out of the "Shrek" series, the always-a-bridesmaid team at DreamWorks animation did the only logical thing; they spun a side character off.
Not just a spinoff, but also a prequel to boot (sigh). Puss merrily weaves the backstory of the swashbuckling feline dandy, who, we learn, was always the troublemaker of the litter. In this universe, the famous French rouge cat has morphed into a Spaniard, voiced with honey-dripping mellifluousness by Antonio Banderas. The perpetually suave star has a blast sending up his debonair image, unashamed to camp it up in cartoon format.
Read the full review here