Posted on
Sat, Jul 20, 2013 : 9:38 a.m.
Drunken Barn Dance promises to 'play forever' Sunday night at Woodruff's
By Roger LeLievre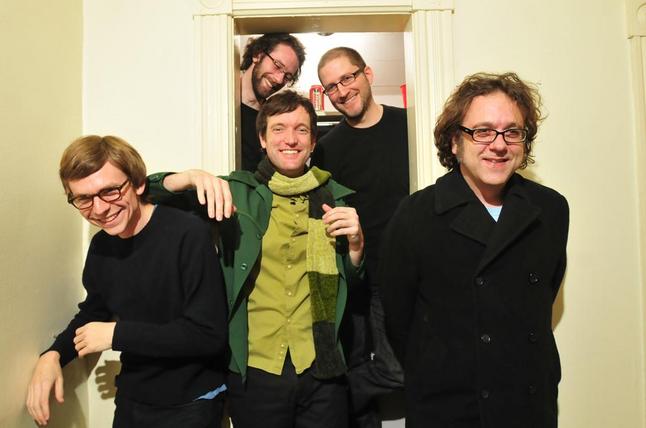 Quite Scientific Records
Drunken Barn Dance
, the raw, Americana-ish band based in Ann Arbor and led by musician Scott Sellwood, will convene at Woodruff's in Ypsilanti Sunday for one of its infrequent live shows.
The group released "Sequoia," the second in a series of three digital EPs, in June.
Two band members—guitarists Sellwood and Scott DeRoche—are alums of the local pop band Saturday Looks Good To Me. Guitarist Greg McIntosh is also associated with Great Lakes Myth Society, and Ryan Howard has been drummer for City Center and Canada. Music veteran Jim Roll, who plays bass in DBD, has been a part of many local bands (and worked with them at his Backseat Productions recording studio).
Sellwood now lives in San Francisco, where he works with YouTube's music licensing team. The other members of the group are based here, although McIntosh bounces back and forth between Ann Arbor and Detroit.
"It's a lot of working getting us in the same room," Sellwood said. "I wish we all had more time to dedicate to this. We would have all loved to have found this voice when we were 20 and been able to take this band on the road forever, but that's life."
Tonight, the night before the Ypsilanti show, Drunken Barn Dance will perform at S'Mittenfest at Detroit's Magic Stick, a benefit for the Ann Arbor-based literacy group 826Michigan, which is expanding into the Detroit area.
"I think the first real Drunken Barn Dance show with all the guys was a Mittenfest show in 2009," Sellwood said. "When the 826Michigan told us about (the one in Detroit), we said we'd be there. We built up a little run of shows around it. And we need to record the third EP in this little digital series, so we're going to try and knock that all out in one swing.
PREVIEW
Drunken Barn Dance
Who: Local music veterans Scott Sellwood, Greg McIntosh, Jim Roll, Scott DeRoche and Ryan Howard.
What: A mix of Crazy Horse-era rock bombast with folk-centric songcraft.
Where: Woodruffs, 36 E. Cross St., Ypsilanti.
When: 9 p.m. (doors), Sunday, July 21.
How much: $5. Info: www.woodruffsbar.com or www.drunkenbarndance.com
"We're going to play forever at Woodruff's, have two sets (and) have a long Drunken Barn Dance night for people who are exited about that," Sellwood promised.
The "Sequoia" EP contains five new jams, one of them titled "Welcome College Town Revelers." It doesn't take much imagination to know which college town he's singing about.
"That's Ann Arbor," he confirmed. "I've lived in several college towns over the years. That one to me is the walk from my old apartment, up Packard, across Stadium and into downtown, seeing and living all those parties. … I lived that life when I was in college, that kind of aimless beauty. Ann Arbor is a special place and I wanted to write about that feeling I would get when walking up Packard on a Friday night."
The EP was also recorded according to DBD's strict rules, among them everything must be recorded live; if the band can't nail a song in 2-3 takes, the song disappears from the recorded catalog forever; and, true to the band's name, adult beverages are mandatory in every phase of the process.
Sellwood agreed the last rule probably isn't necessary any more.
"There's no secret—we're fans of drink. It probably doesn't need to be a rule any more. That's the one rule I never had to enforce," he said.